Ingredients
Meatballs
1

pound ground bison (or lean meat of your choice)

1/4

cup cooked and cooled brown rice

1/4

cup roasted almonds, crushed

1/8

cup golden raisins
1/8

cup fresh mint, finely chopped

1/8

cup flat-leaf parsley, finely chopped

1/8

teaspoon fine sea salt

1

teaspoon freshly ground black pepper
Quick Tzatziki
1

cup 2% Greek yogurt

1/2

cucumber, grated and squeezed to remove moisture using cheesecloth

1½

tablespoon extra-virgin olive oil
juice from ½ lemon

1

tablespoon garlic, peeled and minced

1½

tablespoons fresh dill, chopped
sea salt and freshly ground black pepper, to taste

4

wheat pitas
lettuce, for garnish
tomato, sliced, for garnish
red onion, peeled and chopped, for garnish
Chef notes
Kevin Curry learned how to make good meatballs with the Meatball King and NYC-er Michael Chernow and is excited to share his tips and tricks with TODAY Food.  There are so many ways to serve meatballs but usually you'll find them smothered with marinara sauce and served over spaghetti. Here, they take a trip to the Mediterranean with fresh flavor from golden raisins, flat-leaf parsley, mint and an easy Tzatziki sauce. This recipe calls for ground bison but feel free to use another type of lean meat if you can't find, or don't like the flavor of, bison. Roasted almonds add crunch to the meatballs in every bite.
Curry is also a fan of meatballs because they're easy to meal prep, portion out for meals and transport. Add them to soup, pasta and sandwiches.
Special Equipment Required: If you have an air fryer, use it!
Preparation
1.
Preheat the oven or an air fryer to 450 F.
2.
In a large mixing bowl, add all of the ingredients for the meatballs and gently toss together using your hands until combined. Shape meatballs using a small ice cream scoop or spoon.
3.
 Line a baking tray with parchment paper and place the meatballs on the tray closely together. Doing so will lock in the juices, preventing dry meatballs. Bake for 12 to 15 minutes. If using an air-fryer, line the basket with parchment paper and place the meatballs inside. Air fry for 12 to 15 minutes, checking the meatballs halfway through to ensure they are not burning.  Depending on the size of your air-fryer, you may cook the meatballs in batches."
4.
In a small bowl, combine the ingredients for the tzatziki. Season to taste with sea salt and pepper.
5.
Slice the pita in half and stuff it with the other half of the pita. Spread tzatziki on the inside, stuff with green lettuce, tomato slices, red onion and 2 to 3 meatballs.
How to shop TODAY recipes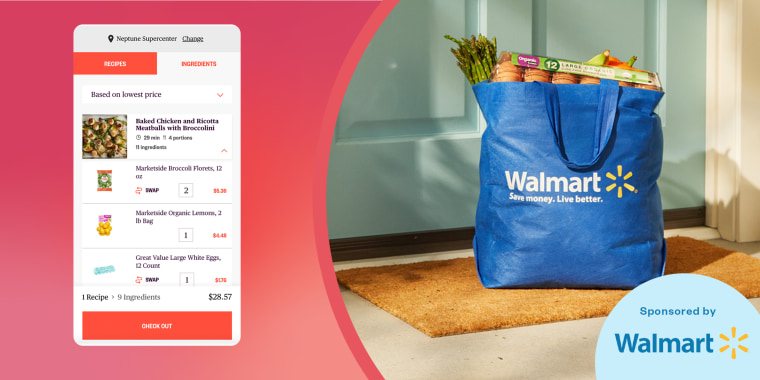 How to shop TODAY recipes
Here's everything you need to know about the cool new feature.
Learn More