According to Vicki Gunvalson and Shannon Storms Beador, no friendship on Bravo compares to the Tres Amigas.
Vicki and Shannon are two-thirds of the Tres Amigas, the nickname they developed for their friend group with Tamra Judge on Bravo's "The Real Housewives of Orange County." The pair first met on Season Nine of the show, where they developed a reputation for their hilarious antics together — making meme-able moments whether they are in Orange County or across the world. 
The group fell out after Tamra's and Vicki's departures from the show, but came back together in Season 17 of the "RHOC" after Tamra rejoined the cast and made amends with Shannon. Vicki appears as a guest throughout Season 17, meaning the group's been getting back to business. 
On Sept. 13, Andy Cohen shared on "Watch What Happens Live" that Vicki will be the first-ever recipient of the Wifetime Achievement Award at BravoCon in Las Vegas for her legacy with the "Real Housewives."
TODAY.com caught up with Shannon and Vicki about what it's like to be back on TV together and got their takes on Bravo hot topics.
This interview was edited and condensed for clarity.
You've reunited after a few years apart. How is it different this time around?
Vicki: Well, this is the first time that we're doing the Tres Amigas show. But for us three to be back, I don't think it's different, (although) we did lose a couple years filming together.
Shannon: It is crazy how with that break that we had to get back together and just snap right back into it like no time had passed.
What's the best thing about being a Tres Amiga?
Shannon: The silly fun and the sisterhood. The chemistry that the three of us have together is something you can't have with other people. I don't have it with other people.
Vicki: Well, none of us are replaceable. So if the Tres Amigas can't be together, we're never going to be bringing somebody else in.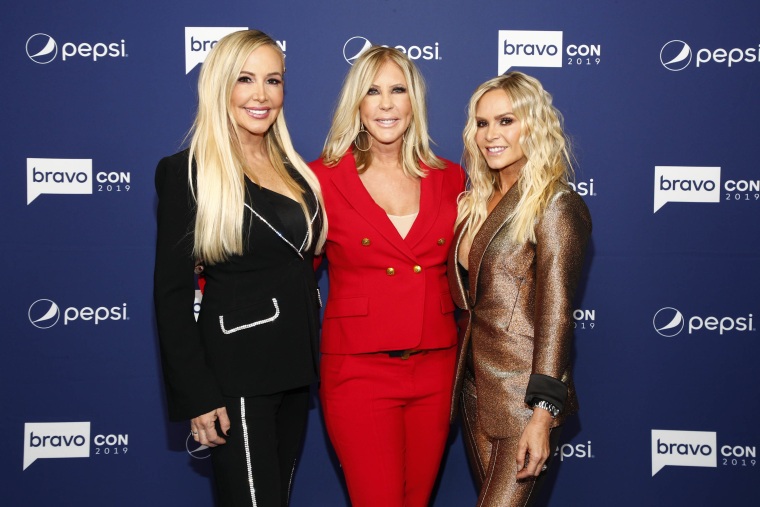 Well, that brings up another question. Back in Season 14, Tamra said Braunwyn Windham-Burke could be part of the "new Tres Amigas." Do you think she regrets that?
Vicki: She does that every year. The answer is no, there's no new Tres Amigas. 
Shannon: No new Tres Amigas.
Vicki: They're not invited.
On the Sept. 13 episode, there are a lot of flashbacks to all the wild times the Tres Amigas have had together. Do you each have a favorite memory?
Shannon: Tahiti absolutely was the most fun trip. That was my second season, and I didn't realize that when you had a planned dinner that you could split up. So it was just the three of us, and she (Vicki) literally drove a golf cart into a restaurant. 
Vicki: I thought it was a golf cart path. We were on a little bridge.
Shannon: They honestly freaked out. That was one of the most fun nights I've ever had.
Is that the one where you dance to the ringtone on Vicki's phone?
Shannon: Yes
Vicki: (replicates dance)
So you three are doing live shows: What do you each bring to the show? Who needs to practice a little more?
Vicki: I think we all need to practice more. Shannon's got the best dance moves. Tamra and I don't know how to dance, so we're still working on that. We've hired a choreographer to just get our box step down, but it's like a Lucy and Ethel on steroids show.
Shannon: It's a variety show. We have videos, we have skits, we have audience participation, we sing and we dance. We're not very good singers and dancers …
Vicki: (cackles)
Shannon: So it's kind of just silly fun.
Let's jump into this season of "RHOC." Vicki, you showed up on the cast trip to Mexico and surprised Tamra and Shannon. Shannon, did you have any suspicions that Vicki was going to show up?
Shannon: No, we were in a room that had an extra bedroom and I thought, "Oh, they're doing this because they anticipate a big fight in another villa, so we need to have a spare room for someone to move." It didn't even cross my mind.
Vicki: She said to me earlier that week: "I really wish you were going to Mexico." Like I'm working, I work. I can't just go to Mexico because you guys are filming. I wasn't invited. The answer's no, I'm not going. She's like, "You just need to show up." I'm like, "I'm not going to go, Shannon."
Vicki, coming back into the group, were you shocked that Tamra and Shannon made amends with Emily Simpson, whom you both had feuded with on prior seasons of the show?
Vicki: I'm all about peace at this time in my life. I do not like conflict and I will avoid it, but I will stand up for myself when I have to. So Emily, I never really thought of her and Shannon and Tamra reconciling because I didn't know what the issue was. So for me, it was just nice because I didn't see the conflict in the previous year. 
Shannon: I want to say though that watching the show is different than filming it, and when you watch, you see what people are saying behind your back — and Emily said quite a few unkind things behind my back. So, I don't know that you would say that we ended the season in such great resolution.
Well, the reunion taped last week. I'm sure you dealt with your feelings about Emily there?
Shannon: A little bit.
Who would you say you went at it with the hardest at the reunion?
Shannon: Gina (Kirschenheiter).
Who else had the most conflict?
Shannon: There were quite a few there. It was Tamra and Jenn (Pedranti), Heather (Dubrow) and a few people and then Gina and I.
After the social media back-and-forth that you and Gina had?
Shannon: No, no, it was about the time where I made a comment, which I regret, at my tequila party, where I was angry with her. But I think a lot of the audience and fans, and even Gina thought that I was alluding that Child Protective Services were going to put her children in the system. I never ever meant that, I shouldn't have said it at all. I regret it and I apologize for it, but I just meant that if she were to have been arrested, and an adult wouldn't have been home, they would have temporarily taken the kids for a little while, which still doesn't make it right to say.
Vicki: But that's the facts, if nobody was there, they would have probably taken the children until they could get ahold of Matt (Kirschenheiter — Gina's ex-husband). They're not going to leave the children home alone. 
Shannon: Anyways, it was a big, big deal for Gina, and it made it (the reunion) tough.
On the Sept. 13 episode, we see more conversation within the group about Jenn's relationship with her boyfriend Ryan Boyajian. By the end of the season and the reunion, will we see more clarity on their relationship, or do you still have questions about it?
Shannon: First of all, I believe I've been vocal about it. It's none of any of our business. If Jenn is happy, we all want her to be happy. But I do think that you'll see a little bit more from her perspective. I mean, we ended filming almost a year ago, and they're still together.
Let's jump away from "RHOC" and over to other Bravo hot topics. People reported that Carl Radke and Lindsay Hubbard broke off their engagement, and it allegedly happened in front of "Summer House" cameras. Do you think it's appropriate to break off an engagement on camera?
Vicki: I think they should be off camera.
Shannon. Yeah, off camera.
Vicki: Too raw.
There are rumors that Teresa Giudice and Melissa Gorga from "RHONJ" are essentially ignoring each other while filming the show's new season. Do you think it's possible to have two cast members on the same show that aren't really talking?
Vicki: I think that's difficult for the producers and for the people out in the field. Like how do they film a show if they're not talking? It's an ensemble cast. 
Shannon: Well, if they can be cordial and in the same room.
Vicki: I don't know about everybody else, but I'm over the fight. It's too much. Every frickin' season they're talking about why they don't talk to each other. Enough.
You both have been on "Housewives" for quite a long time, Vicki being the "OG of the OC" and Shannon, Season 17 is your ninth season. "The Real Housewives of New York City" just had a reboot, and there's talk about a potential one on "The Real Housewives of Atlanta." Do you like the idea of "Housewives" reboots with entirely new casts?
Vicki: I have a big comment about that. I think it's difficult to reboot a show where people are invested in my life, and all of a sudden now my life is not being shown. But I have a big life still, so I think when you bring on all new people, there's no vesting, there's no reason to watch them. I don't know what's happening now with any of these people's past or who they are. So it's not easy for people to watch a reboot because they don't have a vested relationship with them. 
Shannon: I do enjoy the new "New York," but I do see Vicki's point because for me, it's like, "Ah, now I got to get to know a new person." So I think it takes a lot when you have a brand-new show, you got to get to know an entire cast.
BravoCon is coming up — who are you most excited about whooping it up with?
Shannon: Well, anyone on "Below Deck." I am a huge fan.
Vicki: I like the ladies from "Dubai." I got to be really good friends with Caroline (Stanbury) last year and her husband Sergio (Carrallo), so I'm looking forward to seeing them. But I'm pretty much cool with everybody, but it's nice to get to know other cast members.
One final question: Now that the Tres Amigas are back together, what's your dream for the future of the group?
Vicki: We're going across the United States and worldwide. We're going to do the Tres Amigas show in Dubai.
Shannon: Right, we do have scheduled dates. We're going to be in Arizona on Nov. 16, we're planning a Florida thing, so our goal is to go on tour across the country. 
Vicki: And then a show! We're going to do a show. We're going to pop in cities that would never expect us to be there. We're going to do our Tres Amgias show and do a makeover for people.
"The Real Housewives of Orange County" airs Wednesdays at 8 p.m. ET on Bravo, and streams the next day on Peacock.
(Bravo and Peacock are part of our parent company, NBCUniversal.)