Tamra Judge has been gone from "The Real Housewives of Orange County" for two years, but in her mind, staying relevant "isn't an issue."
On Wednesday, June 7, Tamra made her long-awaited return to Bravo's "RHOC" after two years away from the franchise.
Tamra rejoined the cast alongside a few of her former castmates, show veterans Shannon Storms Beador, Heather Dubrow, Gina Kirscheneiter, and Emily Simpson, all of whom starred with Tamra during her initial tenure on "RHOC."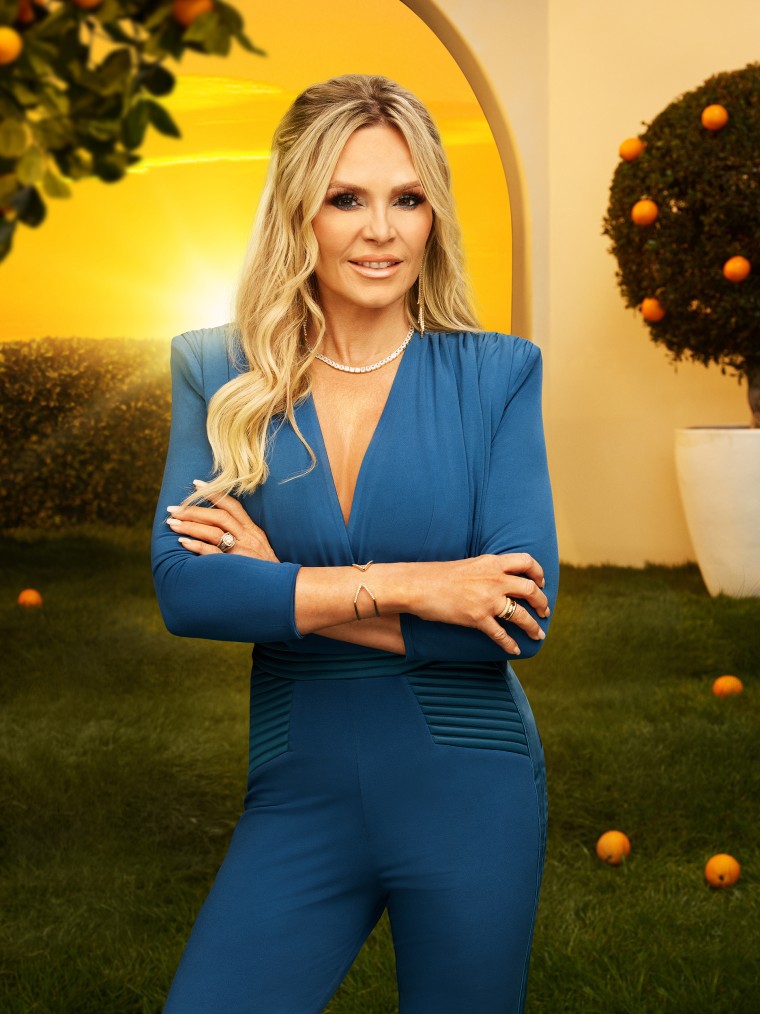 Two friends of Tamra's also joined the cast this year: Jennifer Pedranti as a full time cast member and Taylor Armstrong as a friend, who is also the first housewife ever to switch franchises.
TODAY.com caught up with Tamra to hear her thoughts on Episode One and all that's happening in the world of "RHOC" and beyond.
Tamra says she's 'activated' during 'RHOC' Season 17
The Season 17 premiere opens with a dramatic montage of Tamra riding a motorcycle to a tune of "be careful what you wish for," alluding to the rampant requests of fans for Tamra to return to the franchise.
After two seasons away from the cameras, Tamra says Season 17 shows an "activated" version of herself — one that isn't afraid to get deep into the drama.
Tamra says she "not taking anything too personal" and "having fun" during her latest era, noting she continues her pattern of "never really putting up with anyone's s---."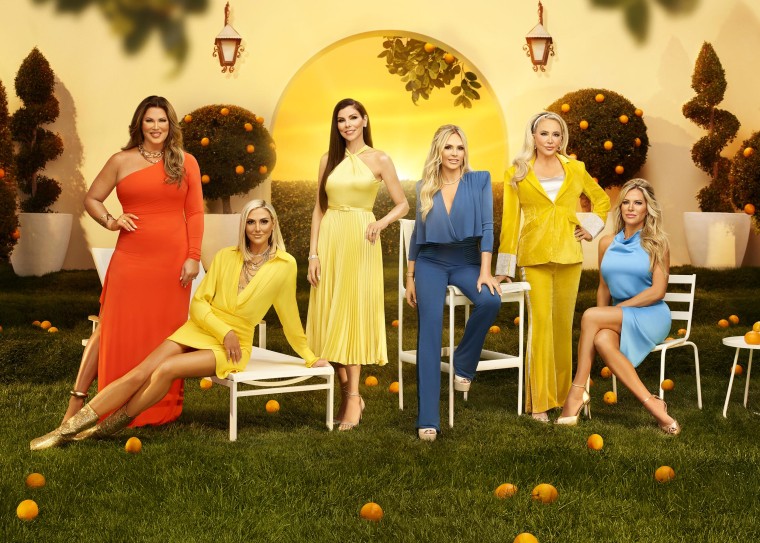 The season will show Tamra and her husband closing their gym, CUT Fitness, while continuing to expand their CBD line, Vena CBD.
We'll also see more of Tamra's family, including her mom, Sandy, and her son, Ryan, both of which appeared during her prior tenure of the show. Although we won't see her this season, Tamra notes that we may get a glimpse of her youngest daughter, Sophia, during the next season of the show.
Tamra reacts to Shannon Storms Beador's comments in the Season 17 premiere
Tamra's first foe during Season 17 is her former best friend Shannon who she fell out with after Tamra departed the show after Season 14. Tamra and Shannon have varying reasons for why they grew apart, all of which they'll hash out during upcoming episodes.
Episode One shows Shannon saying that Tamra used their feud to "become relevant again." While speaking with TODAY.com, Tamra says, "I never became irrelevant. So if anything, I was doing more press than (my former castmates) and I was on a number one podcast that was getting more views than the show was getting."
"I don't try to stay relevant and never have tried to stay relevant. It's not really my thing. I'm not that girl that's walking red carpets and doing all these things. It's not me. I actually live a very private life. We rarely go out. We were always at home. So relevancy is not really an issue with me," Tamra continues.
The pair made amends as filming continued, "agreeing to disagree."
"We've moved forward and we're moving on … until the reunion," Tamra jokes.
Tamra shares her message for the 'Tamra hate club' comprised of former 'RHOC' wives
Season 17 finds Tamra building a friendship with Emily Simpson after the pair struggled to see eye-to-eye during seasons past. 
Episode One shows the pair mending fences and setting intentions to build a genuine friendship moving forward, a friendship which seems to still be intact today.
Tamra tells TODAY.com, "She felt like she had a lot of outside influences telling her bad things about me, and I think she finally figured out they're not true. They're just people trying to make me look bad. They've been doing it for 10 years. There's still to this day, multiple press things and comments. It's old. Move on, just move on."
Who are influences Tamra is speaking of? A group of former housewives Tamra calls "the Tamra hate club."
Tamra's message to them? "I'm sorry you got fired, but there was a reason why."
Tamra says she's 'not convinced' that newbie Jennifer Pedranti's relationship will last
Tamra's friend Jennifer Pedranti joined the show as a full-time housewife this season, bringing another layer of frenemy-ship to the already complicated dynamic on the show.
Jennifer's official Bravo biography says "she is currently navigating her recent split from her husband, Will, who runs her family business, as they share a home. Her alleged affair with her now boyfriend and CUT Fitness member Ryan has been the subject of the gossip mill in town."
Tamra tells TODAY.com that she knows Jennifer's husband, Will, but that she's "always been closer" to Jennifer.
When asked if Jennifer's new relationship will make for the long haul, Tamra says, "I don't know. I'll just leave it at that. I'm not convinced."
Tamra says she and Heather Dubrow 'aren't at the best place' today
The Season 17 premiere shows distance between Heather Dubrow and Gina Kirschenheiter, a departure from their closeness in Season 16.
Tamra says she understands why Gina might be pulling away.
"When Gina said in the premiere 'well, I don't think you want to come to my parties' or however she worded it, that's how I feel too. Because Heather puts herself way up here where she's untouchable. I always feel like she's looking down at us like she's so much better than us. So a lot of us are like, well, we don't really want you to come over to our house and look down at us," she says.
"It's purely what she's giving off. I have friends that have more money than them and are so down to earth and don't have any problem with that. But she has this air about herself and it's not a good look. She ends up pretty much arguing with everybody on the cast this year," Tamra continues.
Heather and Tamra first met during Season 7 of "RHOC," and Heather even appeared as a bridesmaid in Tamra's wedding to her husband Eddie.
"I thought she was genuine. I thought that she really cared about me, but then when she was let go or left the show, it was one of those things where she didn't make an effort at all to talk, to hang out," she says.
"I think I saw her twice the entire time (she was off the show). I know it goes both ways. We don't hang out in the same friend group at all. Then when I came back, there was a lot of talk on her podcast that there was no place for me on the show. She and I got into it before I even got hired back."
Tamra says she and Heather "are not at the best place today."
Tamra spills on other 'Housewives' hot topics
On her podcast "Two T's in a Pod with Teddi Mellecamp and Tamra Judge," Tamra frequently shares her opinions on happenings in the Bravo world. Here, she shares a few more.
Garcelle Beauvais once said your co-host Teddi is 'like a little gnat.' Do you agree?
"No, she's not a gnat. Teddi is the most loving, fun, and outgoing and she's really good at the podcast. I tend to call her Teddi Walters. The podcast is Teddi's thing for sure. I mean, she's very smart. She knows her rundown. She does the investigative work, she goes down that rabbit hole. She gets all the stuff.
What's the biggest thing Teddi does to rile you up? 
"She won't let me talk and she's always right. Girl's always right."
Do you think Louie Ruelas hired a private investigator to investigate the cast of 'The Real Housewives of New Jersey?' 
"Yes, I do. If one person said it, eh, two people, eh, but if you have the entire cast and then an ex-girlfriend saying it and then there's multiple pictures of them together. It's not looking good for Louie. He is probably going to send one for me after this."
On future seasons of 'The Real Housewives of New Jersey,' who should stay: Teresa Giudice or Melissa Gorga?
"I'm very conflicted with Teresa and Melissa about who should go, who should stay. I'm thinking maybe another season together just to see where it goes, maybe they can get into some good therapy, but I definitely think there needs to be a break. I hate to see anybody get fired. I mean, I am team Melissa, I'll throw that out there, but I need to see a resolution to this, but 10 years of fighting I don't know what's going to happen."
Who's the most overrated housewife currently?
"The most overrated housewife currently … those bots are gonna come after me. I'm gonna say Teresa (Giudice)."
Who's the biggest rising star in the 'Housewives' world?
"There's Nicole from Miami and Ayan from Dubai. Ayan from Dubai for sure. I can't wait to see New York to see who the rising star is. I'm going to predict Brynn is the rising star of New York."
You went 'on pause' for a few years. Who needs to go on pause right now?
"I'm gonna go off the current shows right now, and that's Atlanta, I'm sorry. I like this girl (on the cast), but it's Sanya. I feel like she just needs to take a break. In Jersey, they all need to take a break."
Who's the last housewife you spoke to that's not on your cast?
"Margaret Josephs from 'New Jersey.' No dirt was given, but I am going to meet her tomorrow."
Does Margaret have an arsenal? 
"Margaret is an arsenal. Watch out."
What's your favorite part of being a housewife?
"That's a tough question, but being able to tell somebody off and get away with it — I mean that's golden, right there."