If you freaked out because the "Love Is Blind" reunion wasn't loading for you — don't worry, you weren't alone.
The Netflix reality show's first-ever live reunion was meant to start at 8 p.m. ET / 5 p.m. PT. The minutes went by — and nothing. At 8:02 p.m. ET, Netflix posted in a since-deleted tweet "Love is ... late #LoveIsBlindLIVE will be on in 15 minutes!"
As the delay continued, Netflix teased that the event would be "worth the wait" with a photo of Irina in her reunion gown.
What was meant to be a live reunion turned into a pre-recorded event in the end, with Netflix posting the filming update on Twitter at 9:29 p.m. ET. and apologizing that the "Love Is Blind" reunion "did not turn out as we had planned."
Some Netflix subscribers were able to stream the event shortly after 9 p.m. ET, while others continued to have technical difficulties, as Twitter users expressed.
Netflix tweeted at 1:40 a.m. ET on April 17 that the reunion would be "available globally at 12pm PT on April 17. Promise."
Hosted by Nick and Vanessa Lachey, all five couples from the show's dramatic fourth season — Brett Brown and Tiffany Pennywell, Zack Goytowski and Bliss Poureetezadi, Chelsea Griffin and Kwame Appiah, Marshall Glaze and Jackie Bonds and Paul Peden and Micah Lussier — were scheduled to be at the event. However, Jackie ended up not attending the reunion.
In the midst of the chaos, devoted "Love Is Blind" fans turned to Twitter to commiserate, find some answers and, of course, express their feelings with memes. Brands got in on the action, too, by tweeting out sentiments of condolences and witty responses to get in on the conversation.
Here are some of our favorites:
The best memes about the 'Love Is Blind' reunion delay
As the minutes went on, the phrase "get it together!" began trending on Twitter, a firm pep talk directed at the tech company, and the hashtag #LoveIsBlindLIVE rose to the top trending spot on Twitter in the U.S.
The delayed reunion led to, as one Twitter user characterized it, a "collective internet meltdown."
Another user compared the delay to Jackie failing to show up for her wedding dress fitting on the show.
While in the waiting room of the live event, people compared it to the suspense of joining a Zoom happy hour during COVID-19.
As for how Netflix could fix the problem? Commenters offered (funny) suggestions. Writer Hunter Harris joked that Netflix show "put rice in it," a common cure for fixing phones that have gotten wet.
Many on Twitter called for Netflix to not raise prices or restrict password sharing after the mishap, with one commenting, "@netflix don't ever raise prices ever again."
The technical difficulties reminded viewers of Brett Brown's sartorial difficulties in the finale, as he scrambled to get his suit fixed.
Rep. Alexandria Ocasio-Cortez of New York suggested Netflix execs call Lucia, the seamstress that helped fix Brett's suit before his wedding.
Over time, Brett, a fan favorite, became the unofficial mascot of the delayed reunion.
Other pop culture moments, like Gwyneth Paltrow's ski trial, were invoked.
Some also compared the internet's shared stress to the day Ticketmaster crashed due to the demand for Taylor Swift concert tickets.
Other media brands chimed in during the delay, such as Blockbuster, who shared a callback to the good old days of VHS.
Hulu appeared to comment on the Netflix delay by sharing a simple meme — Kerry Washington's character in "Little Fires Everywhere" giving a seemingly judgmental "hmm."
Meanwhile Bravo, which recently filmed a "confrontational" reunion for Season 10 of "Vanderpump Rules," tweeted, "We would never keep you waiting for a Reunion."
E! Entertainment chimed in as well, writing, "We're never #LateFromE...we're always #LiveFromE."
The mishap made people wonder how much progress streaming has really made.
"The internet coming together to s--t talk a global streaming giant who singlehandedly put a dent in linear TV, only to fail at doing linear TV themselves in a massively promoted tentpole event? Nature is healing #LoveIsBlindLIVE", one Twitter user wrote.
Finally, an hour into the delay, people seemed ready to watch it — later.
'Love Is Blind' cast members chime in
The fans aren't the only ones reacting to the delay. Former and current "Love Is Blind" cast members are sharing their reactions to the moment.
Marshall Glaze, a cast member this season, shared a meme of a man staring at a wall of wires. "I'm trying yall," he captions it.
On his Instagram story, Brown joined in on the fun and said the delay was from him "(running) to get (his) pants tailored."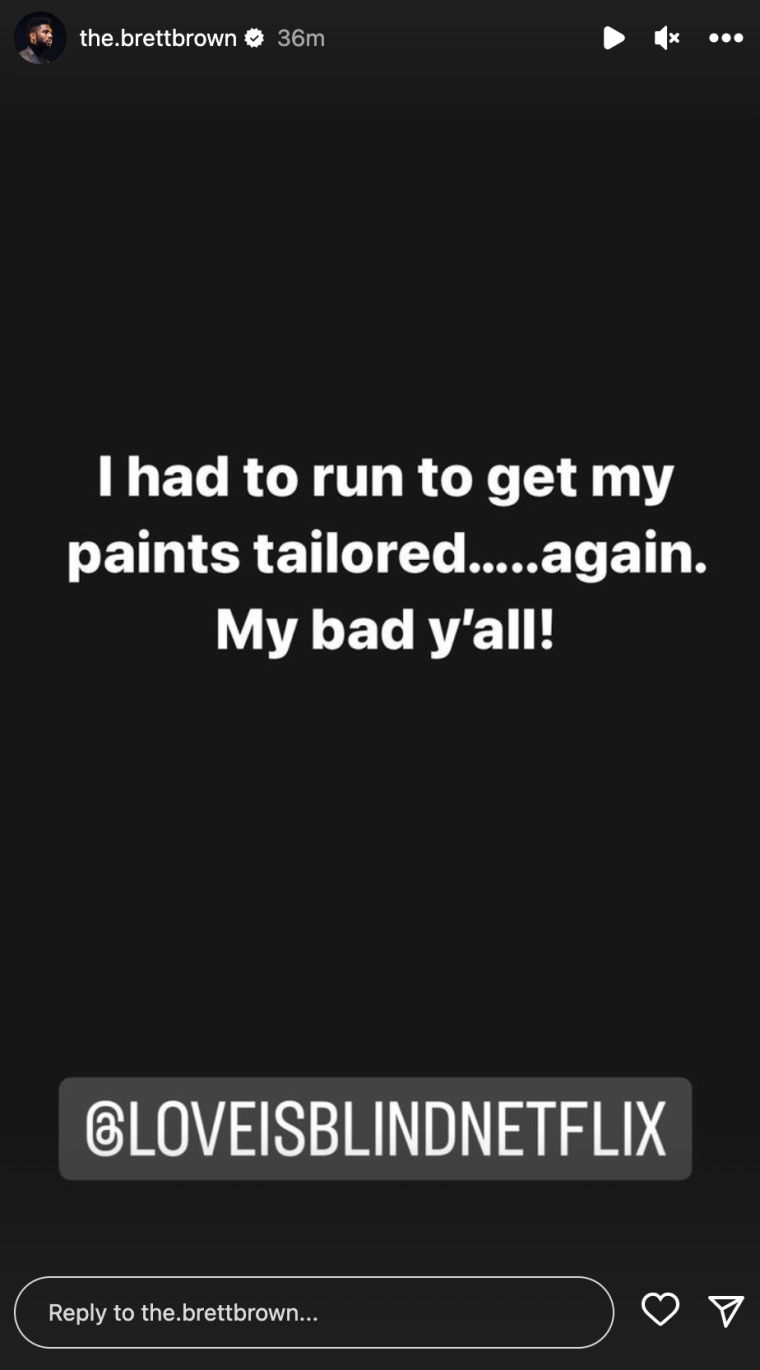 As for why the reunion is delayed? Vanessa Lachey gave an answer
At 8:15 p.m., Vanessa Lachey posted a video on Instagram from the studio where the cast and audience, comprised of past cast members, were gathered.
"Apparently we broke the internet! Thank you guys so much for tuning in and being patient! We're here and ready," she wrote in the caption.
Vanessa Lachey implied the reunion was delayed because of audience volume. "Apparently we broke the audience to see this reunion," she said in the video.
At the time, she said that the reunion would not proceed until the technical difficulties were resolved: "We're not asking any questions to anybody until we are streaming live into your living rooms, onto your phones, onto your tablets. I promise we will save all the tea for you. Don't turn the channel. Don't stream something else. We're coming for you."