Warning: This post contains spoilers for "Love Is Blind" Season Four.
Five more engaged couples have joined the "Love Is Blind" family. 
On March 24, Netflix released the first five episodes of Season Four of the hit reality dating series. After seasons in Atlanta, Chicago and Dallas, this season is set in the Seattle area, and introduces 30 contestants hoping to say "I do" by the end of Season Four.
Hosts Nick and Vanessa Lachey greet groups of men and women separately before their experiment in the pods begins. This season, a record-number of love triangles form before five couples decide to get engaged and head to Mexico for a romantic getaway. 
Learn more about the whirlwind romances from Season Four and the five couples that left the pods engaged below (and learn how to follow them on Instagram here).
Tiffany Pennywell and Brett Brown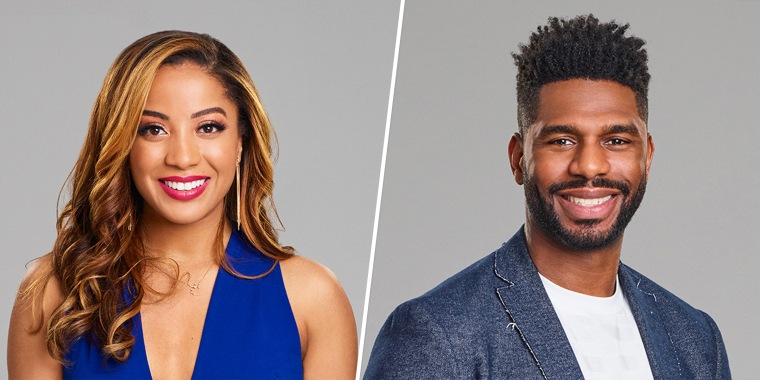 Chemistry between Tiffany, a 37-year-old client lead recruiter, and Brett, a 36-year-old design director, is apparent from the get-go, as they effortlessly chat for hours, sharing what they're looking for in a partner.
In fact, the only hurdle they have to overcome occurs when Tiffany accidentally falls asleep in the pods just as Brett is opening up about falling in love with her. As Brett calls her name, she continues to snooze. Feeling hurt, he leaves.
The next day, Tiffany apologizes for her terrible timing before Brett assures her that he still loves her. He gives a sweet speech about them bringing "happiness into each other's lives," then pops the question. She tearfully says yes.
When the two meet for the first time, Brown gets emotional as he compliments her on her beauty. They share multiple kisses before leaving for Mexico, and go on to have a relatively seamless engagement.
Micah Lussier and Paul Peden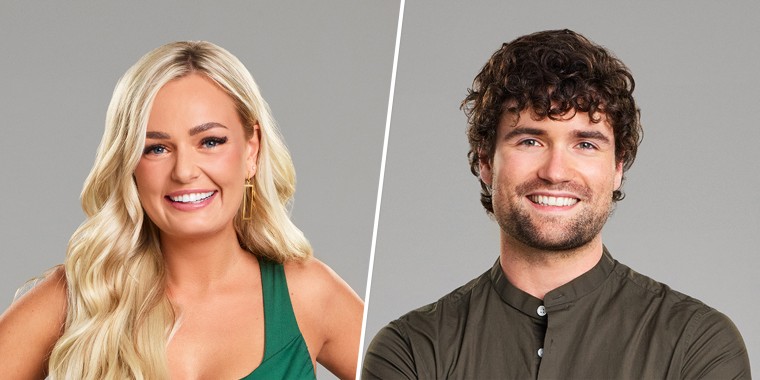 Micah Lussier, a 27-year-old marketing manager, and Paul Peden, a 29-year-old environmental scientist, both explore other connections in the pods before getting together.
Micah is interested in Kwame Appiah, 33-year-old sales development manager; Paul gets to know Amber Wilder, a 34-year-old flight attendant.
By Episode Two, Micah and Paul realize they're meant for each other and end their other connections.
Paul shares that he feels like he's in the "presence of true love" and "standing in the sun" when he speaks to Micah. He asks her to "stay close" and marry him. Micah agrees and says she wants to continue to "burn" with Paul.
When they meet, Paul says everything about Micah is perfect. But in Mexico, lingering feelings from the pods resurface, as Micah and Kwame speak at length at a pool party and touch on what went wrong between them. Micah also learns that her friend, Irina Solomonova, is harboring a crush on her fiancé.
Once in the U.S., their relationship is once again challenged by friends' intervention, with Micah's friend openly expressing her doubt about their relationship. Micah develops a fast bond with Paul's mom, however, and her own parents seem to approve.
Chelsea Griffin and Kwame Appiah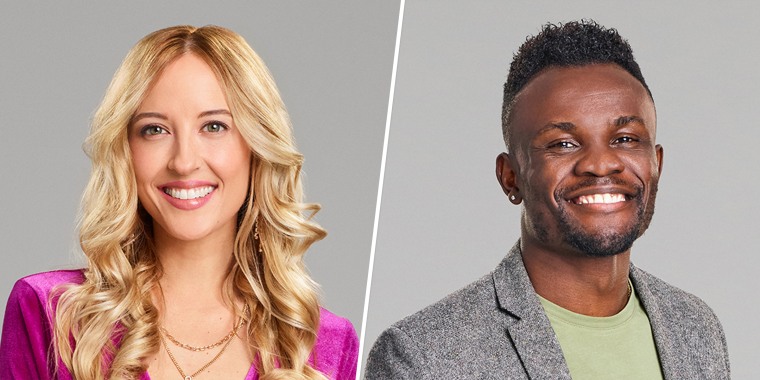 Although Kwame has a connection with Micah in the pods, he has a stronger one with Chelsea Griffin, a 31-year-old speech language pathologist.
During his proposal, Kwame tells Chelsea that for him, their relationship has been a slow burn.
"As time went on, it went on from what was perfect to us, to what we actually needed," he tells her. "Nothing's perfect. Because if it was perfect it wouldn't be real." He compliments Chelsea for always being herself and kneels down before proposing. 
Chelsea calls their love story "the most beautiful slow dance" and characterizes it as being "healthy and loving." She says she would be "honored" to be his wife. 
When the two travel to Mexico, they argue about Kwame needing "closure" from his relationship with Micah. Chelsea later has a private conversation with Micah and together, they reach the conclusion that it all was a misunderstanding. Chelsea tells the cameras that she's no longer concerned.
When they return to the U.S., Kwame struggles with lack of parental support — his mom won't go on the show, whereas Chelsea's family welcomes him with open arms. He also isn't entirely comfortable with the idea of moving to Seattle and leaving his life behind in Portland.
Zack Goytowski and Irina Solomonova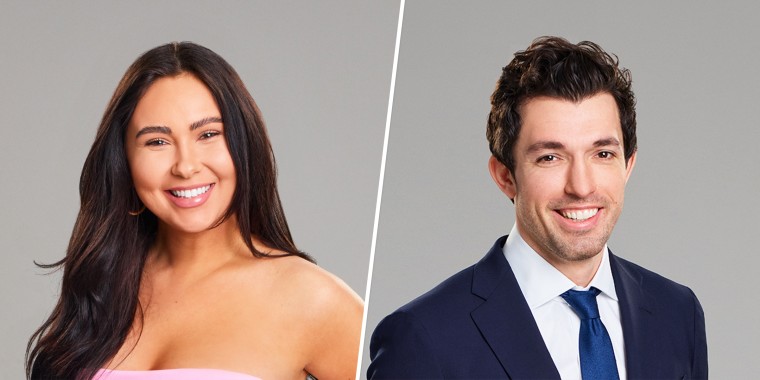 Both Seasons One and Two of "Love Is Blind" include couples who call it quits before making it to the altar — and Zack Goytowski and Irina Solomonova continue this trend into Season Four. 
The two hit it off in the pods as Zack, a 31-year-old lawyer, shares difficult moments from his childhood and Irina, a 25-year-old business owner, speaks about her struggles with self-confidence.
But, Zack also developed a relationship with Bliss Poureetezadi, a 33-year-old program manager, at the same time. 
Competition between the women comes to a head over cupcakes. Bliss bakes goodies for Zack for his birthday, whereas Irina forgets about the occasion entirely. Despite her thoughtfulness, and their love for the same Lee Ann Womack ballad, Zack doubts his relationship with Bliss, breaking up with her in favor of Irina.
Irina happily accepts Zack's proposal, after he serenades her with a song — but the two act like strangers when they first meet. Irina tells Zack he resembles "something out of a cartoon."
Their awkward interactions continue in Mexico. Irina recoils any time Zack tries to be affectionate and tells the cameras they do not have a physical connection. She also expresses an attraction to Paul.
At the end of Episode Five, the two decide to end their engagement. They agree that Zack should have proposed to Bliss. He returns from Mexico determined to see if he can convince Bliss to give their relationship a try again.
Irina opened up about her breakup with Zack in an interview with TODAY.com, saying it came down to a gut feeling.
"I feel like me and Zack weren't meant to be," Irina tells TODAY.com in an interview. "It wasn't anything about his looks, or anything like that, it was more of the sense of feeling this gut feeling that he wasn't the person for me."
Zack Goytowski and Bliss Poureetezadi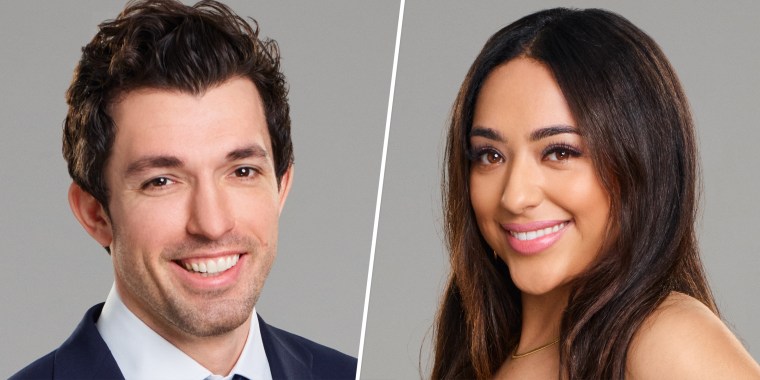 In Episode Six, Zack and Bliss met face-to-face for the first time at a restaurant back in Seattle. As they discussed their breakup in a quiet booth, the two decided to give their relationship a second chance. 
Bliss appeared slightly stoic during their conversation, but she reveals in an interview with TODAY.com that her demeanor was intentional. 
"I don't know if you can discern this from the episode but I was trying to hold it back," she says. "But there was a very intensive chemistry when we saw each other." 
She said she did not have any expectations when she learned Zack wanted to meet. She agreed to see him because she still trusted him and knew he would be honest with her about his feelings. 
"I also really felt like I loved this person. I felt like this was my person and I'm always open and willing to hear people out," she says. 
From the moment he told her 'goodbye,' Bliss knew Zack made a mistake in the pods. "I was never gonna say that to him because I'm not here to convince someone to be with me," she explains. 
Zack tries to woo her on the show by cooking dinner, but his meal does not go according to plan. He improvises and the pair end the night dancing around his kitchen. 
In Episode Eight, the couple board a yacht and Zack surprises Bliss by asking her to marry him. She happily agrees, and explains why here to TODAY.com. Their engagement reaches new challenges in the form of Bliss' dad, who is doubtful of their relationship.
Marshall Glaze and Jackie Bonds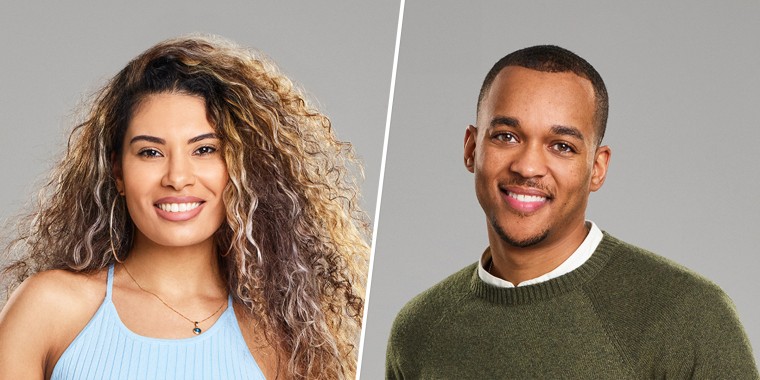 Jackie Bonds, a 27-year-old dental assistant, has sparks with both Marshall Glaze, a 27-year-old marketing manager, and Josh Demas, a 31-year-old project engineer, in the pods.
She dreads having to choose one of them, and opens up to Josh about her thought process. He says he'll leave the show if he's not chosen. Jackie, upset, ends their relationship to focus on Marshall.
Marshall, who never doubted their connection, tells Jackie he's in love with her and asks her to marry him.
"Of course I'll marry you," Jackie replies. "I'll marry you a thousand times." 
They continue to get to know each other in Mexico. Soon, worries from home encroach on their paradise. Jackie has anxieties about the family obligations waiting for her. Marshall comforts her as she cries.
By the next episode, the two are laughing and having fun. Jackie tells the camera he fiancé "makes Mexico fun." When she faces a difficult moment in Mexico, Marshall supports her.
They break up in Episode 11, however, following Jackie reconnecting with Josh.