With the rumors linking Taylor Swift to NFL star Travis Kelce now in overdrive, Swifties are doing their best to learn more about the Kansas City Chiefs tight end and, well, football in general.
To that end, some of the "Anti-Hero" singer's admirers have become curious about a new Prime Video documentary simply titled "Kelce."
Though the movie focuses on Travis Kelce's older brother, Philadelphia Eagles center Jason Kelce, it features appearances by Travis Kelce, including adorable footage of the 6-foot-5-inch athlete and his baby niece.
Travis Kelce was first linked to Swift back in July when he revealed that he tried to meet the 12-time Grammy winner and to give her his number backstage at one of her "Eras Tour" concerts.
He opened up about hoping to present Swift with a homemade bracelet during the July 26 episode of his and Jason Kelce's "New Heights" podcast.
After months of internet chatter, rumors about a romance between the two celebrities reached fever pitch on Sept. 24 after Swift attended a Kansas City Chiefs football game at Arrowhead Stadium in Kansas City, Missouri.
Adding to the delirium was the fact that Swift sat beside Kelce's mom, Donna Kelce, in the team's club seats. And, afterward, Swift and Kelce were spotted leaving the stadium together and driving off in a convertible.
TMZ later published a pic of Swift with her arm around Kelce's neck at a game afterparty.
Naturally, Swifties are eager to learn more about Swift's new favorite football star and his family. So here's what we know about the "Kelce" documentary and how to watch it.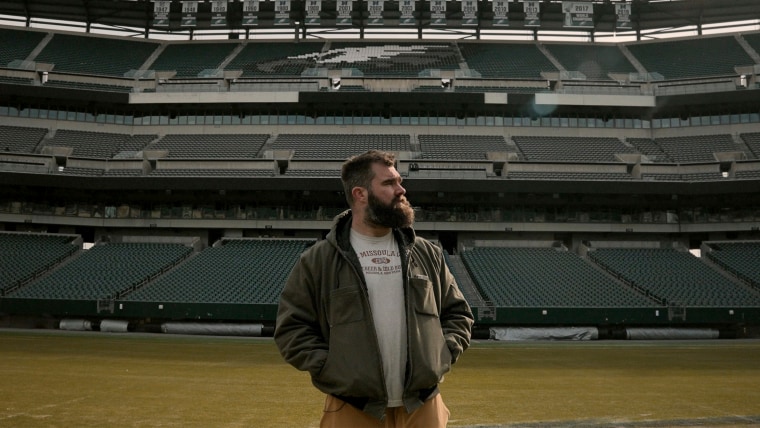 What is the 'Kelce' documentary about?
The "Kelce" documentary on Prime Video shines a light on Travis Kelce's older brother, Philadelphia Eagles center Jason Kelce.
The movie takes viewers behind the scenes of Jason Kelce's 2022-2023 football season, which he initially believed might have been his last season in the NFL.
The season ended, of course, with the Philadelphia Eagles facing off against — and losing to — Travis Kelce's team, the Kansas City Chiefs, at the 2023 Super Bowl.
What's so special about the movie?
The documentary has warmed viewer's hearts for showing the softer side of the burly, bearded Jason Kelce, who off the field is a loving husband to wife Kylie McDevitt Kelce and a devoted dad to the couple's three daughters: Wyatt Elizabeth, Elliotte Ray and Bennett Llewellyn, who was born in February.
The movie also depicts the strong bond between the Kelce brothers, including one scene that shows Jason Kelce leaving the football field shortly after the Eagles beat the 49ers in the NFC championship.
Cameras follow him as he greets his wife and kids, then dons a Chiefs sweatshirt and heads to Chickie's & Pete's in Philly to watch his little brother in the AFC championship with his parents.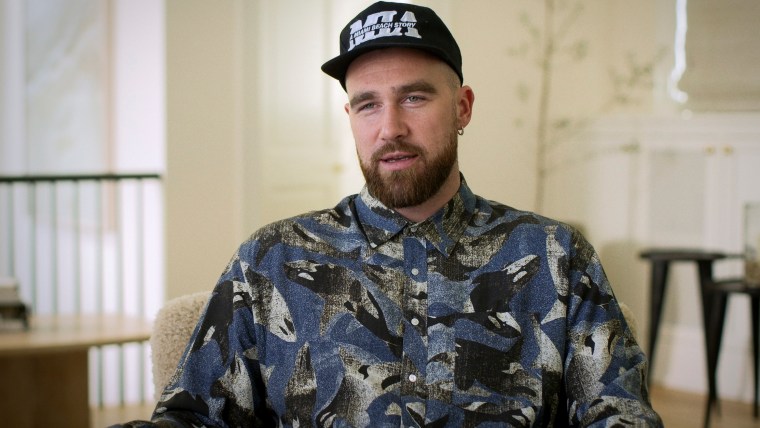 Is Travis Kelce in the documentary?
While Taylor Swift is not in the documentary, her rumored boyfriend, Travis Kelce, appears throughout.
In one cute scene, the NFL star appears to be puzzled as he tries to figure out how to hold his new baby niece.
Jason Kelce advises him to hold her "just like a football," inspiring his brother to make a few adjustments. After Travis Kelce gets his hold correct, both brothers simultaneously say "There you go" and grin.
In another heartwarming scene, Jason Kelce's oldest daughter, Wyatt, tells him she knows the Eagles lost to the Chiefs in the Super Bowl.
"Uncle Travvy winned," says Wyatt.
"Uncle Travvy did win," her dad replies. "It's alright. Uncle Travvy got it. We can be happy for Uncle Travvy."
Who else is in the documentary?
The Kelce brothers' mom and dad, Donna and Ed Kelce, also appear in the documentary as does Jason Kelce's wife, Kylie McDevitt Kelce, and daughters.
Several other NFL stars, including Philadelphia Eagles players Lane Johnson and Brent Celek, are also featured.
Where can I watch it?
"Kelce" is available to stream exclusively on Prime Video for those with a Prime membership.
Amazon Prime members get access to Prime Video, but a Prime Video-only membership is also available for $8.99 per month.