After nearly five months of the Writers Guild of America being on strike, which has stalled the production of TV shows, the WGA and Alliance of Motion Pictures have reached a tentative agreement.
After a weekend of negotiations between the WGA and Hollywood's studios, the WGA said with "great pride" in a Sept. 24 notice that an "exceptional deal" has been made that includes "meaningful gains and protections for writers in every sector of the membership." 
The WGA's Communications Specialist confirmed the news in an email response to NBC News.
The WGA clarified in the notice that its members are still on strike until "specifically authorized by the Guild," but WGA picketing has officially been suspended as of Sept. 24.
WGA, an alliance of two labor unions representing more than 11,000 film, television, news, radio and online writers, went on strike May 2 for higher wages, fairer working conditions and a stable pay structure, among many other things. Since then, members have picketed outside the headquarters of major studios across the country and have prevented filming in majors cities like New York City and Los Angeles, resulting in production coming to a halt for many TV shows.
One of the latest picketing events occurred outside the CBS Broadcast Center in New York City after Drew Barrymore announced on Instagram that her talk show would resume filming earlier this month amid the writers strike.
Many WGA members accused Barrymore of crossing a picket line, and after the host shared a since-deleted Instagram video Sept. 15 explaining her choice to resume filming of "The Drew Barrymore Show," she decided to walk back her decision and pause the show.
"I have listened to everyone, and I am making the decision to pause the show's premiere until the strike is over," she wrote in a Sept. 17 post. "I have no words to express my deepest apologies to anyone I have hurt and, of course, to our incredible team who works on the show and has made it what it is today."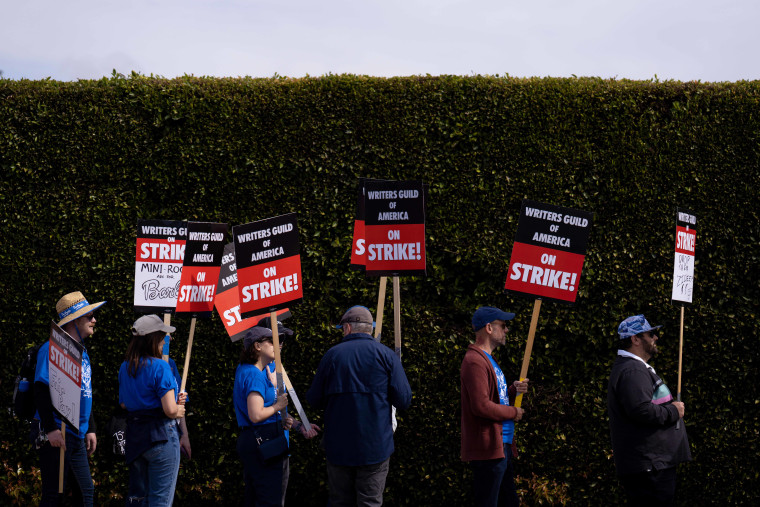 On July 13, Hollywood actors joined the picket line and went on strike, in an announcement shared by SAG-AFTRA. During a press conference, SAG-AFTRA president Fran Drescher called the moment a "very big deal" for the entertainment industry.
While the WGA and AMPTP have reached a tentative agreement, it's unclear what that means for TV shows that have stalled production until the contract is finalized, but many are hopeful their favorites can resume in the near future.
Here are TV shows that have been affected by the WGA strike.
"Abbott Elementary"
The writers' room of the hit ABC comedy, which recently wrapped its second season, is closed for business, star Sheryl Lee Ralph told TODAY.com last week.
"They were supposed to be going back into the writers room (on May 3) to start on the third season," Ralph said. "They won't be."
"Stranger Things"
Twin brothers Matt and Ross Duffer, who created the supernatural Netflix drama, said work on the show's upcoming fifth season is on hiatus during the strike.
"Duffers here. Writing does not stop when filming begins. While we're excited to start production with our amazing cast and crew, it is not possible during this strike," they wrote in a joint statement on Twitter. "We hope a fair deal is reached soon so we can all get back to work. Until then -- over and out. #wgastrong."
"Saturday Night Live"
NBC's sketch comedy show went dark May 2 after the show's writers went on strike.
"SNL" alum Pete Davidson, who had been slated to host the show that week, showed his solidarity by delivering pizza to people on a picket line in Brooklyn, New York, May 5.
Late night talk shows
NBC's "The Tonight Show Starring Jimmy Fallon" and "Late Night with Seth Meyers," as well as CBS's "The Late Show with Stephen Colbert" and ABC's "Jimmy Kimmel Live!" are all on pause during the strike.
"The Handmaid's Tale"
Writing has paused on the sixth and final season of Hulu's dystopian drama, Reuters reports. 
"The existential nature of this fight has become clear to everyone," co-showrunner and executive producer Yahlin Chang said on the WGA's website.
"Billions"
Protestors interrupted filming of the Showtime drama twice during the first week of the strike, Deadline reports.
Strikers prevented filming from taking place at various location shoots around New York City. Amy Schumer joined protests in Brooklyn, and Edie Falco joined efforts in Manhattan, according to Deadline.
"The Last of Us"
The casting process has been delayed for the second season of HBO's dystopian drama because there are no scripts to read from, Variety reports.
Before casting paused, actors were reportedly auditioning using lines pulled directly from "The Last of Us Part II," the video game upon which the series is based, according to Variety.
"Loot"
Filming for the second season of the Apple TV+ comedy starring Maya Rudolph has been stalled by the strikes, Deadline reported on May 5.
"Sinking Spring"
Production of the Apple TV+ drama was shut down for at least one day by the strike in Philadelphia, showrunner and strike captain Warren Leight shared on Twitter on May 9.
"Wonder Man"
Protesters reportedly managed to stall production of this highly anticipated upcoming Marvel drama in Hollywood, according to Deadline. 
"Daredevil: Born Again"
Production of the Marvel series was suspended for a week and it is "unclear" when filming will resume, Deadline reported.
The WGA East union also said on Twitter that filming of "Daredevil: Born Again" had been "completely shut down" in New York. 
"FBI: Most Wanted"
Filming for the fourth season of this Dick Wolf crime drama was temporarily interrupted by strikers in New York on May 11, according to Deadline.
"Power Book II: Ghost" 
Filming of the Starz show was temporarily shut down by protesters in New York City's Tribeca neighborhood, according to Deadline. 
"Power Book II: Ghost" is a sequel to the Starz crime drama "Power," which ran from 2014 to 2020.
"Severance"
As the second week of the writers' strike began, production of Season Two of Apple TV+'s dystopian thriller was paused in New York City, according to Deadline.
"Yellowjackets"
Writing for the third season of the Showtime thriller is apparently on hiatus due to the strike.
"Well, we had exactly one day in the #YellowJackets S3 writers' room," the show's co-creator Ashley Lyle tweeted May 2. "It was amazing, and creatively invigorating, and so much fun, and I'm very excited to get back to it as soon as the #WGA gets a fair deal."
"Andor"
Tony Gilroy, the showrunner for the Disney+ "Star Wars" series, told The Hollywood Reporter that he has ceased all writing and producing work on the show. 
"I discontinued all writing and writing-related work on Andor prior to midnight, May 1. After being briefed on the Saturday showrunner meeting, I informed Chris Keyser at the WGA on Sunday morning that I would also be ceasing all non-writing producing functions," Gilroy said in a statement to The Hollywood Reporter. 
Gilroy had come under fire for originally continuing with production work on the show after the strike began. 
"Hacks"
Production for the HBO Max comedy is on pause during the strike.
"We are devastated to not be with our incredible crew and cast right now, but there was no other option here," the show's co-creator Jen Statsky wrote on Twitter. "Writing happens at every stage of the process — production and post included. It's what makes shows and movies good. It's what makes them possible."
"Unstable"
Filming has paused for the second season of the Netflix comedy starring Rob Lowe and his son, John Owen Lowe. 
Both Lowes were spotted in a picket line in Los Angeles during the first week of the strike.
"I came out to support the writers because as actors, we're only as good as the writing we get," Rob Lowe told Reuters as he marched.
"The Venery of Samantha Bird"
This upcoming Starz psychological thriller paused filming with two episodes left to shoot of its first season, according to Deadline.
"P-Valley"
Writing for Season Three of the Starz drama is on hiatus.
"Despite rumors, due to the #WGA #WritersStrike filming on #PValley has been postponed," creator Katori Hall tweeted on May 10. "Like many of my fellow showrunners, I feel as though my writing & producing duties are inextricably linked. We will not be filming until a fair deal is reached."
"Evil"
The Paramount+ series is ending production early on its fourth season. Variety reported that the show wrapped early due to a cast member leaving the show temporarily due to a "personal family matter."
Picketers also interrupted filming of the show. 
"A handful of us walking in a tiny circle cost them the day's shoot," writer and radio producer Starlee Kine tweeted on May 6, sharing a photo of people holding protest signs. "We were told the producers were pissed. They kept the crew there for hours, sitting on the sidewalk. We felt the solidarity. We'll win this whole thing together."
"Pretty Little Liars: Summer School"
Filming for this HBO Max "Pretty Little Liars" spinoff series was reportedly interrupted in Newburgh near New York City, according to Deadline.
"Good Trouble"
Filming for the fifth season of this Freeform series, a spinoff of "The Fosters," was paused on May 9, according to Deadline.
Picketers targeted a shooting location in Los Angeles and members of two other unions, IATSE and Teamsters, refused to cross the picket line in solidarity.
"Bunk'd"
Season Seven of this Disney Channel show halted filming due to the strike. 
Producers hope to resume filming "at the earliest possible opportunity," Disney's It's a Laugh Productions told Deadline in a statement.
"A Knight Of The Seven Kingdoms: The Hedge Knight"
This "Game of Thrones" prequel has paused production. 
George R. R. Martin confirmed the news in a May 7 blog post, expressing his "complete and unequivocal support of my Guild."
"The writers' strike is on," he wrote. "No one wanted this — no writer with an ounce of sense, anyway — but the producers and the studios and the networks and the streamers gave us no choice. The Guild negotiated right up to the final deadline on May 1, but it takes two to tango."