You may have heard a little rumor that Taylor Swift and Travis Kelce are dating. Well, those rumors may get just a wee bit louder this weekend when the pop superstar is expected to attend the Kansas City Chiefs game versus the New York Jets at MetLife Stadium in East Rutherford, New Jersey, that will air nationally on NBC's "Sunday Night Football."
A promo for the game not-so-subtly features Swift's song "Welcome to New York" over highlights of the Chiefs and Jets. In fact, the spot opens with Kelce himself walking out of a tunnel with his arms spread open. There are other images of him catching a pass, running with the ball, pointing, hauling in a touchdown pass, laughing and standing on the sideline with his helmet off.
Two sources close to the situation confirmed to NBC News that Swift plans to attend the game Sunday. Representatives for Swift declined to comment.
Swift, of course, sent shockwaves throughout the NFL and the pop culture world in general when she watched last week's Chiefs game alongside Kelce's mother in arguably the biggest thing to happen to the sport since the invention of the forward pass.
Rumors of a romance between the "Blank Space" singer and the star tight end have had a domino effect, too, with sales of his jersey going through the roof.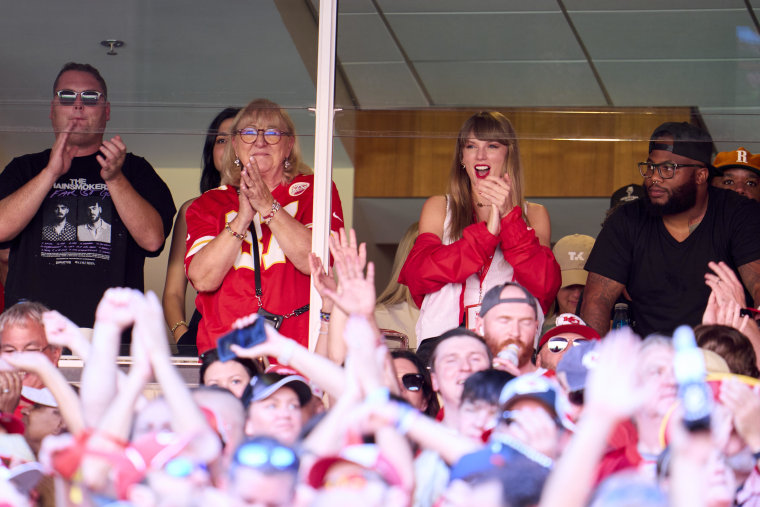 Speculation about "Traylor" or "Tayvis," or whatever nickname you have for this pairing, has grown to Super Bowl-level volume in recent weeks. And while Swift has remained mum on the subject, Kelce has been singing a different tune.
"Shout out to Taylor for pulling up, that was pretty ballsy," he said earlier this week about her appearance at last week's game while on his "New Heights" podcast that he hosts with his brother, Philadelphia Eagles center Jason Kelce.
"I just thought it was awesome how everybody in the suite had nothing but great things to say about her. You know, the friends and family. She looked amazing. Everybody was talking about her in a great light and on top of that, the day went perfect for Chiefs fans, of course," Kelce said.
Kelce and Swift were later spotted leaving the stadium together.
"It was definitely a game I'll remember, that's for damn sure," he said. "And then we just slid off in the getaway car at the end."
A source previously told TODAY the two are "just getting to know each other" and that Kelce and Swift hung out together over a month ago in New York.