Emma Heming Willis' stepdaughters paid heartfelt tribute to her for being a "champion for this cause" after her appearance on TODAY discussing husband Bruce Willis' life with frontotemporal dementia.
Scout Willis, one of Willis' three daughters with ex-wife Demi Moore, praised Heming Willis in a message on her Instagram story on Sept. 25. The post showed video of Heming Willis preparing for her interview on TODAY and then speaking with Hoda Kotb.
"I truly could not be more proud of @emmahemingwillis for being willing to step out into the public eye, (even though it's terrifying!!!) to share our family's story in service of spreading awareness about FTD," the 32-year-old wrote on Instagram.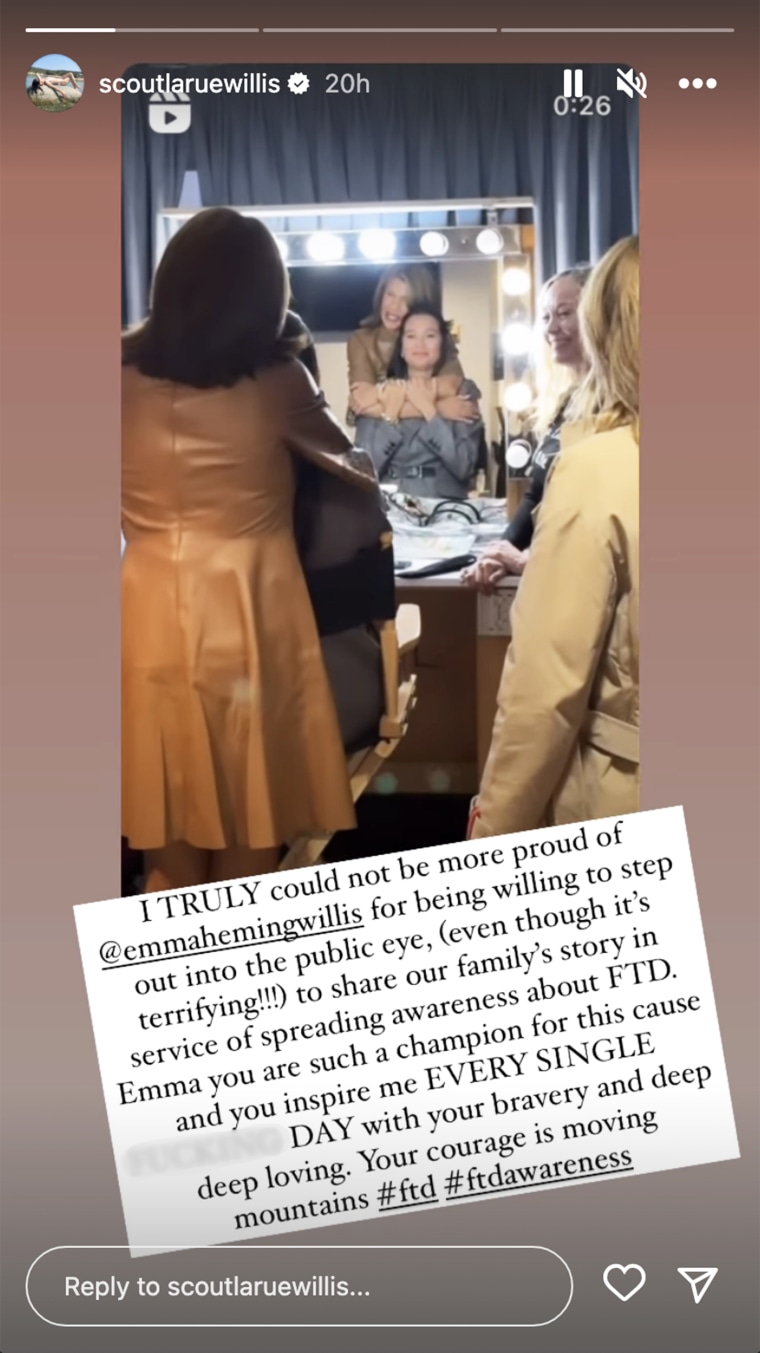 "Emma you are such a champion for this cause and you inspire me every single f------ day with your bravery and deep deep loving. Your courage is moving mountains #ftd #ftdawareness."
Scout Willis' younger sister, Tallulah Willis, 29, shared her sibling's message on her own Instagram story.
"So proud of my family," she wrote, also tagging her stepmom.
Earlier in the day, Heming Willis, 45, spoke with Hoda about their family's life since the beloved action movie star was diagnosed with frontotemporal dementia earlier this year. In March 2022, the family revealed Bruce Willis was diagnosed with aphasia, which impacted his cognitive abilities and led to him stepping away from acting.
"Dementia is hard," Heming Willis said on TODAY. "It's hard on the person diagnosed, it's also hard on the family. And that is no different for Bruce, or myself, or our girls. When they say this is a family disease, it really is."
Heming Willis' interview kicked off World FTD Awareness Week. She was joined by Susan Dickinson, the CEO of the Association for Frontotemporal Degeneration.
Coming to terms with her husband's diagnosis was "the blessing and the curse," Heming Willis said on TODAY. "To finally understand what was happening so that I could be into the acceptance of what is — it doesn't make it any less painful, but ... just being in the know of what is happening to Bruce makes it a little easier."
Heming Willis has two daughters, Mabel Ray Willis, 11, and Evelyn Penn Willis, 9, with Bruce Willis.
"Listen, I think my kids would be great no matter what and this is not what I would want for them," she told Hoda. "But really, like I said, it's teaching them so much — how to care and love — and it's really a beautiful thing amongst the sadness."