Rihanna and A$AP Rocky's newborn son has made his first magazine debut!
Riot Rose, born in August of this year, appeared alongside his parents in a series of photos published by People.
The 35-year-old "Love On The Brain" singer and the 34-year-old rapper appear all smiles as they pose alongside Riot and their 16-month-old son, RZA. The singer and rapper can be seen gazing down at their newborn as he lays on a blanket spread out on a floor in one photo. In another, Rihanna holds Riot in her arms as she smiles at RZA, who is perched on his father's arm.
Rihanna and A$AP Rocky welcomed Riot Rose on Aug. 1.
The couple became parents for the first time in May 2022 with the birth of their son RZA.
Here's a deeper look at the couple and their family.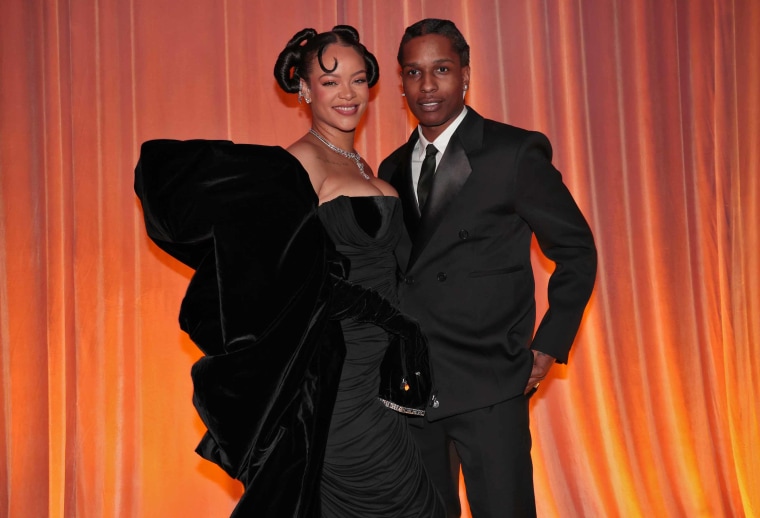 The meaning of RZA's name
Though RZA arrived in May 2022, fans waited an entire year for the couple to reveal the little boy's name.
That happened in May 2023 when Rocky, whose real name is Rakim Mayers, shared an Instagram post honoring his little boy's first birthday. "WU TANG IZ 4 DA CHUREN. HAPPY 1st BIRTHDAY TO MY 1st BORN. RZA," he wrote alongside several family pics and a video of him holding his son.
RZA's name was inspired by Wu-Tang Clan rapper RZA, whose real name is Robert Fitzgerald Diggs.
Two months later, Diggs told CNN that he was flattered that the couple was inspired by his name. "(It's) a great honor to know that there's another generation that's not even of my own household that feels the strength and the inspiration of that name," he said.
He added, "I salute (Rihanna) and A$AP and their family. All the blessings in the world from me."
The first time Rihanna showed fans RZA
The "Diamonds" singer made fans wait seven months before they got an official glimpse of baby RZA. The adorable little boy made his debut on Rihanna's social media when she shared a TikTok video of him riding in a carseat in December 2022.
Luckily for fans, once Rihanna started showing off RZA, she couldn't seem to stop.
In March, she proudly showed off her baby boy in pictures and in a video that showed him reacting to the music video of her song "Lift Me Up."
In April, she shared several snaps of RZA celebrating his first Easter by playing in the grass near decorated eggs and rabbits.
Later the same month, the "Rude Boy" singer posted a video of her holding little RZA in her lap as he watched TV.
RZA appeared with his parents in British Vogue
RZA appeared alongside his parents when the whole family posed for the cover of the March 2023 edition of British Vogue.
The trio appeared together in a gorgeous beachside image. Rihanna, wearing a slinky black dress with a high slit, was seen walking in the sand ahead of Rocky, who cradled their baby boy in his arms while kissing the top of his head.
More photos of the couple and their child appeared inside the magazine's pages.
Rihanna opened up about 'protecting' her son
While speaking to British Vogue in the accompanying interview, Rihanna showed she's a protective mom.
The self-made billionaire said she understood why people are fascinated by her relationship and their first child, but insisted she won't let RZA be exploited.
"Throw me to the wolves. Do what you want with me. But he doesn't have a say in any of this," said Rihanna. "We've been protecting him thus far and you don't have any consent to be posting photos or selling photos of my child, a minor. Get the hell out of here with that."
"As parents it just feels so icky, like a violation," she added.
Rihanna gushed about Rocky and RZA's 'connection'
In the same British Vogue interview, Rihanna gushed about the "connection" she saw between Rocky and their son.
"I'm just sitting on the sidelines when they're together," she said. "I'm literally the girl trying to get into the boys club, waiting for my turn. He is obsessed with his father. And I'm like: 'Didn't I give birth to you? What is going on?'"
"Their connection is undeniable," she added. "The second Rocky makes eye contact with him he is on fire. The whole thing they say about sons and moms, it's a myth. Sons and fathers is crazy. I realized that the validation that you really need as a boy is from your father."
Rihanna described RZA as both 'happy' and 'cuddly'
Shortly before fans got to see cute RZA for themselves, Rihanna told "Entertainment Tonight" in November 2022 that he was a "happy" baby.
"He's amazing, he's a happy baby," said the new mom.
She added that she loved seeing her little boy at the start of each day. "Oh my God, the mornings, like, seeing his morning face!" she said. "Seeing a baby with, like, little bags and waking up and they're just, like, startled. They're trying to figure out where they're at. It's the cutest, it's my favorite part of the day."
The same month, the "Work" singer described her son as "cuddly" while speaking to People. "He is funny, he's happy — and he's fat!" she said. "He's amazing. It's a real cuddly stage right now."
A$AP Rocky said being a dad is 'beautiful'
The rapper talked excitedly about being a first-time dad when he spoke to Complex in December 2022.
"It's beautiful. Honestly, I think fatherhood gives me more time to do exactly what I want. I don't have time for anything that isn't priorities," he said. "I love it. Everything is just based around my newfound love for being a dad and a family man. It's lit right now. I can't even describe it."
Rihanna revealed she's pregnant with her second child
The Grammy winner announced she was expecting again during her much-anticipated 2023 Super Bowl halftime show on Feb. 12.
The singer gently placed her hands on her baby bump while performing a medley of her hits. After the show, Rihanna's reps confirmed to NBC News that she and Rocky were expecting another baby.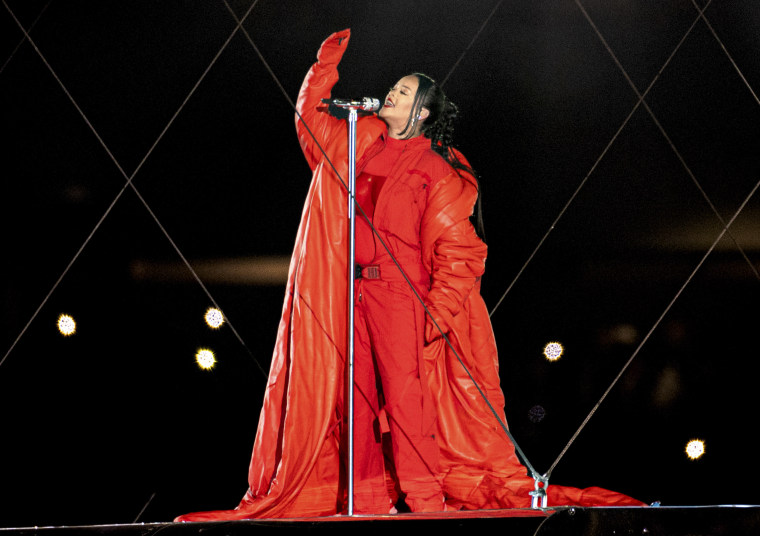 Rihanna and A$AP Rocky welcome their second child
The singer and A$AP Rocky welcomed their second child, a source close to the couple confirmed to NBC News in August 2023.
"They are enjoying this special time and overwhelmed with happiness," the source said.
According to a birth certificate obtained by Access Hollywood in September 2023 and viewed by TODAY.com, the baby boy was born at Cedars Sinai Medical Center in Los Angeles on Aug. 1, 2023.
What did Rihanna and A$AP Rocky name their second child?
Rihanna and A$AP Rocky named their second child Riot Rose Mayers, according to his birth certificate.
His name follows the tradition of "R" names in the family.
Just like with Rihanna's first pregnancy — and despite the fact the singer boasts one of the most photographed baby bumps in recent history — she and Rocky haven't personally revealed much about their second baby.
Rihanna told British Vogue in the same story published earlier this year that she didn't have any preference when it comes to baby No. 2's gender.
"Listen, I'm down for whatever. My wish would be I would like to have more kids but whatever God wants for me, I'm here," she said. "Girl, boy. Whatever."