Rihanna is making headlines once again this week by appearing in several stunning family portraits in the March 2023 issue of British Vogue.
Just days after delivering a knockout Super Bowl LVII Halftime Show performance, the pregnant "Diamonds" singer, 34, is seen proudly posing in the magazine alongside her partner, rapper A$AP Rocky, and their son, who was born in May 2022. The couple have notably not yet revealed their son's name, and the multi-hyphenate businesswoman addressed how they plan to protect him in the accompanying interview.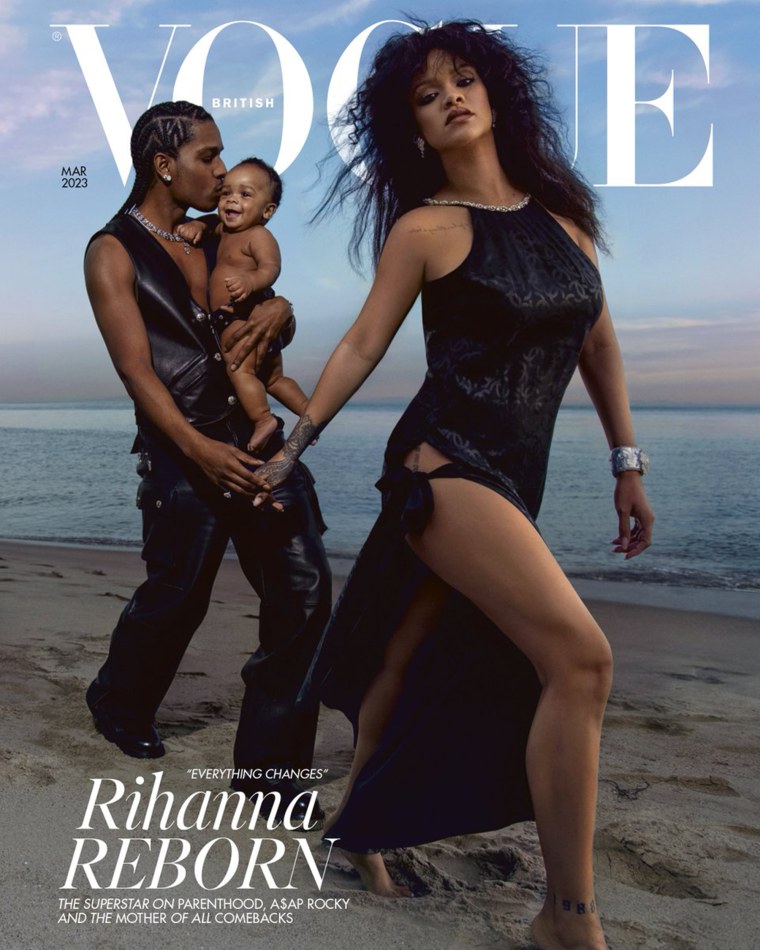 The trio appear on the magazine's cover in a gorgeous beachside image. Rihanna, wearing a slinky black dress with a high slit, walks in the sand ahead of A$AP Rocky, who cradles their baby boy in his arms while kissing the top of his head. Though mother and father are several steps apart, they are holding hands.
One of the shoot's more smoldering images finds A$AP Rocky holding Rihanna from behind while caressing her torso.
The "Umbrella" singer and Fenty founder dramatically revealed her pregnancy news and baby bump during her Super Bowl performance on Feb. 12. A rep for the singer confirmed to NBC News that she is expecting again.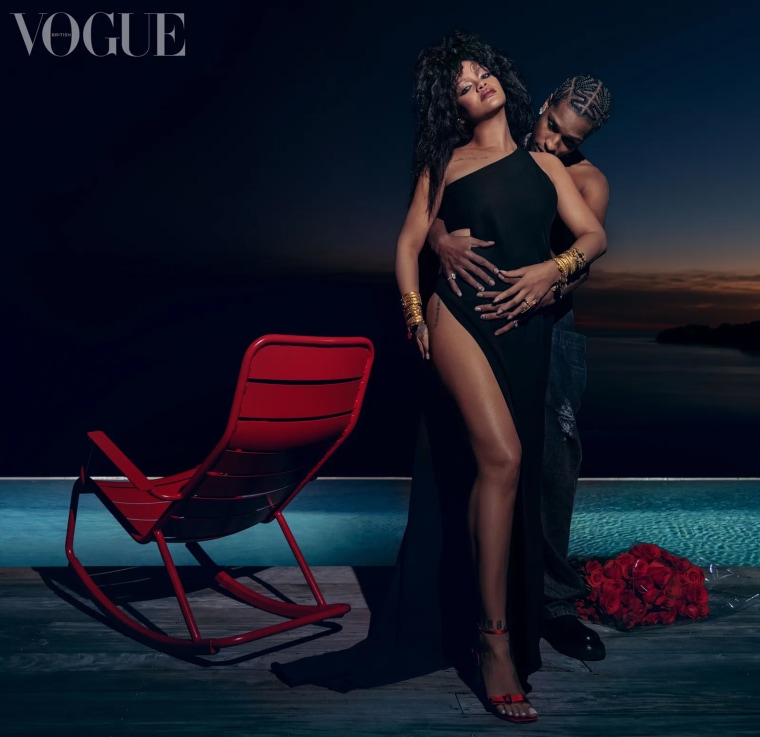 Rihanna told British Vogue that she and the rapper, whom she calls "Rocky," do everything they can to protect their son from the probing eyes of the paparazzi.
"We get to decide as parents when and how we do that. End of story," she said, recalling how she'd discovered an errant photographer in the distance shooting images of her son during the family's British Vogue photo shoot.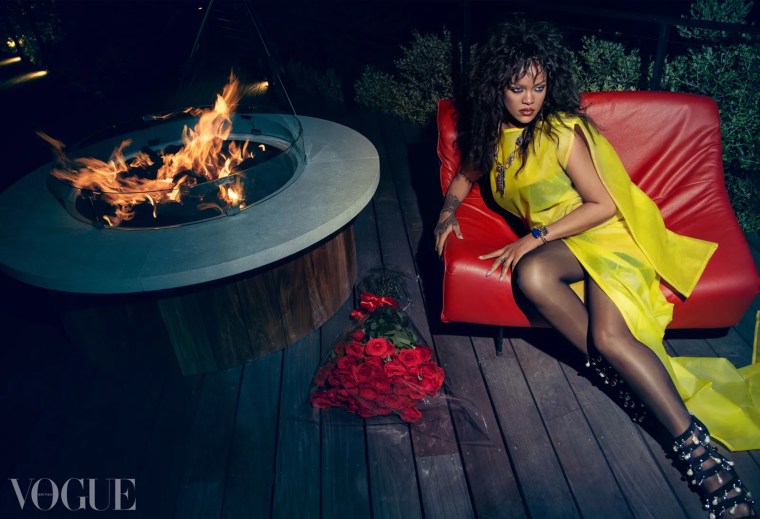 The Grammy-winning artist and beauty/lingerie mogul understands why people are fascinated by her life and want to know more about her first child, but, she said, she and Rocky won't let their son be exploited.
"Throw me to the wolves. Do what you want with me. But he doesn't have a say in any of this," she said. "We've been protecting him thus far and you don't have any consent to be posting photos or selling photos of my child, a minor. Get the hell out of here with that.
"As parents it just feels so icky, like a violation," she added.
As for the couple's romance, Rihanna has explained in the past that she and Rocky started off as friends before falling in love, a sentiment she echoed to British Vogue.
"We're best friends with a baby," she said, laughing. "We have to be on the same page, but we've always kind of had that in our relationship. Everything changes when you have a baby but I wouldn't say it's done anything but made us closer."
The singer also raved about what a loving dad Rocky is to their son. "I'm just sitting on the sidelines when they're together," she said. "I'm literally the girl trying to get into the boys club, waiting for my turn. He is obsessed with his father. And I'm like: 'Didn't I give birth to you? What is going on?'
"Their connection is undeniable," she added. "The second Rocky makes eye contact with him he is on fire. The whole thing they say about sons and moms, it's a myth. Sons and fathers is crazy. I realized that the validation that you really need as a boy is from your father."
The March issue of British Vogue hits newsstands on Feb. 21.
Related: