Nearly a decade after sharing a life-changing conversation on a park bench, two strangers have been given the chance of a reunion.
Eight years ago, Deborah Rushing was struggling. Caught up in what she describes as an "unhealthy" relationship, Rushing says that she was carrying the weight of the world on her shoulders and in desperate need of a hug. Then, a conversation with a woman she'd never met before, Helen Boyd, helped her turn her life around.
During an April 12 appearance on TODAY, Rushing remembered the one-time encounter that changed her life for good. Later, she was given a surprise chance to reunite with Boyd, the woman who she had only ever met face-to-face once.
"I was very troubled by what had taken place in my life and the situation that I was involved in," she explained, recalling the morning she wandered through Forsyth Park in Savannah, Georgia, and sat down on a bench. "I was at a very low point. I felt like I just was lost. And I needed help."
Then, she looked up and met eyes with Boyd.
"I saw Miss Helen standing in front of the fountain in front of me, looking at me. I knew that from the moment I looked at her that there was something very special about her," Rushing recalled. "I've only met Helen one time, and that was in the park. So we have just maintained and built this relationship over the telephone."
Reuniting for the first time in years on the TODAY stage, the two women wiped away tears and hugged before sitting down with Hoda Kotb and Jenna Bush Hager to talk.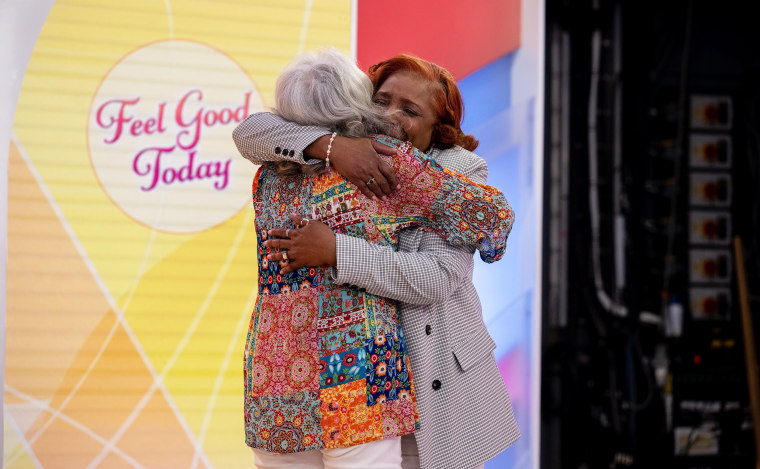 "All I wanted to do was to look her in the eye and hold her hand and give her the biggest hug," Rushing said, thanking Boyd for her words those years ago.
"You have taught me so much about positivity and how we can go on. How faith, we can grow it. And we've got to give thanks to God because she was my angel," she said.
Boyd explained she was in the park that day to take pictures of her friend, but saw Rushing and felt compelled to show her kindness.
"I just came up on her — she didn't know where I came from," Boyd recalled. "Something was going on with her. I just told her, 'It's gonna be okay.' I said, 'I'm a friend, and I can help you do this.'"
"For all these years, I've been coaching and talking to her, inspiring her and she looks — oh, Deb looks so great now," she said of what it meant to see Rushing now.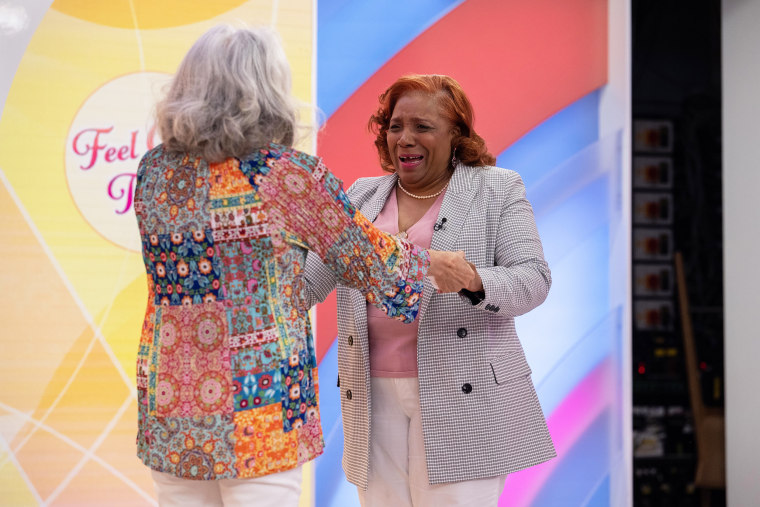 Rushing still remembers how she felt after her initial conversation with Boyd.
"When Helen walked away, I felt like a brand new person. I felt that someone truly loved me and wanted the best for me," she remembered, noting that eventually, she got out of her relationship and moved on.
"Things were so hard I had to start all over... I have come a very long way since that day eight years ago. I am happy and peaceful, and I'm joyful."