There are many ways to praise the talents — and, let's face it, the mere existence of — Oscar winner Brie Larson and Emmy winner Jon Hamm.
But until now, we're not sure too many people have ever called them "delicious."
No, this isn't the lead-in for an upcoming horror film: It's actually the point of Hellmann's mayonnaise's Super Bowl ad, which dropped Feb. 6. The tasty 30-second ad offers viewers a good suggestion for handling leftovers, something they're bound to have after the big game on Feb. 12. (The ad's hashtag #MakeTasteNotWaste underscores the philosophy.)
The ad takes us inside a fridge loosely packed with leftovers (Hellmann's stands front and center) and a teeny-tiny Jon Hamm and an equally diminutive Brie Larson.
Hamm takes a look around and declares, "With Hellmann's, all these leftovers can be anything."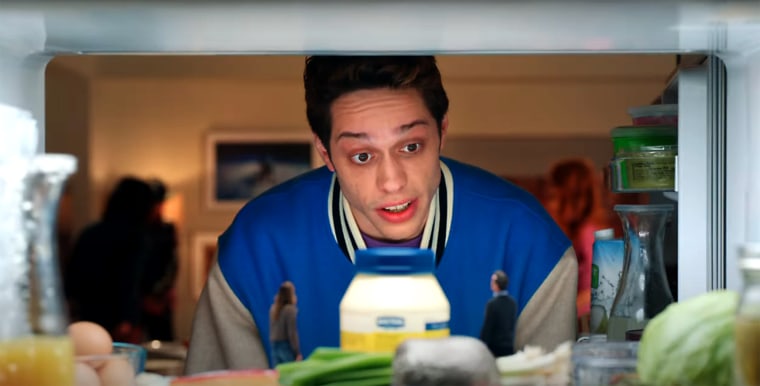 Oh, be careful what you say inside a fridge, Mr. Hamm.
The pair puzzle over why they're in there, but Larson figures it out first: She's brie; he's ham. Two great sandwich fixings. So far so ... surreal, but then Pete Davidson opens the refrigerator door (clearly this was shot before Davidson shaved all his hair off).
Last year, you may recall Davidson appearing in another leftovers-themed Super Bowl Hellmann's ad, but with his mother.
"He really is everywhere," quips Hamm when Davidson appears.
Then Davidson drops this bomb: "I'm gonna eat you guys."
Run, Brie! Run, Jon!
Cut to ... Davidson making a tasty-looking sandwich, smearing mayo on a brie and ham (thankfully not Brie and Hamm)-filled sandwich, then grilling it in a panini press.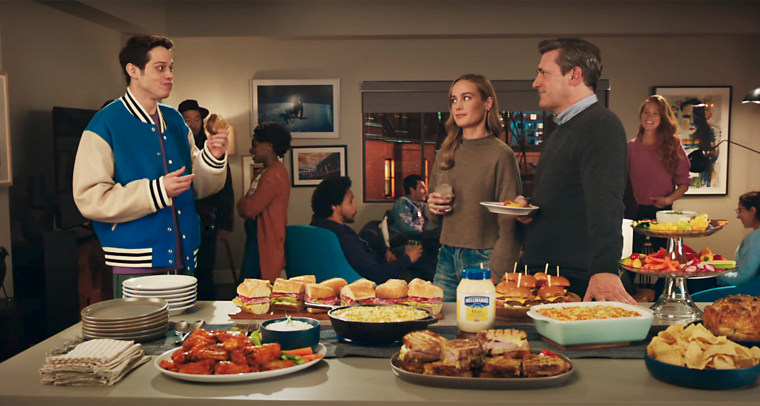 Next: Davidson, eating his sandwich, standing next to a full-sized Hamm and Larson. His verdict? "You guys are really delicious."
Bemused, Hamm notes, "That's ... that's weird."
Weird, yet delicious. Look for the Hellmann's ad to air during the upcoming Super Bowl between the Kansas City Chiefs and the Philadelphia Eagles on Sunday, Feb. 12.
But don't look for miniature actors to pop up in your cooler to help step up your Super Bowl spread.