One dollar, four burger patties. This is fast-food math we all can get behind, isn't it?
On Sept. 14, McDonald's announced that it is celebrating National Cheeseburger Day on Sept. 18 by selling its Double Cheeseburger at less than half its usual price: 50 cents, to be precise.
"For one day only, fans can snag a Double Cheeseburger for only $0.50 from any participating location nationwide when they order exclusively through the McDonald's App," a McDonald's spokesperson tells TODAY.com.
The offer is limited to one per customer at participating McDonald's and app registration is required. However, no purchase is necessary to secure the discounted burger.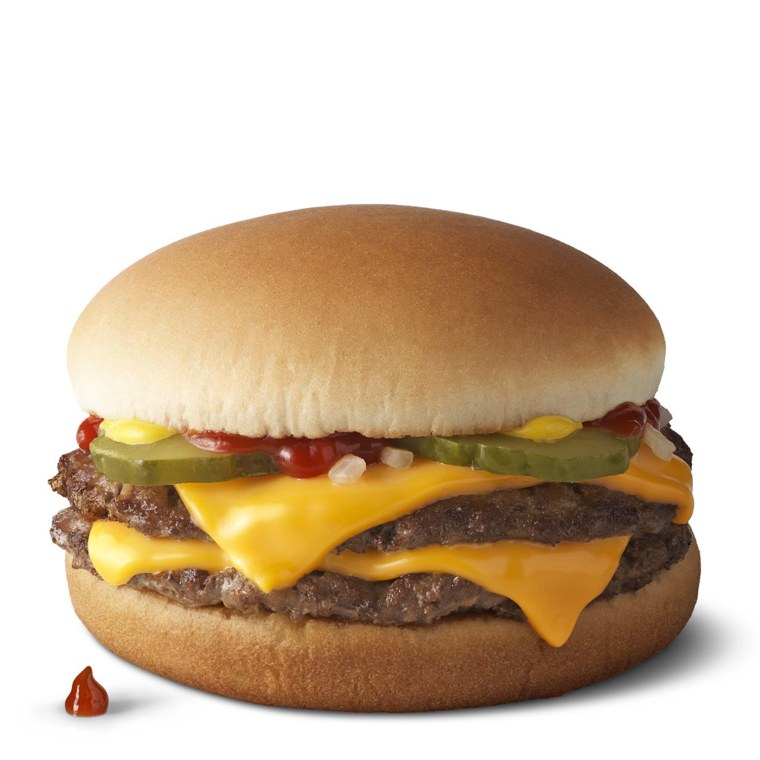 McDonald's is coming into the autumn season after having a very active and extremely purple summer season, welcoming its viral phenom the berry-flavored Grimace Birthday Shake in June in honor of the iconic McDonaldland character.
Then, in July, the chain ended the McCafe Bakery, taking away three menu items, to fans' dismay, but then, to turn things around, it added a brand-new McFlurry to its dessert lineup — the Peanut Butter Crunch McFlurry — to rave reviews.
Things were pretty quiet for the home of the Hamburglar until news broke earlier this week that the chain will be phasing out self-serve soda fountain stations by 2032, meaning that you'll have to ask a McDonald's worker to get your spicy Sprite in the future. But now, with the Double Cheeseburger deal available on the McDonald's app, we're back to positively beefy news.
McDonald's isn't the only burger chain offering a National Cheeseburger Day deal. Wendy's, not to be outdone by another ginger-mopped fast-food mascot, is giving Ronald McDonald a run for his money by offering Jr. Bacon Cheeseburgers for 1 cent in honor of the holiday, from Sept. 18 to 22. And both Burger King and Dairy Queen are offering free cheeseburgers with any purchase of $1 or more.
Which means that you can really load up on burger goodness at more than one chain and ring the holiday in style. See here for a list of all the National Cheeseburger Day deals.