Move over, Hamburglar — it's Big Purple's time to shine.
On June 6, McDonald's announced its first-ever purple-colored shake in honor of the iconic McDonaldland character Grimace's birthday. The Grimace Birthday Shake consists of vanilla soft serve and berry flavors. (Because Grimace is a berry ... maybe? Nope, we still aren't sure what he is, exactly.)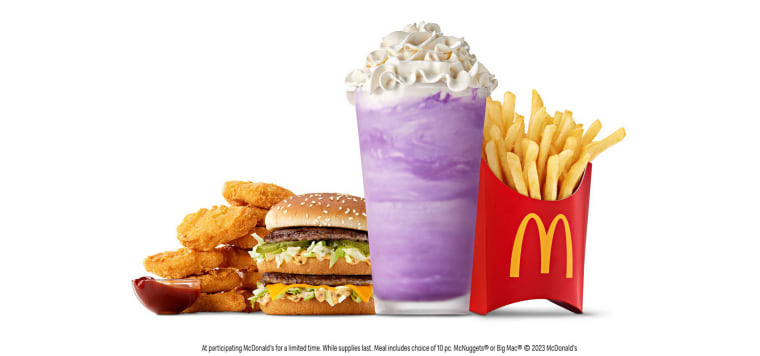 "Whether you've attended an epic party at the PlayPlace or swapped the fancy dinner for what you were really craving (hello, McNuggets), we know birthdays with McDonald's hold a special place in our fans' hearts," reads a press release from McDonald's.
"Now, we're inviting everyone to create new birthday memories with us," it continues. "This time, in honor of their fuzzy purple bestie. Get your party hat ready, 'cause we're celebrating Grimace's birthday."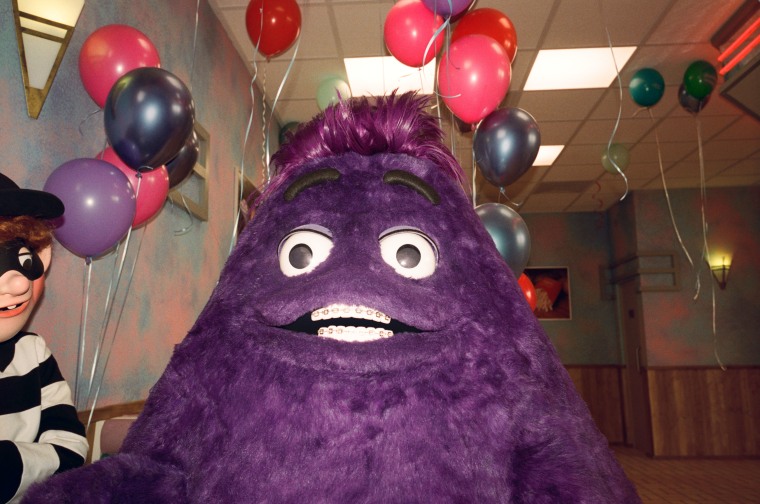 McDonald's says, starting June 12, the Grimace Birthday Meal will begin its reign upon McDonald's menu. That makes Grimace a Gemini — interesting!
Fans of the pudgy, plum-colored puppet pal who order the meal are set to receive the choice of a Big Mac or 10-piece Chicken McNuggets with fries and, of course, a limited-edition purple shake "inspired by Grimace's iconic color and sweetness."
In addition, the Golden Arches are also honoring Grimace's birthday month with games, merch and more: 
The chain is launching an exclusive Grimace-themed racing video game where the violet vamp himself races around classic McDonald's birthday scenes to find pals like Birdie and Hamburglar in a quest to cut his birthday cake. The game will be free to play on desktop and mobile beginning June 12. 
Grimace-inspired merch like T-shirts and purple socks and even a Grimace-shaped pool floatie will be available to purchase beginning June 12 on Mickey D's dedicated website, while supplies last.
Also, in lieu of gifts, Grimace is asking fans to donate to a charity near and dear to his big purple heart: Ronald McDonald House Charities. On June 13 and 14, fans can visit McDonald's Instagram stories and share a picture of their favorite birthday memory via an "add yours" sticker. McDonald's promises to donate $5 to RMHC up to $200,000 for every picture shared.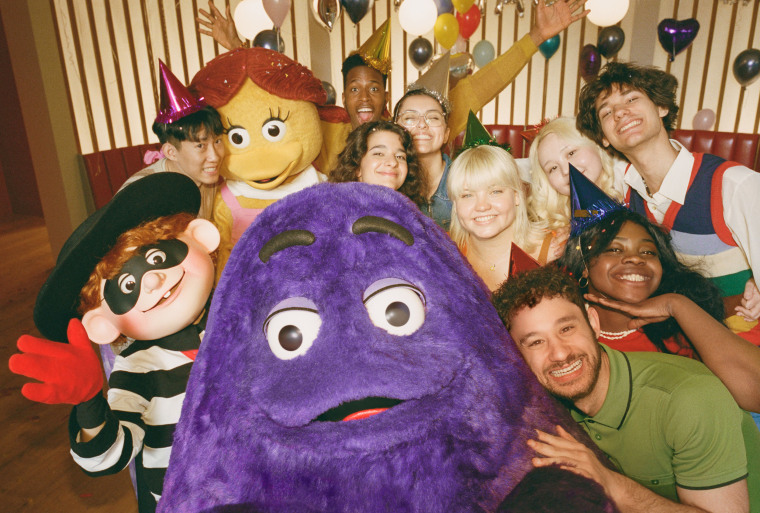 "Our fans have amazing childhood memories of their birthdays at McDonald's...and Grimace's Birthday is all about paying homage to the amazing, fun moments we all share," says Tariq Hassan, McDonald's USA's chief marketing and customer experience officer.
"We're excited to put a modern spin on these memories to continue to drive McDonald's relevance with a new generation," Hassan adds. "Grimace is the perfect lovable icon to have McDonald's meet our fans at the intersection of nostalgia and culture."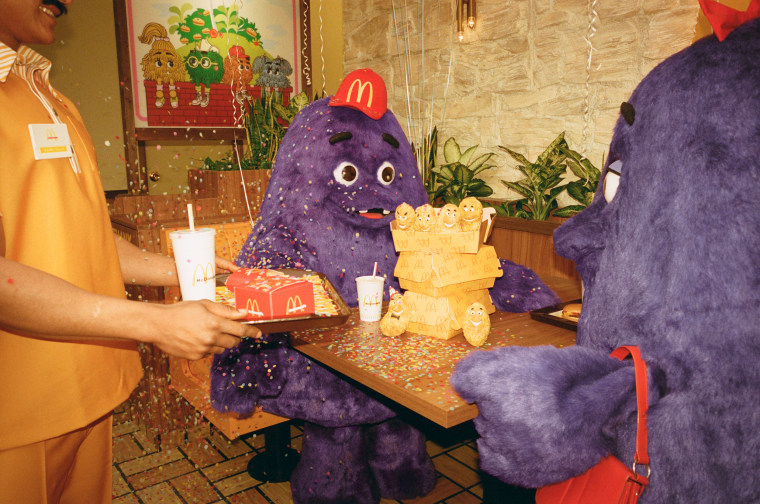 McDonald's is also sharing some details about the big guy, in case you might be unfamiliar with Grimace lore. He is from Grimace Island and comes from a spectacularly huge family, which includes his Grandma Winky, aunts Millie and Tillie and, of course, Uncle O'Grimacey, who was once the Shamrock Shake's mascot.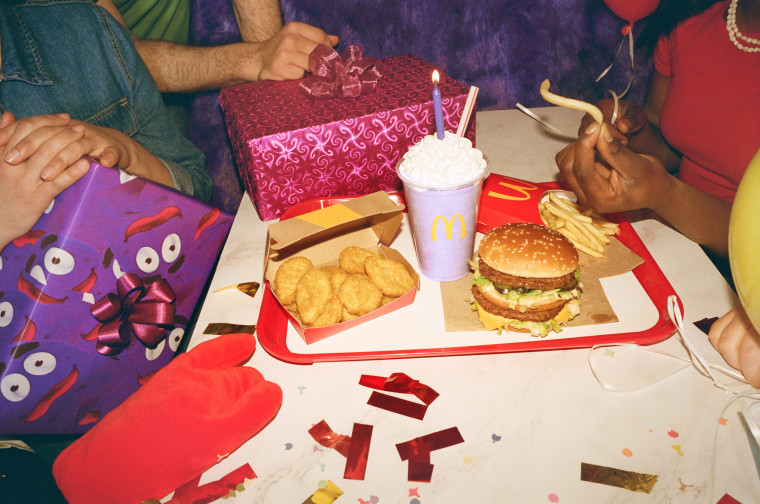 "Our timeless bestie has become a fan-favorite known for his signature fuzzy purple look, friendly and playful personality, love for shakes, and of course — ambiguous nature," McDonald's says, coyly skirting the "Is he a taste bud?" conversation. "What exactly is Grimace? Perhaps we'll never know…"
The Grimace Birthday Meal and accompanying purple shake will be available to order via the McDonald's app, drive-thru, delivery or in-restaurant at participating restaurants nationwide.