The biggest fast-food chain is making a big change to its baked goods lineup and, well, customers aren't "lovin' it."
McDonald's has confirmed to TODAY.com that it is ending the McCafé Bakery by phasing out the category's three offerings: the Apple Fritter, Blueberry Muffin and Cinnamon Roll. The sweet trio of baked goodies are due to depart from the menu soon.
On July 3, a rumor emerged on @markie_devo's snack-focused Instagram that McDonald's would be phasing out the trio of bakery items for good later this month.
"I gave you some good news today, how's about some bad news," reads the post, which may be referring to news that McDonald's would be adding a Cookies & Créme Pie at select locations across the country. The good Grimace giveth, and he taketh away.
"McDonald's are currently phasing out the 3 bakery items that were released on Oct 28th, 2020," the post continues. "Get them while you still can, they'll be discontinued by July 15th 2023(this month)😫."
When reached for comment, a McDonald's USA representative confirmed that indeed, the rumor is true.
"We're always listening to our fans and adjusting our menu based on what they crave. Starting this month, we'll be phasing out our McCafé Bakery line-up, including the Apple Fritter, Blueberry Muffin and Cinnamon Roll," McDonald's USA tells TODAY.com in an emailed statement. "We know goodbyes are never easy — but fans can still satisfy their sweet tooth with our iconic Chocolate Chip Cookies, Baked Apple Pie and frozen desserts at restaurants nationwide."
As for when the items will be officially taken off menus, the chain says it will vary by restaurant.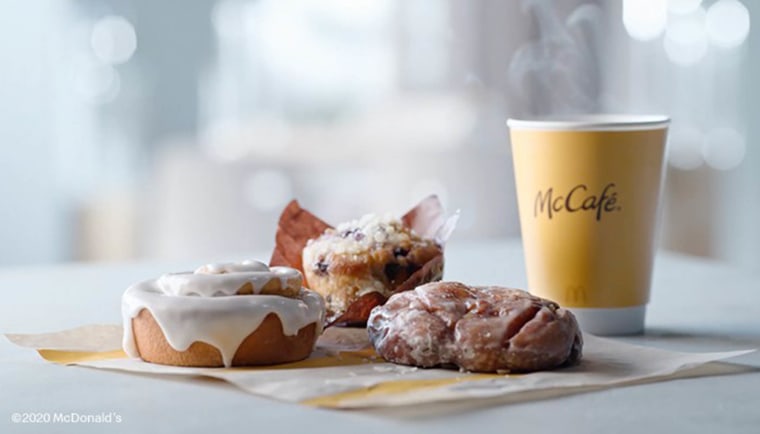 The chain's McCafé Bakery items were first introduced in October 2020, adding to the roster of sundaes, McFlurries and other sweet items on the Mickey D's menu. The bakery items came as fast-food chains pivoted to handheld and easy-to-serve foods amid the pandemic. And, since they were to be served morning, day and night, their arrival was welcome news after All-Day Breakfast was taken away.
The discontinuation of the Apple Fritter, which is cinnamon-y apples fried and covered in a sugary glaze, Blueberry Muffin, made with blueberries and a streusel crumb topping, and Cinnamon Roll, drizzled with a cream cheese icing and served warm, may just be a result of the world opening back up.
The reaction to this McMenu update has been not unlike that of many other discontinuations on popular fast-food menus in that people have expressed strong opinions on the news.
"They got rid of the apple fritter from McDonald's 😭😭😭 someone please wake me up from this nightmare!!!!" exclaimed one deeply affected fan on Twitter. "I've done nothing to deserve this."
"I love the Apple fritter 😭," commented one person on Instagram.
"That Apple fritter actually slapped," commented another.
"How @mcdonalds get rid of the apple fritter? Halfway the reason I ever go," wrote another Twitter user. "They making me go to @burgerking to get a Hershey Pie."
While most of the sadness seemed to be directed at the Apple Fritter's demise, there was some love tossed in the Cinnamon Roll's direction.
"Dang I did like their cinnamon rolls when I'm craving breakfast food after 10:30a," commented one Instagrammer.
"The cinnamon roll LITERALLY just became my pregnancy craving," wrote another. "Mcdonald's is DONE."
"What are you doing taking the cinnamon roll off the menu," wrote another Twitter user. "First the cinnamon melts now this… Who ever is in charge of this should be fired and never have any day in any major decisions. At a loss for words, FIGURE IT OUT!"
Which brings us to our next point: This news has, more than anything, reinvigorated calls for McDonald's to bring back Cinnamon Melts a.k.a. Cinnamelts, baked dough mixed with butter, brown sugar and cinnamon and topped with cream cheese icing. The item got a lot of love in the comments section, even though it hasn't appeared on the chain's menu in years.
"GOOD!!! We'll trade these for the Cinnamelts any dayyyyy!!!!" commented one person on Instagram.
"👏🏻BRING👏🏻BACK👏🏻MY👏🏻CINNAMELTS👏🏻I'll sell my husbands body for one of those," commented another very serious — though we hope not too serious — Instagram user.