Spring is a season of change and on March 20, fans of the Chick-fil-A in Tifton, Georgia were informed that the side salad, a well-liked item often paired with chicken nuggets by fans of the chain, would be discontinued.
The dish, which features a fresh bed of mixed greens topped with a blend of shredded Monterey Jack, Cheddar, red peppers and tomatoes, will take its final curtain call on April 3, according to a printout of a flier included in the post.
"We are spring cleaning here at Chick-fil-A and taking this opportunity to refresh our menu," reads the caption on the post, along with an image of the flier titled "A Fond Farewell."
Reaction online to the news was, as expected, filled to the brim with lamentations and woe, since the item appears to have been a favorite for many customers.
"Y'all I'm so torn up over losing Chick-fil-A's side salad. I literally get it every time," said one user on Twitter.
"I love the side salad with grilled nuggets! Don't take it away!!!!" said another user, this time on Facebook.
"This is so unfortunate," said a user via a Reddit post titled "RIP Side Salad," proving that reaction to the news hit many corners of the internet. "The side salad is literally part of my everyday order."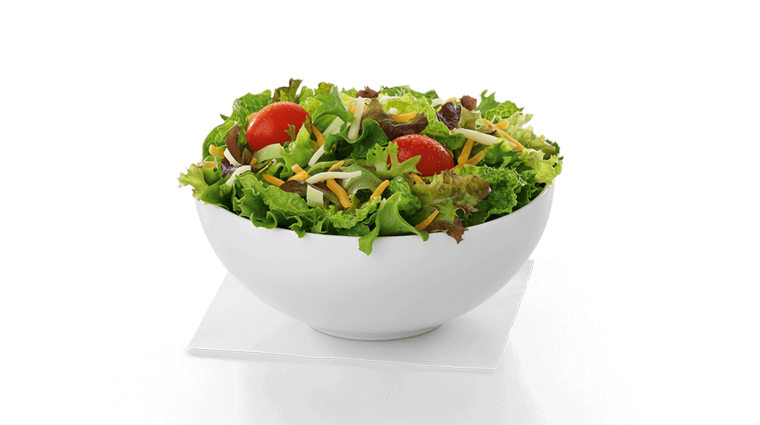 For those wondering if this news applies to all menus for the chain across the country, well, it does. Customers who order the side salad between now and the 3rd should be receiving fliers like the one above with their order letting them know of the upcoming change, and judging by other posts on social media, this seems to be the case.
We reached out to Chick-fil-A, who confirmed that the side salad is indeed on its way out. 
"Serving guests is at the heart of all we do at Chick-fil-A," a representative for Chick-fil-A, Inc. tells TODAY.com. "In order for our Restaurant Team Members to continue to deliver quality food and signature hospitality, at times we have to make difficult decisions to help simplify our menu. Starting April 3, the Chick-fil-A Side Salad will no longer be offered in our U.S. restaurants."
Chick-fil-A, Inc. also says its increasing the size of the Kale Crunch Side on its menu to a large, which may be an alternative for some guests looking for some green in their meal, and that folks interested in the updated menu can take a look at the menu via its website or the Chick-fil-A App. 
Spring brings changes to Chick-fil-A's rewards
In other Chick-fil-A-centric news, changes are coming to the chain's rewards program.  Chick-fil-A One is the chain's tiered membership program that allows guests to earn points on certain purchases every time they order. According to the company, a whopping 50 million members have joined this program since its inception, meaning that the rewards surely require giving out a lot of scratch. 
Sources say that all Chick-fil-A One members were sent an email on March 14 informing them of updates to the program coming in April, including a point increase on some items being one of its changes. Reaction to this email online, again, proved to be filled with strong emotions, with some blaming the state of the economy for the change.
"Inflation has hit Chick-fil-A's rewards," said one Twitter user about the news. 
Sources say members were intentionally sent a notification by the company in advance to allow them time to redeem their points at the current value before the "costs" went up and became visible in the app on April 4th. 
Still, the amount of points needed to reach each membership tier will apparently not be changing and additional rewards will be added based on guest feedback like the ability to redeem a meal of an entrée, side and a drink as a reward. 
"We did recently notify our members of upcoming changes to the Chick-fil-A One rewards store," a representative for Chick-fil-A, Inc. tells TODAY.com. "The decision was part of a regular evaluation process that considers different market conditions and costs to our business. As a result, on April 4, some of the point values required to redeem certain rewards will increase. We are confident our Chick-fil-A One membership program will continue to deliver great value to our guests."
These changes come as other chains like Chipotle and Starbucks have made changes to popular value rewards programs, leading to complaints from several fans across the country. Additionally, donut distributor Dunkin's previous DD Perks program offered a free drink of any kind when fans would spend $40 which increased to $70 in October 2022.