McDonald's is spreading the news, and its latest headline is peanut-buttery.
On Aug. 9, McDonald's finally released a brand-new McFlurry to its dessert lineup: The Peanut Butter Crunch McFlurry. News regarding the treat was announced on July 19, on the heels of a successful — and viral — run for its last sweet menu addition: the Grimace Shake, which has since left the menu.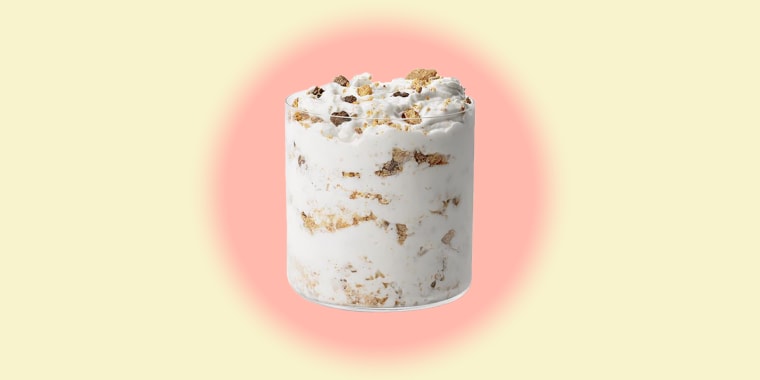 The new Peanut Butter Crunch McFlurry is made with Mickey D's signature vanilla soft serve, blended with a crispy cereal mix and chocolaty peanut butter cookie pieces to create a salty-sweet treat. It will be available for a limited time, while supplies last. (Could be good in that viral McFlurry Hash Browns sandwich, just saying.)
News of the dessert's arrival has been percolating for a while since an O.G. flavor, the Reese's McFlurry, was discontinued in 2012. In January 2022, Chewboom spotted the new, crunchy dessert item being tested in Pasadena, California, describing it as a "peanut buttery delight."
Early buzz for the new McFlurry has been pretty positive, though, of course, there are those taking this as an opportunity to rag on the chain's seemingly endless instances of broken ice cream machines.
In the lead up to the treat's release, folks were begging the McDonaldland gods — or the FTC — to make sure the ice cream machines at their local drive-thru were in tip-top shape.
"Their machines are always broken so…" tweeted one person.
"Why do they keep adding new ice cream to the menu when the machine is constantly 'down,'" asked one Instagram user, preemptively upset about the possibility of peanut-buttery disappointment.
But those who have tried the treat have, for the most part, been going nuts for it.
"Yes I did try the Peanut Butter Crunch McFlurry and enjoyed it. No I did not eat four," tweeted one person, including a picture of four McFlurries.
"that new peanut butter crunch mcflurry is fire 9/10. should be a permanent item, rivals the oreo variant tbh," tweeted another.
"The peanut butter crunch McFlurry from McDonald's is good af 😋," tweeted yet another.
One TikToker bought two of them, trying a bite of one and calling the new dessert "a win."
She seemed to like it so much that she went back eight hours later, this time adding extra peanut butter crunch pieces, Oreo pieces, whipped cream and hot caramel to her McFlurry for a truly decadent treat.
Although most of the reviews are positive, there are some who just wish it was the dearly departed Reese's McFlurry, which was discontinued around 2012.
"Peanut butter crunch McFlurry just made my day. Still not over the Reese's one being discontinued though," tweeted one person.
"@McDonalds Peanut Butter Crunch McFlurry tastes like salty sand sprinkled over soft ice cream. Next time do it properly with a @reeses co-brand, just like @Oreo," tweeted yet another, not mincing words. You can't win 'em all!
The Peanut Butter Crunch McFlurry is not the only McFlurry that has made its grand debut this year. In April, a Strawberry Shortcake McFlurry, featuring vanilla soft serve, strawberry-flavored clusters and crispy, buttery shortbread cookies, appeared at participating U.S. restaurants nationwide, for a limited time.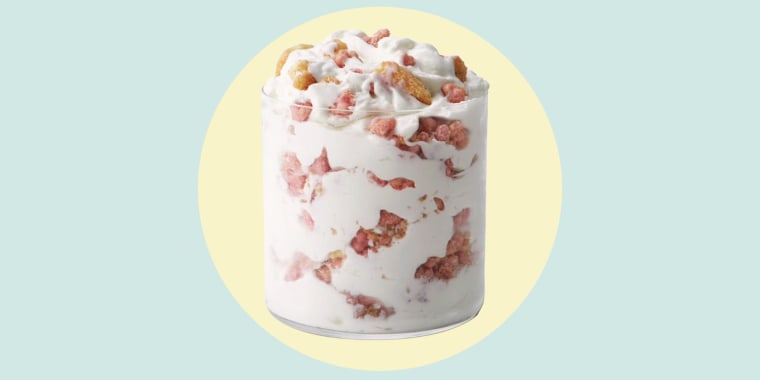 Because the McFlurry fandom has been so fervent for so long, McDonald's has also played into what makes the dessert special by offering a comedic deal regarding its spoons with square-shaped handles. In 2021, McDonald's offered to give away McFlurries to everyone who thought the spoon was a straw, which apparently, was a lot of people.