Ben Affleck is at it again.
The Oscar-winning actor appears with rap star Ice Spice in a new ad for Dunkin' that premiered Sept. 12 during the MTV VMAs.
In the spot, Affleck, a well-known Dunkin' devotee who grew up in Massachusetts, sports a thick Boston accent while hawking the new Ice Spice Munchkins Drink.
"Things with Dunkin' are going well. Big promotion. Made me brand ambassador," he says while walking with a Dunkin' drink.
He is then seated with Ice Spice as they brainstorm ideas for a drink name.
"How are people going to connect you with Dunkin'?" he asks.
"I'm a Dunkin' girl," the "Barbie World" singer says.
"I'm not seeing it," he responds.
"Ice Spice. My fans are the munchkins," she says, prompting Affleck to ask what she meant.
"Ice Spice Munchkins drink," she replies.
Affleck seemingly ignores the idea and suggests a collaboration.
"We'll call it Vanilla Ice spice," he says before launching into a lame, albeit, brief rap that leaves Ice Spice speechless.
You may be wondering why Affleck and Ice Spice teamed up.
For the first time, Dunkin' has combined two of its treats into one seasonal beverage. The Ice Spice Munchins Drink blends its Frozen Coffee with Pumpkin Munchkins Donut Hole Treats, topped with whipped cream and caramel drizzle. It's available for a limited time starting Sept. 13, while supplies last.
"Pumpkin spice season has gotten a bit predictable lately, so we sought help from our friends Ben Affleck and Ice Spice to create a new pumpkin obsession that only Dunkin' can offer," Dunkin' chief marketing officer Jill McVicar Nelson said in a statement, as part of a press release, calling the new offering "not your ordinary pumpkin drink!"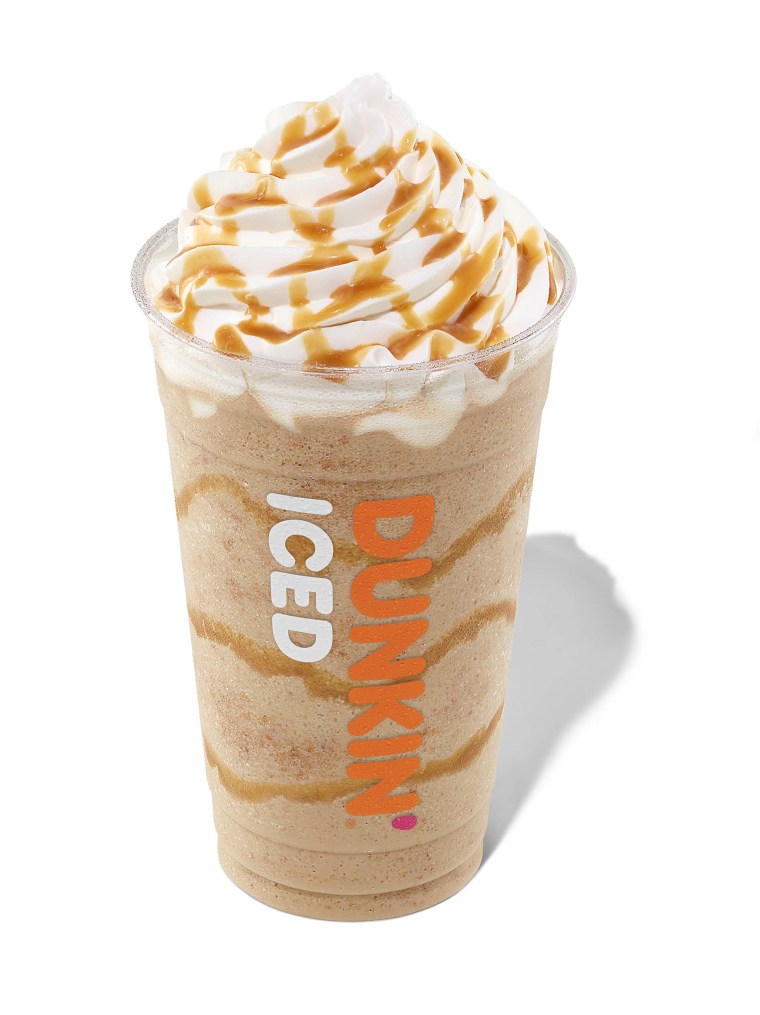 "I've always been a Dunkin' girl!" Ice Spice said in a statement included in the release, continuing on to say that there's "a little something in the name" for her fans as well.
This commercial is the latest collaboration between Dunkin' and Affleck.
In February, the actor appeared in a spot that aired during the Super Bowl, and in April, he had some fun when mistaken for buddy Matt Damon in another ad.
Affleck, who was spotted in January working at a Dunkin' drive-thru with wife Jennifer Lopez, shares children Violet, 17, Seraphina, 14, and Samuel, 11, with ex-wife Jennifer Garner. He says his kids find his obsession with Dunkin' to be somewhat captivating.
"I think they're charmed by it. I like to think so. I don't know if it's true, but, just as with so many other things, it's what I tell myself," he told People in February on the set of the Dunkin' Super Bowl commercial. "I think it's tolerated, which is the most you can hope for as the parent of adolescents, I found."