Ben Affleck's family puts up with his well-known love of Dunkin'.
Affleck, who is married to Jennifer Lopez, recently manned a Dunkin' drive-thru in Medford, Massachusetts, for unsuspecting customers in a Super Bowl commercial.
The star, who shares children Violet, 17, Seraphina, 14, and Samuel, 10, with ex-wife Jennifer Garner, says they are amused by his love of java.
"I think they're charmed by it. I like to think so. I don't know if it's true, but, just as with so many other things, it's what I tell myself," he told People on the set of the Dunkin' commercial. "I think it's tolerated, which is the most you can hope for as the parent of adolescents, I found."
Dunkin' began in Massachusetts, with many locations peppered throughout the East Coast, while Affleck notes "there aren't as many" in Los Angeles, where his kids live. Affleck says his children believe his devotion to Dunkin' is just part of who he is.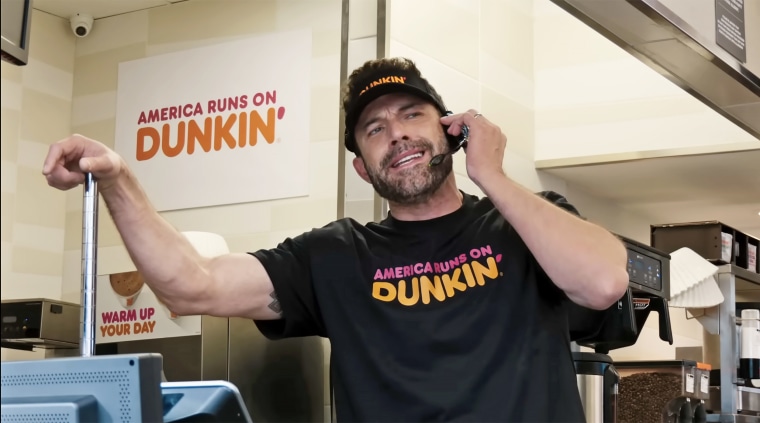 "I think they think of it as a slightly eccentric habit of their dad's, that like, there's this one coffee shop that I really stick with and go to, but they know that it's associated with sort of where I grew up and Boston," he said while laughing.
Affleck enjoyed his brief stint working for Dunkin'.
"I think people already sort of think that I work for Dunkin'," he joked.
"In Boston, it was such a big deal," he added. "I think I became kind of associated with it, and this sounded like a fun opportunity to kind of play with that association, and a chance to come back here to shoot it at home in Boston."
Related: