I've been wearing the same powder blush color for a decade: it's subtle, rosy and overall works for my skin tone. But when liquid blushes started going viral, I was intrigued by their smooth and glowy finish. However, I was a bit scared to step out of my comfort zone, especially since a Sephora employee warned me that one popular liquid blush would be too pigmented for my ultra-fair skin.
Then I came across this Youthforia Color Changing Blush Oil on social media; it claims to change colors based on your skin's pH level for a custom blush shade. Considering I haven't thought about pH levels since grade school, this seemed like a fun science experiment that I had to try out.
After the first use, my thoughts were, "This blush is pure witchcraft!" — it literally blew my mind. The formula is completely clear in color, and as soon as it touched my skin, it rapidly changed to a pink rosy hue, or at least that's the shade based on my skin's pH level.
The finish is dewy and buildable
The brand says you can apply it directly on bare skin or if you're wearing foundation, they suggest applying it on a brush first then buffing it out along your cheekbones. Because I can't seem to follow directions, I applied it on top of my lightweight foundation, straight from the applicator, starting from the apples of my cheeks and then up my cheekbone. To blend it out, I used my favorite beauty sponge — I found this way worked well, too!
The finished result was a naturally blended pink color with a dewy glow that I've only ever seen on celebrities. There were no harsh lines or patchy spots, which I sometimes experience if my skin is really dry. And it's buildable! If you're looking for a darker shade, you can just add a couple more dots and blend it out to your desired result.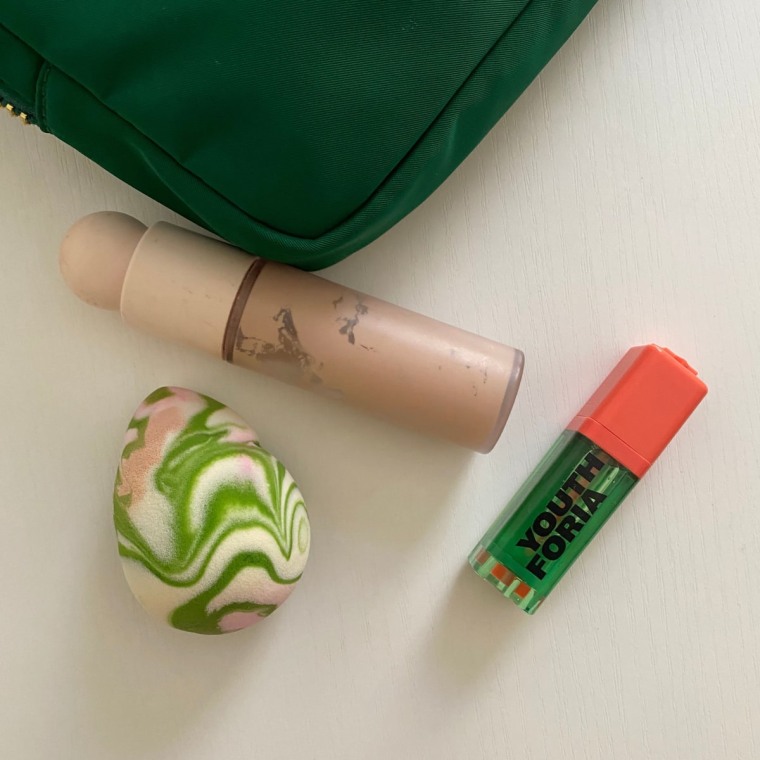 It has skin-loving ingredients
I found this blush to be really moisturizing and long-lasting, too. I applied it mid-morning and went out to dinner that evening; it lasted the entire time without any touch-ups. And because the brand says it's made of skin-loving ingredients (i.e. sunflower oil, rosehip oil and avocado oil), I didn't feel stressed about leaving my makeup on too long and clogging my pores.
In fact, the brand's founder says on the website that it can be slept in! Personally, sleeping in any makeup goes against my beliefs but I do think the ingredients would give me ease of mind if I wore the blush on long flights or road trips.
The company even mentions that the ingredients can help reduce the appearance of fine lines. So not only did I find my new favorite daily blush, but I believe I've also just leveled up my skin care routine — it's improving my makeup look and my skin at the same time.