Our editors independently selected these items because we think you will enjoy them and might like them at these prices. If you purchase something through our links, we may earn a commission. Pricing and availability are accurate as of publish time. Learn more about Shop TODAY.
Growing up, I used to tease my older sister for how many black purses she owned. Sure, it's great to have a few staple dark colors in your accessory repertoire, but a pop of brightness is also nice every once in a while.
When it comes to my own handbag collection, I've always preferred to live in color and mostly own bright bags. I've carefully cultivated a collection of pretty pastels and deep jewel tones over the years, and I'm always looking to add the next statement color to my collection.
Recently, I've found a new purse to obsess over. The best part? Many of the shades are only $13.99! I came across the Dreubea Faux Leather Tote Shoulder Bag while perusing Amazon's bestsellers list and was instantly sold.
It comes in so many colors
Since I'm a sucker for bold colors, I was pretty excited to see this bag comes in so many different shades. Whether you're into delicate pastels, rich jewel tones or metallics (or even classic black like my sister), there's something for everyone and every season. My penchant for pastels led me right to the cheery Light Blue shade, and it's been a great statement piece to complement all of my outfits.
Amazon shoppers love this bag
The Dreubea bag is Amazon's bestselling tote and is currently the number one overall bestselling handbag on the site. With over 13,500 five-star reviews, it certainly comes highly recommended.
Many shoppers agreed that the bag offers great quality for the price and the color options.
"This bag is great, one verified reviewer wrote. "I got the soft pink, and it's a beautiful ballerina pink color. It holds a lot, and the interior pocket has ample room for keys and/or a smaller phone."
Reviewers also love the bag's little details. "Functional with its size and inside pocket on the side panel," another verified reviewer wrote. "It has a soft backside on the leather inside the bag. Stitching is solid where the handles are attached and it has a strong magnet to hold (it) closed."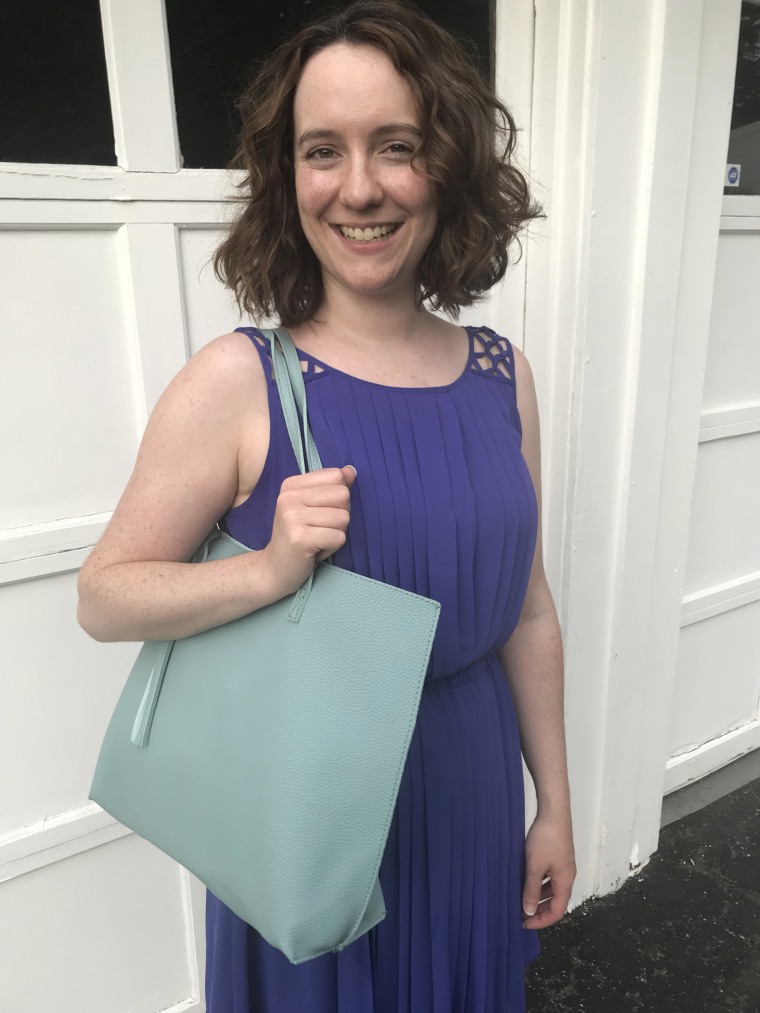 It fits more than you'd think
When I first opened up my purse, I was a bit skeptical. It didn't look terribly sturdy and the straps didn't seem very strong. After a day of using it, I realized looks can sometimes be deceiving.
During a family lunch, my sister actually called it my "Mary Poppins bag" since it holds a lot more than you'd think. I really love its spacious design because I tend to load my bag up in fear of forgetting something.
My one word of criticism is pretty minor and more of a personal issue, to be honest. Summer is the season for exposed shoulders, and I tend to wear a lot of sleeveless dresses. Like many ladies with sensitive skin, my purses sometimes leave a temporary red mark when I sport them with bare shoulders. So if your skin is ultra-sensitive like mine is, I'd suggest breaking out this bag on days when your shoulders are covered.
Aside from that, this cute tote holds all the essentials and comes with stylish details like a front tassel and an accompanying scarf you can tie around the bag. For less than $15, the quality is pretty great, and I'd definitely buy another!
This article was originally published on July 24, 2019.
For more stories like this, check out:
To discover more deals, shopping tips and budget-friendly product recommendations, download the new TODAY app and subscribe to our Stuff We Love newsletter!