Spoiler alert: Dressing like your mom is cool now. From the rise of Birkenstocks to shoulder pads, outfits your mom wore in the '80s and '90s are becoming trendy again. But no mom-approved style staple has taken the fashion world by storm quite like the mom jean.
For years, they were completely ousted by millennials who turned, instead, to skinny jeans. There was a time when mention of the old-school style reminded many of a hilarious "Saturday Night Live" sketch, which famously poked fun at the baggier fit. But, like with many '90s fashion items, the loose-leg, high-waist jean has recently made its way back to the front of our closets.
However, finding the perfect pair of mom jeans — like any jeans — can be tricky. So, Shop TODAY tracked down a TikTok-loved option from Walmart that reviewers claim looks good on everyone. And for a limited time, the popular pair is on sale for, wait for it ... only $20.
But you might want to shop them sooner rather than later, because a number of styles are already sold out. Right now, you can still shop sizes in the shades Egret, Medium Indigo, Dark Indigo, Mineral Yellow and Rose Smoke.
The retailer's bestselling 90's Straight Leg Jean from its Free Assembly line, which comes in sizes 0-22 and in many washes, cuts and styles, has been making the rounds on TikTok; the hashtag #freeassembly has garnered more than 14.5 million views. Users rave about the affordable pant's quality material, stylish look and flattering fit, with one calling them the "perfect everyday jean."
So, we had to try them. But we didn't just try them on ourselves, we tapped the very person who gave us our impeccable sense of style: our moms. Read on for our — and our moms' — thoughts about the universally flattering pant.
Associate editor Danielle Murphy and mom, Christina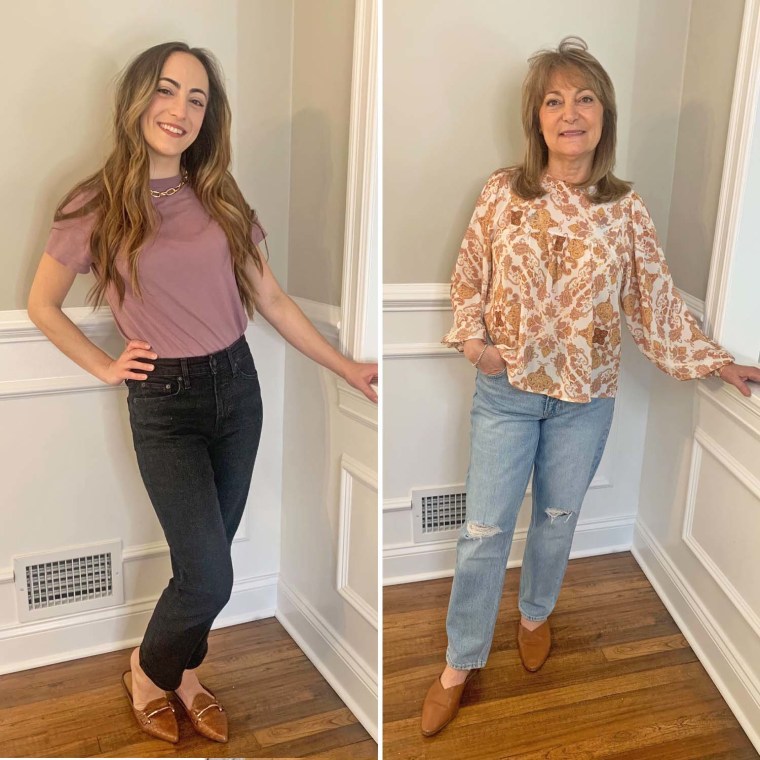 I love a sleek black jean; in fact, I'd say it's my go-to pant of choice. My favorite pair cost me a pretty penny — a little over $100 — which makes it harder to admit that this Free Assembly pick looks and feels just as good.
At 5'3'', I opted for the short length. Usually, other brands I've tried don't exactly deliver on their petite sizing promises, and I have no choice but to hem them. But this Walmart brand gave me exactly what I asked for, with a pant leg hitting just above the ankle. They're perfect for wearing with flats, and I'd even consider pairing them with a short heel next time I feel like dressing up.
As far as the fit, they land on the looser side but still provide shape. My mother, on the other hand, felt like the overall fit was perfect for her. She chose a regular length option in the lighter shade with distressed detailing in the knees. "The length is just right, but they run a bit small, so I suggest ordering a size up," my mom, Christina Murphy says.
"I was nervous about trying something that I always considered too young for me. But these actually make me feel very fashionable."
Christina Murphy
In an attempt to edge up her style, she decided to try her first pair of jeans with rips (purposely) cut into the denim. To my surprise, she loved them! "I was nervous about trying something that I always considered too young for me," she says. "But these actually make me feel very fashionable."
SEO writer Jannely Espinal and mom, Mayra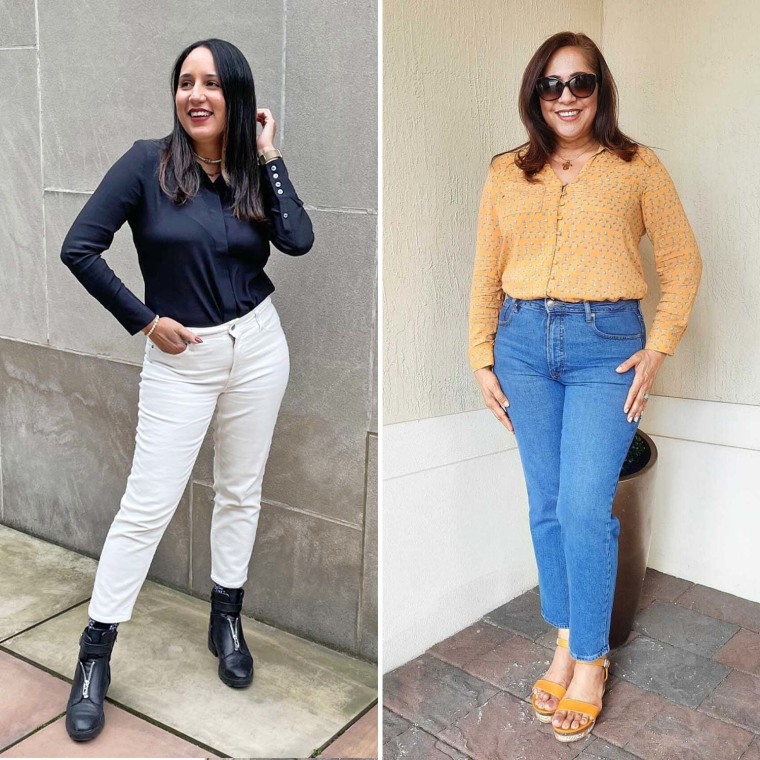 My mom and I love to keep it classy when it comes to denim. This all-white pair from Free Assembly offers many options to mix and match. But the best part is that it hugs your curves and accentuates your waist. For a 5'8'' woman like me, I found them a bit short. However, with the right pair of boots and heels, I feel these jeans are a great basic to own.
While the legs have minimal stretch, the waist fits well and is true to size — I went with my usual size 6. Mom jeans are usually known for being baggy, but the fit of these elevated my best features and didn't show any extra bulk of fabric. (They definitely have great butt-lifting qualities, too!) Also, the side pockets are not too tight that you can't fit essentials, and the zipper zips up smoothly.
As for my mom, she opted for a traditional blue pair and loved them. At first, she found them a little too snug for her taste. But after putting them on again and taking the time to walk around, the denim stretched to conform to her body and molded to her curves effortlessly, she said. According to her likeness, these were a bit short for her as well, but she considers them a great pair for everyday wear, if you like more of a cropped hem.
Shop TODAY contributors Morgan Eastwood and Dina Ruiz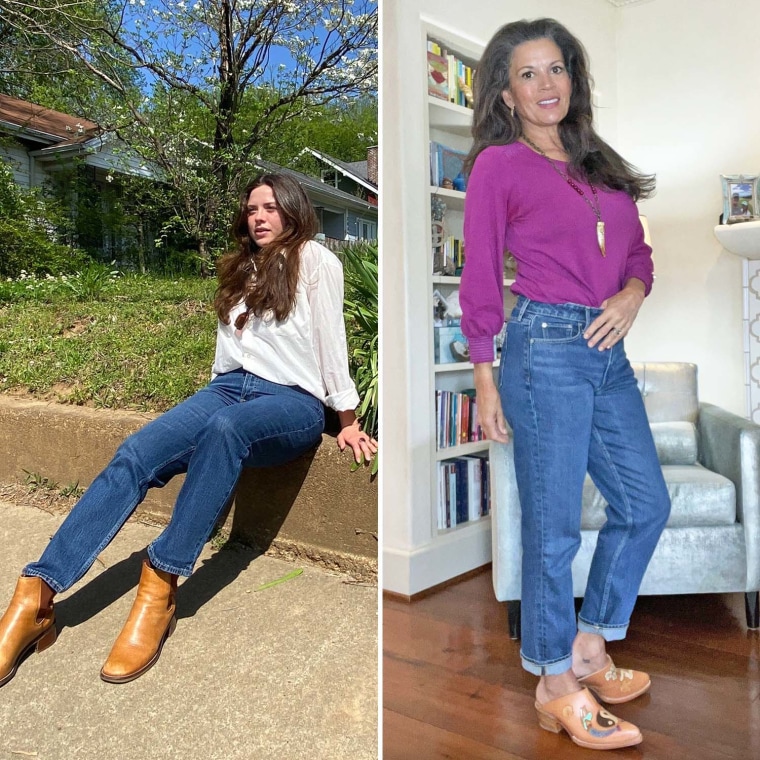 Though my mom [Dina Ruiz] and I have similar body shapes, our clothing styles usually reside on opposite sides of the spectrum. The one thing we can agree on, though, is that a good pair of straight-leg jeans are the perfect staple for any outfit regardless of personal taste. And these Free Assembly jeans are just that: a new staple in our closets.
Most of my jeans are thrifted or vintage, so when I saw that these were a '90s fit, I was excited. I prefer jeans with little to no stretch, but these ones have the slight bit of wiggle room necessary for extreme comfort, while maintaining that fitted look.
I went with a traditional dark blue color that goes with literally anything, whether it's a classic white tee or a bright purple sweater. The legs are straight enough to not look clownish with flats or sneakers, but they're also wide enough at the bottom to look great layered on top of boots or heels. I went with my true size but suggest sizing up if you want a more relaxed '90s look.
For Dina: When it comes to jeans, I follow the motto: "The longer the zipper, the happier the mom." So, when I zipped into this high-waisted pair from Walmart, I was quite satisfied. The zipper is lengthy, the fit is relaxed but not baggy, and the price can't be beat. From the nice dark wash to the no-frills design, these are an all-around hit for me. They're easy to dress up or down and, dare I say, they're even somewhat slimming.
Often times I find "budget jeans" have back pockets that are too small, but that's not the case here. Made from 99 percent cotton and 1 percent elastane, according to the brand, the jeans have a classic feel in that they are not stretchy. As for the fit, I normally wear a size 28 or 29 waist size and, on average, a size 8 in most other pants. In these Free Assembly jeans, I wear a size 6.
The only "non-perfect" thing for my liking is the length: I'm 5'7", and these hover between a capri style and ankle grazers on me. I simply cuffed them, and they looked super cute. I wore the jeans all day, and although there was a little bunching around the tummy area when I stood up, they held their shape nicely.
I was a mom in the '90s and rarely wore denim, stupidly thinking it accentuated all my wrong features. But these Original 90's Straight Jeans make me happy that I've changed my ways! My daughter, Morgan, prefers more of a bootcut, while I usually opt for high-waisted skinny jeans. These are so straight-leg, so they give us each what we're looking for in a jean.