Keeping your bathroom organized is no easy task. Between hair tools and skin care items, those essentials can start piling up near your sink or overflowing in your cabinets. If you find your bathroom feeling a little chaotic, there are a few clever storage solutions you can add to your space that you didn't know you needed — until now.
As part of our series Shop This List TODAY, we rounded up some simple organizing hacks that are so helpful, your bathroom won't have the chance to get cluttered. This handy shopping list includes a set of suction cups specifically designed to get your razor and toothbrush off the counter, a hair tool rack that will make tangled cords a thing of the past and more solutions you may not have even known existed. Together, these items can not only help you tidy up your space but also speed up your nighttime or morning routines, since you'll know exactly where everything is! And not to mention, each item is under $25 at Target.
Also, shopping the list has never been easier: Below, you can add all five items to your cart at once in just one click, then check out at target.com. Plus, Target offers free shipping on orders $35 and up, or with a Target RedCard. Keep scrolling to shop five bathroom organization solutions you didn't know you needed.
TODAY earns a commission on purchases through these links.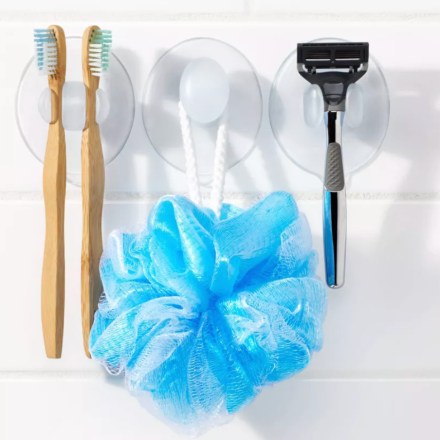 1 of 5
3-Piece Suction Bath Set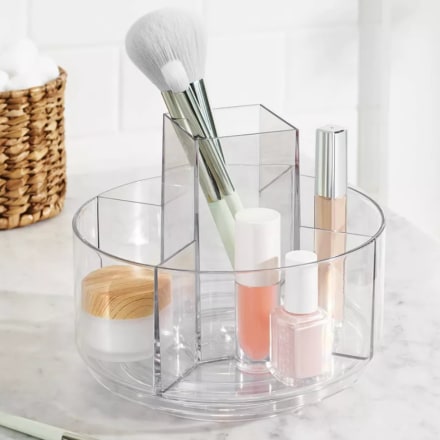 2 of 5
Make-Up Turntable Beauty Organizer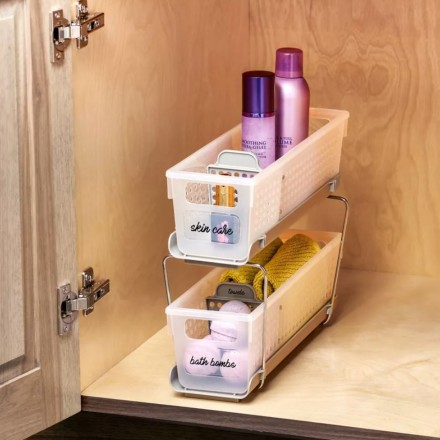 3 of 5
Mini Two-Tier Organizer with Dividers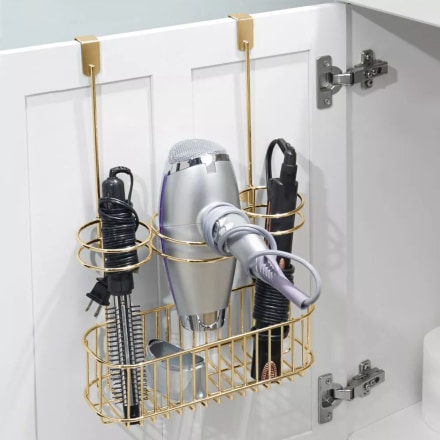 4 of 5
Over Cabinet Door Hair Care & Styling Tool Storage Basket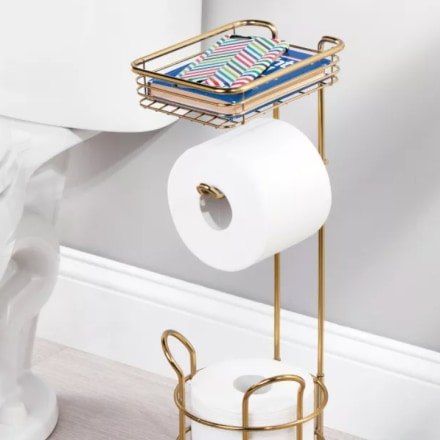 5 of 5
Metal Toilet Paper Holder Stand and Dispenser
If you ask us, these bathroom suction cups are a pretty genius way to free up sink and shower ledge space — especially if your shower caddy is already overflowing with hair care products. Coming in a set of three, the suction kit includes a holder specifically designed to keep your razor at arms reach, a holder that can fit two toothbrushes and a hook for your loofa or wash cloth.
If you find yourself digging through makeup bags for your favorite mascara or rummaging around bathroom drawers, this clear, rotating organizer is a great solution to keep your everyday makeup visible and in one spot. Not to mention you'll gain back some much needed drawer space. Plus, the compact design nicely tucks in the corner of your bathroom counter.
Between hair tools, cleaning products and lotions, under-the-sink space can become extremely cluttered. That's why you might want to opt for this organization shelf. Not only does the two-tiered design allow you to maximize vertical space, but also the brand notes that it features slide-out trays so you can easily grab what you need from the back, and dry-erase spots for labeling. At only five inches wide, you probably can fit two or three beneath your sink — and they're under $11 each!
Hair dryers and other beauty tools can be bulky; add unraveled cords and your drawer or cabinet space might feel a little chaotic. Another under-sink hack you didn't think you needed is this storage basket that hangs over your cabinet door. Featuring three circular slots and a basket to catch dangling cords, you can safely and easily store your hair straightener, curling iron and blow dryer — even while they're still hot, says the brand.
This 3-in-1 organizer takes your traditional toilet paper stand to the next level. According to the brand, it act as a normal toilet roll dispenser, however, it stores up to three rolls to ensure they're always clean, dry and at-the-ready, and it's topped with a convenient shelf. You can use it as a phone holder, or a place to stash tissues, feminine products or even a book!