Practically everyone I know has raved about how well Olaplex products have worked in their favor, but I never had the chance to try any of them until recently. The brand announced that it would be releasing the Olaplex No. 9 Bond Protecting Serum, a serum that works for all hair types (and Olaplex's first-ever serum at that).
Since my curly hair can be fickle, using the right products to protect it from damage has become even more of a priority to me. So, I jumped at the opportunity to try out the new launch.
The serum is primarily designed to protect hair from breakage and damage — including heat damage, pollution and free radicals (like UVA and UVB rays). To do this, the formula is made with ingredients like red algae extract from the south of France and a "film-forming polymer," according to the brand. Olaplex says it can protect hair for up to 48 hours at a time, which works for me since I tend to wash my hair every 2-3 days (which is the general rule of thumb).
Olaplex's serum fits right into my hair care routine
Though I use it in tandem with my other hair products, (Ouai's detox shampoo and leave-in conditioner, plus a hair oil from Trader Joe's) I've noticed a huge difference in my hair's softness since I added the Olaplex No. 9 into the mix.
It can only be applied to wet or damp hair, which I like since I prefer a low-maintenance hair care routine. I start by applying it to the ends of my hair and work my way toward my scalp, since my ends could use more nourishment than my roots. The light fragrance makes me feel like I'm at the salon (which makes sense, since my salon uses Olaplex products) and I love that it is lightweight and not thick and heavy, like most serums I've tried tend to be.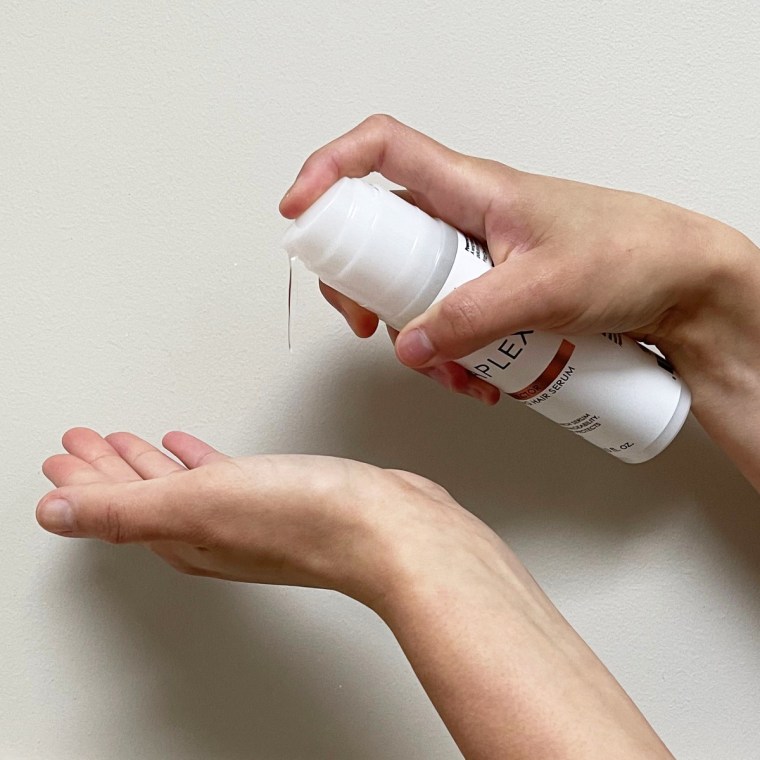 After I apply it, I typically style my hair with the Revlon drying brush. The serum is supposed to protect your hair from heat damage up to 450 degrees, according to the brand.
My hair looks (and feels) so much healthier
Since I've been using it for about a month now, I've noticed it feels softer with each blowout, too.
Post-blowout, my hair looked so much shinier than usual and it felt so much better — probably the softest it has felt and looked in a long time. Since I've been using it for about a month now, I've noticed it feels softer with each blowout, too. The brand is known for its science-backed formula, so I attribute the softness to some of the fancy ingredients in the bottle.
Even after tossing and turning on my pillow case all night long, my hair barely looks frizzy and is typically knot-free in the morning. Since my blowouts remain in-tact, I can just run a brush through my hair and get on with my day, even up to two days post-shower.
I haven't let my natural hair do its thing in quite some time because I love the look of a blowout, but even after applying the serum to my damp hair, I noticed my curls instantly look more defined. So, I'm fairly confident that my hair will look just as great whenever I decide to wear it curly.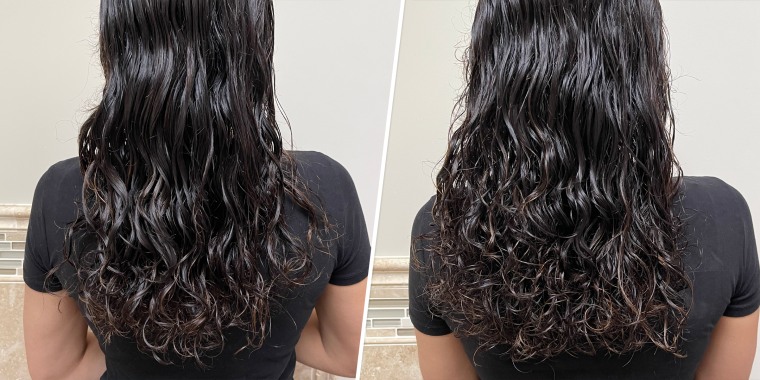 The last time I went to the salon (which was way before I tried the Olaplex No.9 serum) my stylist commended me for how healthy my hair was. I'm booking my next appointment soon, and I have a feeling he is going to be even more impressed with how my hair looks and feels.
Recently the ingredient lilial used in beauty products, including Olaplex's No. 3, has been making headlines in connection to infertility. Though the studies of infertility reports have not been found in humans, as TODAY previously reported, the ingredient is not used in the No. 9 serum. The brand previously confirmed to TODAY and re-confirmed to Shop TODAY in an email that "Olaplex proactively removed lilial from the No.3 Hair Perfector globally" out of "an abundance of caution" in Jan. 2022.
For more stories like this, check out:
Subscribe to our Stuff We Love and One Great Find newsletters, and download our TODAY app to discover deals, shopping tips, budget-friendly product recommendations and more!