When it comes to dresses, I usually only wear the style for special occasions: weddings, cocktail parties, baby and bridal showers, just to name a few. And to be honest, I sometimes opt for a fancy jumpsuit or primarily-pant-focused outfit for some of these events anyway. So, if you were to look at what is currently hanging in my closet, you'd find formal gowns and one or two LBDs — but that's it.
I've come to realize that I own zero casual dresses. Nothing that I can slip on for a quick errand, a laid-back lunch or a more comfortable day at the office. To rectify this situation, I recently scrolled through Amazon's list of bestselling casual dresses and landed on a T-shirt style by the brand, Merokeety. I bought it in two colors, but looking back on it now, I really wish I purchased a few more.
Believe it or not, I'm not exactly a serial Amazon shopper, especially when it comes to buying clothing. However, I had great luck finding a pair of sleek work pants last year, so I was confident I could find a quality dress to fall in love with, too. And fell I did — I've never been this excited about such a simple fashion piece.
It's comfortable and flattering
There's plenty to love about this dress, but since I consider "comfort" a make-or-break feature, let's start with the fit and feel. For $38, I had high expectations in this department, and was pleasantly surprised once I finally got my hands on it. The fabric is made from a rayon and polyester blend, which feels smooth and amazingly soft on my skin. It also has a nice stretch to it, so I can easily transition from being out and about to resting on the couch, without having to change. Honestly, if it didn't look so stylish, I would say it could easily pass for pajamas by feel alone.
The tie-waist is what truly makes this dress stand out. When I pull it on over my head, the piece lays like an actual T-shirt — loose and flowy. However, once I tie the belt together, it instantly transforms into a form-fitting ensemble that flatters my body in all the right places. I'm also in love with the crewneck design and above-the-knee length, both of which lend themselves to creating the perfect one-and-done dress.
Over 10,000 Amazon reviewers praise the dress for its flattering fit and easy-to-care-for material. One customer loved the hourglass shape and another enthusiastic shopper claimed there's "nothing to dislike" about it.
But I'd give the dress five stars based on one feature alone: the pockets. They're wider and deeper than any other pocket that I've seen on a dress, and they're big enough to hold essentials like my phone, keys and wallet. Plus, the material is sturdy enough that heavier items won't drag the dress down or over-stretch it.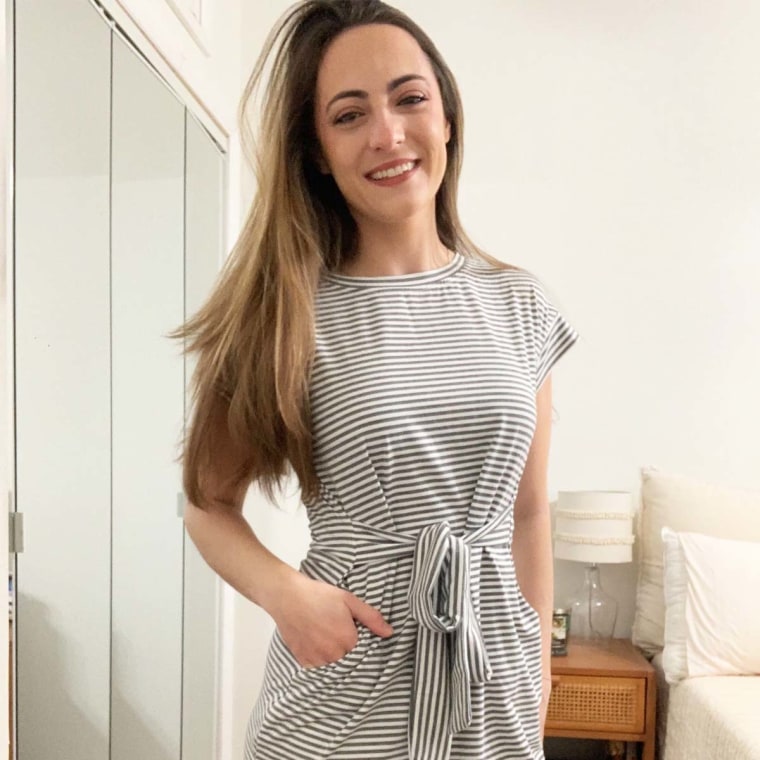 You can wear it multiple ways
Out of the 24 solid colors and patterns to choose from, I opted for two shades: dark gray stripes and rust. I immediately imagined myself wearing the striped design for a casual day at the office with a pair of my favorite strappy sandals. And I appreciate how the stripes help to hide the bends and creases that naturally happen to the fabric once it's tied at the waist.
I paired the rust option (which looks like a three-way color combination of red, orange and black) with a pair of white sneakers. I'm normally hesitant to wear flat shoes with a dress, because I think it makes my 5-foot-3-inch frame look even shorter, but the length of this dress gave the complete opposite effect. Plus, the short sleeves make it easy to comfortably wear a jean jacket or sweater on top, which will come in handy on those colder transitional days.
The first time was the charm for me when choosing this Merokeety dress on Amazon, but the online retailer has plenty of options to choose from if you're looking for more T-shirt styles or belted designs.
For more spring fashion we're loving, check out:
Subscribe to our Stuff We Love and One Great Find newsletters, and download our TODAY app to discover deals, shopping tips, budget-friendly product recommendations and more!