My daily routine includes coffee runs, writing about the latest trends and getting in a sweat sesh any chance I get. But, with a recently packed schedule of meetings and events, I've been forced to put working out and trips to the gym (seriously, who has the time?) on the back burner. That is, until I discovered the MaxiClimber.
I always thought high-intensity exercises were only possible in a group class or fitness studio, but now I can get in my cardio in the comfort of my living room. This at-home vertical climber machine has saved me from skipping workouts and dumping my fitness goals into oblivion. Since adding it to my routine, I've been able to include at least 30 minutes of exercise into my busy mornings.
The best high-intensity home exercise equipment
With the vertical climber set up a few feet away from me, now I have no excuse to skip my warm-ups. All I have to do is put on my athletic clothes and hop on the machine. And while I enjoy walking, Pilates, cycling and other types of cardio, this is perfect for getting a full-body workout on those rainy days when you can't step out of your home (or perfectly normal days when you don't want to spend money on a trendy cycling class).
How to use the MaxiClimber
This machine only took me about 15-25 minutes to install (it comes 90 percent pre-assembled), but if you don't want to put it together yourself — and have $120 to spare — you can include expert assembly in your Amazon order.
The first thing I noticed about the climber was how user-friendly it was. To mount the unit, all I had to do was step my feet into the pedals and grab the handles to initiate the climbing process.
However, the first time I tried it, I was only able to exercise for about 10 minutes. While it was easy to use, I didn't realize that I would have to rely on my own body weight for resistance. Not being able to add extra weights, as featured in traditional gym equipment, made me feel like I wasn't working out correctly. But with a few weeks of climbing (and a good playlist), I quickly got used to it.
Since the instructions provided little how-to information, I had a fitness instructor friend visit my place to check out the MaxiClimber and help me correct my form while using it. He suggested that I try keeping my back in a straight position before initiating the workout and to make sure my feet are facing straight on the pedals.
I was surprised to learn that he actually liked the fitness tool and was impressed with how it gives users an all-body workout experience. "You don't have to work muscle by muscle. You are working four muscles at the same time — arms, back, biceps and legs," he said. He also told me that even just 10 minutes on the MaxiClimber can help optimize your workout schedule.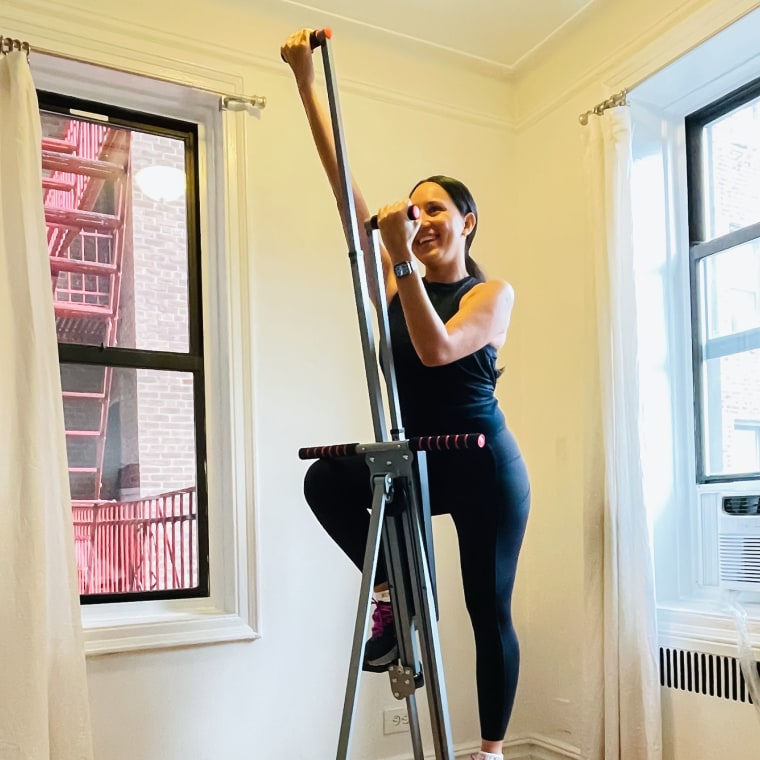 The climber is height adjustable, so you can easily customize the machine to your size (up to 6'2''). The handles can also be modified to fit your arm length, but I found the process of removing them to be a little difficult.
The machine also features a screen display that shows your workout time and accumulated steps. If you're into tracking calories like me, all you need to do is press the button four times to reveal your results.
You can target multiple muscle areas
While the purpose of the MaxiClimber is to imitate a vertical climb, the machine can also help you work your glutes, arms and legs. You can easily target your biceps by holding the handles with your hands facing toward you. Normally, I'd need a set of dumbbells to accomplish this.
Another way to maximize the usage of this equipment is by completing a more traditional stepping routine. You can perform a simple step workout by placing both hands on the fixed handles and targeting the movement in your legs.
Both of these workouts might be easy to perform, but I found my heart rate increasing after just 15 minutes of exercise. But while I love the convenience of targeting different muscles with just one machine, I still wish it had a function to add more weight for that extra strengthening boost.
The MaxiClimber is easy to store
Based on my experience, this high-intensity exercise tool is a great option if you live in a small home. At first, I was concerned I wouldn't have enough room the MaxiClimber would require for setup, but I was happy to discover that it doesn't take up much space. I keep it stored in the corner of my small apartment, and when I want it out of sight, it fits right under my bed.
The machine can be easily folded by following a few extra steps. You just need to remove the safety pin and lift the middle bar until it is set between the double front bars in a vertical position. Once the machine is parallel to the floor, you can put back the safety pin to secure it.
I'm actually seeing results
After about five weeks of consistently working out, I've definitely noticed strengthening in my muscles. My arms felt stronger after just two weeks, and my glutes have started to appear more toned since increasing my usage time to about three times a week. Even after just five minutes of exercise, I feel like my body is getting a full workout, which isn't something I can say about most gym equipment or classes. Based on its convenience, user-friendly design and affordability, I'd say the MaxiClimber is well worth it — and exactly what I need to complete my 2023 fitness goals.