If you follow former "Fixer Upper" star Joanna Gaines on social media, chances are you've already had a glimpse of the simple-yet-elegant nursery she designed for her and husband Chip's newest addition — their 6-week-old son, Crew.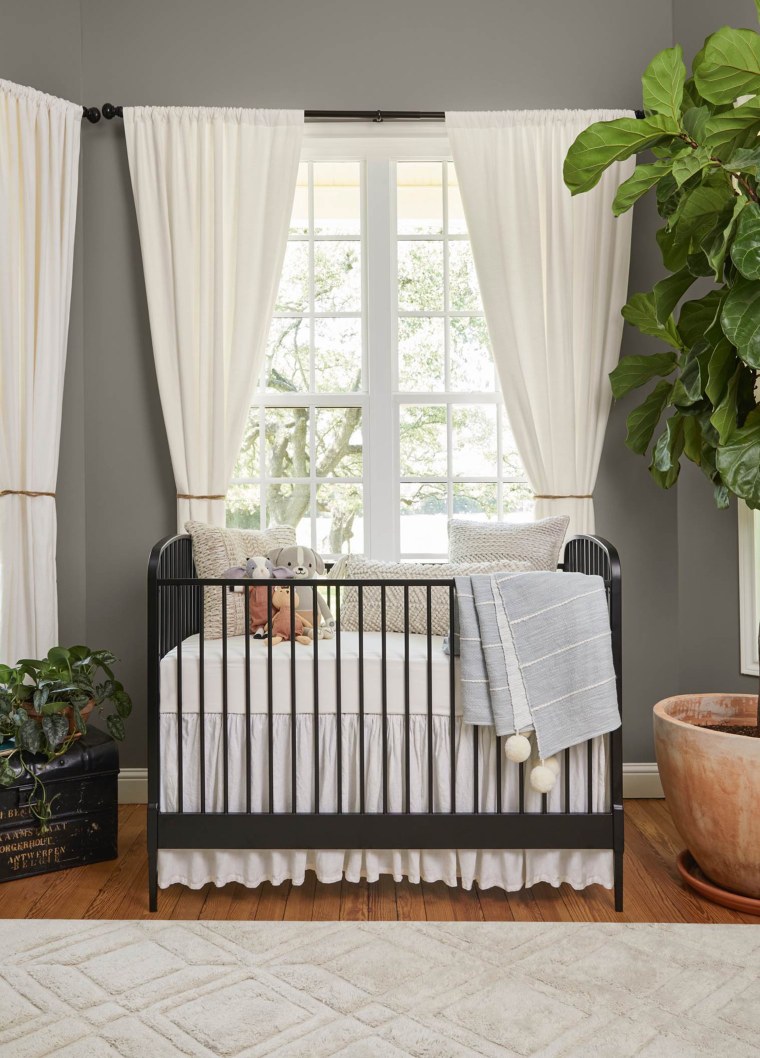 The blend of vintage mid-century pieces mixed with upcycled items, new elements and custom creations is so picture perfect, it almost seems beyond reach for average folks. But if you like what you see, don't give up on your own version of this baby oasis!
Joanna isn't simply showing off Crew's stylish digs anymore. In a new essay for her Magnolia Journal, the mother of five is now sharing how and why she made the design choices that made the room, and the result is a primer any parent can learn from.
The first thing you should know about Crew's bedroom is that it's not a really a bedroom.
"Our older kids (Drake, 13, Ella, 11, Duke, 9, and Emmie, 8) have always shared rooms, but with the eight-year age gap, it didn't seem practical to add a baby to their space," she wrote. "While we didn't have any spare rooms at the farm, this challenge seemed like an opportunity to get creative with the square footage we had. I've always been a firm believer in using each area of our home in a way that best serves the season of life we're in. And that's where we found ourselves earlier this year — reimagining how and where this new baby would best thrive. That's ultimately how our den became Crew's nursery."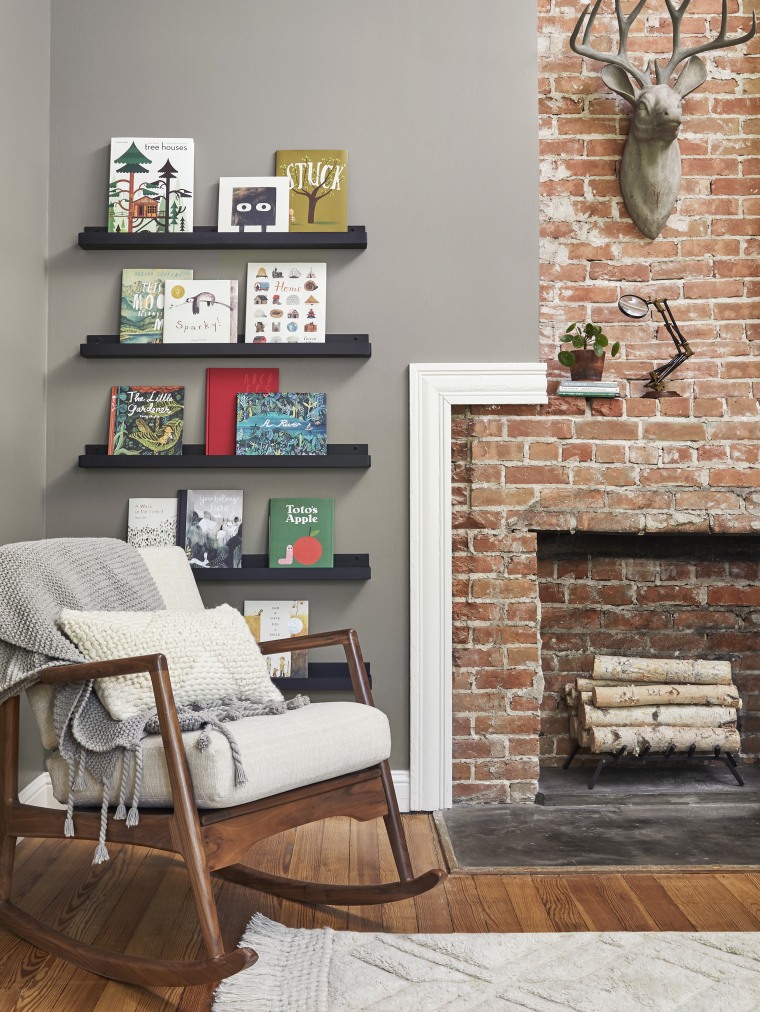 When it comes to wall art, Joanna has a few affordable ideas, including hanging the outfit Crew wore home from the hospital on a simple wooden hanger and letting small books serve as a big visual.
"One of the things our kids were most excited about as they waited for Crew to arrive was the idea of reading to him," she continued. "I wanted to make story time a significant element in Crew's room, so I asked our local welder to create simple black metal bookshelves, which we hung on one wall in the nursery. Even though the book wall began as a sentimental display, it's also making a significant design statement. Since I kept the room in a neutral palette, each book is almost like its own little piece of art."
Need more ideas? Joanna's got you covered. After sharing a recent photo of Crew's room on Instagram and getting a lot of questions from fans and followers, the home guru and "Magnolia Table" author later posted a screenshot of the post highlighting each of the brands featured in the room on her Instagram story.
Whether you're designing a nursery of your own or simply want to infuse Joanna's signature aesthetic into any space, you're in luck. Continue reading to find exactly what she used in her nursery as well as a few of our budget-friendly picks to help you get the look!
Rani Pommed Throw Blanket, $88, Anthropologie
This gray blanket with pom-pom details is draped over Crew's Crate and Barrel crib, but the multi-functional piece could also work in a living room or folded at the foot of a bed!
Editor's note: Amazon sells a similar version for only $29.
Arthouse Stag's Head Wall Decor, $90, Wayfair
If you like how the couple used of a faux deer head hanging above the brick fireplace, you can get the look with this one, available at Wayfair. Amazon sells a more colorful version for $85.
Reva Changing Basket, $70, Anthropologie
Rather than a bulky changing table, Joanna opted for this sweet wicker changing basket, which is both functional and attractive. If you're looking for a similar style (but not for a baby!) see this less expensive option from Wayfair.
Marshall Stanmore Bluetooth Speaker, $350, Macy's
This retro-style speaker in a chic cream colorway is a prominent accessory atop the mid-century console table, which Joanna sourced on Chairish, a vintage furniture resale site. It costs a pretty penny, but here is a more affordable option from Urban Outfitters.
Victrola Retro Bluetooth Speaker, $50, Urban Outfitters
Vernon Rocking Chair with Cusions, $149, Joss & Main
Joanna chose a stained wood and neutral-upholstered rocking chair from Joybird, which can set you back upwards of $700. You can achieve the look for less with this option from Joss & Main!
Little Unicorn Cotton Muslin Quilt, $50, Amazon
These sweet quilts and swaddle cloths from Little Unicorn are such a stylish way to bundle up a newborn. They come in dozens of patterns like florals, stripes, forest animals, cars and more! Joanna is also a fan of Cozys blankets and Solly Baby Wraps, which are seen strewn across the floor.
Charlie Crane Levo Walnut Baby Bouncer White, $251, Smallable
Baby Crew is seen snuggled up in this Charlie Crane Baby Bouncer, which pairs nicely with the wood accents throughout the space.
Loloi Rugs, Emory Collection, $269, Amazon
The rug is part of her Magnolia Home collection with Loloi Rugs, though the particular style photographed in the nursery has not yet been released.You can shop her collection here, as well as additional Loloi rugs on Amazon.