Ballet flats are really that girl: lightweight, versatile, and give an effortlessly chic and feminine touch to any outfit. When hunting for new fall shoes, I need something that's comfortable and checks all of the above boxes. So when I spotted these Frank Mully Ballet Flats on Amazon, I knew I had to try them.
I was impressed by their cute knit patterns, affordable price point, thousands of positive reviews and the variety of styles — over 35 shades to be exact! I chose the grey option with a petite ballet bow, hoping I'd could wear them with anything in my closet.
The first time I tried on my new ballet flats, I noticed they were comfortable and fit me well, almost like they molded to my foot. I also loved that they didn't give me toe cleavage (where toes partially stick out of the front of shoes), which, in my experience, is the worst part of wearing ballet flats. And as soon as I put them on, I saw all the different ways I could wear the shoes. I could dress them down with a sweatshirt and pants or dress them up with (well) a dress or a skirt.
But I had to put my new kicks to the test by taking them on a walk. I live in New York City, which already gives me a high daily step count. Factor in my very active 11-month-old Cavapoo puppy named Muppet, and I'm basically on my feet all day. So, what better place to try out my flats than the dog park?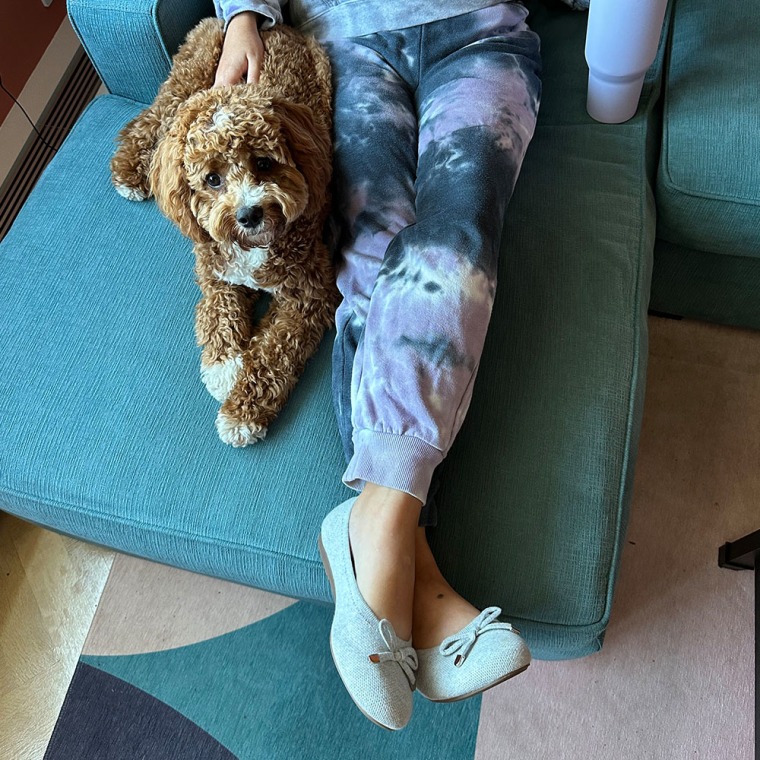 I can walk miles in them
After an outing to Tompkins Square Park and back (about a mile from my apartment), I found these ballet flats were ideal for a breezy fall or spring day. I loved how my foot felt cradled by the soft material on my walk, and I didn't have to break in the shoes at all. For someone who often gets blisters, it was great to see my foot adjust to the shoes so quickly.
These flats would work well for days of light activity, such as running errands or going into the office. I'm a staunch believer in not wearing shoes in the house, but I imagine their slipper-like quality would make these fine house shoes, too. And since they're so lightweight, they fold up easily in my bag. If I went to a party where I had to wear high heels and wanted something to change into for the subway ride home, I could take these flats along for the ride.
But with such light and flexible shoes do come a few drawbacks, none of which are dealbreakers. When I wore the flats on hotter days, my feet became sweaty. If I took a longer walk, I'd begin to notice that the shoes don't provide much arch support, even though the company does send a couple of insoles to try along with the shoes. (One totally can — and should! — buy slimmer orthopedic insoles and slip those into the shoes to add more comfort.) My feet aren't particularly wide, but I saw a couple negative reviews about how they don't conform well to wide feet. And, since I chose light grey shoes, they easily get dirty. However, I did find that light stains can usually be removed with soap and water.
With their comfort, versatility, and style, these flats have easily become a fall wardrobe staple in my closet. And with the different designs to choose from, each costing under $40, I'm excited to get more pairs that would match with any of my outfits.