If you ever fell victim to untrendy accessories enforced by stadium security: raise your hand. According to the National Football League, their clear bag policy states that event-goers are limited to clear plastic, vinyl or PVC bags, which can't exceed one foot in width and length. And to be more specific, these bags can't have decor or embellishments that cover the contents inside. However, the NFL is kind enough to offer one-gallon plastic freezer bags as an accessory option.
Though any clear stadium bag is better than rummaging through the kitchen cabinets for a storage bag, we can do better — much better! With over 4,000 five-star Amazon ratings, this Vorspack Clear Crossbody Purse is a crowd favorite and I recently had the chance to bring it to a big game.
I still feel trendy while wearing it
While you might expect a clear bag to be bland, the soft faux leather adds a surprising amount of personality and comes in nine shades. I was immediately drawn to the trendy green, but since I wanted something fit for cheering on my favorite team, I opted for the timeless white.
According to the brand, the purse features semi-shiny TPU plastic instead of PVC, which I find handy for end-of-season games since this material doesn't feel stiff in the cold. It has a two-strap design; an adjustable strap for throwing over your shoulder or wearing as a crossbody and a detachable wristlet to wear as a clutch.
Some reviewers even said they dressed it up and swapped the leather crossbody strap for a chic gold chain, which I might need to try for myself.
Getting through security is a breeze
Going through an event security line can be stressful; it's right behind the mad gathering of belongings at airport security or bagging groceries before the next shopper. And I can relate to the fear of holding up the line, or worse, being given the ultimatum of ditching your bag or being denied entry for not abiding by stadium rules.
This clear bag made the security process a breeze. There was no spilling the contents of my purse onto the table or riffling through my belongings. I even made it through security faster than my partner, who had to empty his pockets of all belongings.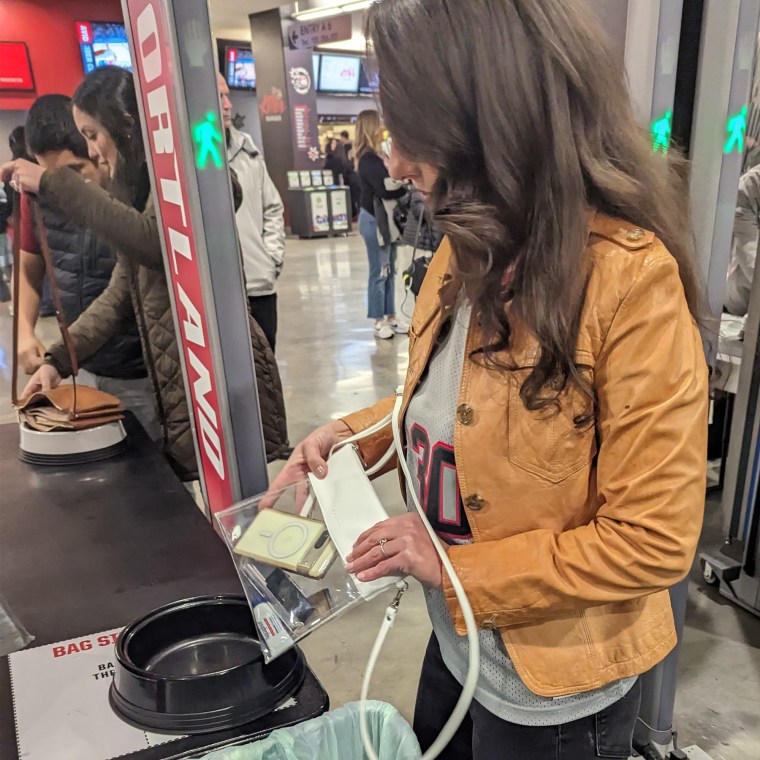 It can hold more than just your cell phone
I'll admit it, I'm not much of a purse person these days and prefer to slap a magnetic wallet onto my phone. But there are a couple of problems with this; I will misplace that wallet or feel vastly limited in what leaves the house with me. But when it comes to sporting events and concerts, a bag is a must for me.
Staying true to my minimalist roots, I kept my packing list simple: my favorite lipstick, moisturizing lip balm, ID and credit cards, scrunchie and phone. If you're worried about flaunting credit card numbers and identification, I recommend pairing the purchase with a small card holder.
With plenty of room, this purse can easily fit heftier gameday and event essentials, from sunscreen to snacks to sunglasses. I even found that you could pack a compact umbrella, hand warmers or gloves. Just remember that the less you pack, the easier it is to bypass security holdups.