As a full-time travel writer, I live out of a suitcase most of the time. More specifically, a carry-on. For convenience's sake, if it doesn't fit under the plane seat in front of me or the overhead bin, it stays home.
For years, I've been loyal to hard shell options but recently switched to the soft side. Why the sudden change of heart? I tried this bestselling carry-on garment bag, which has made packing and unpacking a lot less stressful.
It's basically two bags in one
All of my favorite travel products have one thing in common: They're overachievers in their category. For example, in addition to boasting your classic hanging suitcase design, this bag also doubles as a weekender tote. All I have to do is roll up the bag, zip up the sides and voila! I have a medium-sized duffle ready to use.
In addition to its double handles, the bag also comes with an adjustable and removable shoulder strap. Unless I'm packing really light, I usually prefer using this strap since it helps distribute weight more evenly.
It's made of waterproof, synthetic leather
Since this bag is so affordable, I was worried it would look cheap. But it doesn't. It's made of a synthetic leather that looks like the real deal. It's also waterproof, so I don't need to worry about it getting ruined if it gets wet. The fabric's surface somehow repels liquids, so even if you spill coffee (or in my case, wine) on it, it doesn't penetrate or stain the material.
Currently, the bag is available in six colors and patterns, starting at $34. I got the nautical blue stripe style, which is fitting for my work trips since I cover cruises all the time.
It keeps my clothes organized and wrinkle-free
I don't travel with suits, but I do like to bring blouses and dresses, especially if my cruise hosts formal nights. As much as I love a portable travel steamer, I love not having to pack one even more. With this garment bag's main compartment that has space to hang 2-3 days' worth of clothes (I use wire hangers to save room), my nice clothes can lay flat and don't have to be folded or stuffed into compression bags. Even though the bag is then rolled up to turn into a duffle, it doesn't usually cause any weird creases or stubborn wrinkles.
This bag has several handy zippered pockets that are perfect for stashing my electronics and toiletries. It's also big enough to fit two pairs of shoes, and it comes with a shoe pouch, so you don't need to worry about your dirty sneakers touching your clean clothes. That said, I even love to use the shoe pouch for dirty laundry, too.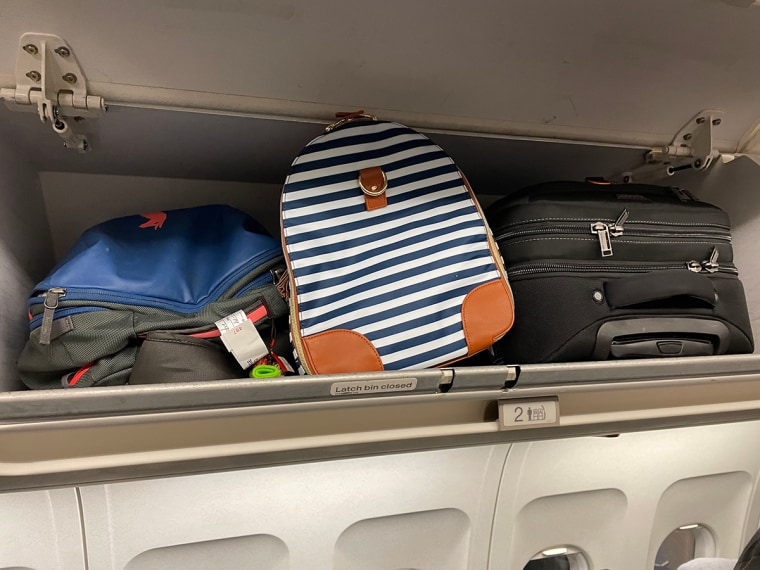 It fits in most overhead bins
Even when I have this bag packed to the gills, it fits in most overhead bins. I say most because I know some smaller jets have really compact compartments that only fit your purse or a jacket. That said, I'm such a big fan of this garment bag that I'd gladly pay to check it. I love the peace of mind that comes with knowing that when I arrive at my final destination, everything will be dry, crease free and easy to find.