It's no secret that airports don't always treat our suitcases with the utmost respect, yes, baggage handlers, we're talking to you! This means that when you're traveling, you need sturdy, dependable luggage to get your belongings from point A to B (in one piece, preferably).
However, finding said luggage can be quite the headache given all the options. Do you splurge and buy a fancy hard-shell or throw it back to the '90s with a cloth suitcase? Luckily for you, we've done our due diligence and brought you the best of the best when it comes to suitcases and carry-ons for Shop TODAY's 2023 Travel Gear Awards. Never again will you arrive at baggage claim only to find your suitcase missing a wheel or a ripped, jammed zipper on your carry-on.
Keeping reading to see the suitcases, carry-ons and weekender bags our reviewers themselves will never travel without again.
Best suitcases
Award: Best budget suitcase | Category: Suitcases
Coming in with over 30,000 five-star reviews on Amazon and an almost perfect score from our reviewers, this Amazon Basic carry-on is small but mighty. "I loved how small and light it was. The body is tiny but can fit a lot more shoes and clothes than I thought," noted senior photo editor Becca Delman. Including three separate zippered compartments, this carry-on is perfect for your next weekend getaway or business trip. To make matters even better, this pick is also under $100, making it our favorite affordable suitcase.
Award: Best overall suitcase | Category: Suitcases
Shay Mitchell knew exactly what she was doing when creating this carry-on roller. Equipped with 360-degree rolling wheels, a cushioned handle and secure TSA-friendly locks, this suitcase truly makes traveling a breeze. Editorial assistant Shannon Garlin went on to say, "I love how pretty and chic it looks. The padded handle makes it easy to hold on to and the wheels are smooth. I could easily maneuver it on the escalator and between people. It also fit perfectly in the overhead bin on a Delta flight." Available in nine chic colors, Béis even goes the extra mile and includes a limited lifetime warranty so you'll never be without your new favorite carry-on.
Award: Best splurge suitcase | Category: Suitcases
Samsonite has been a fan-favorite travel brand for years and for good reason. Associate SEO editor Kamari Stewart says this suitcase was her "first big girl purchase" and she'll never look back. "I'm a chronic over-packer and I stuff my suitcases to the gills but this one always seems to have space for more and it's never overweight (which I'm very thankful for). It rolls really smoothly on any surface and even if it gets caught on something, the handle is sturdy enough that it won't feel like it's going to snap off. I like that it expands as well so you don't have to sit on it to close. And it has so many pockets inside!" It also comes with a 10-year warranty to make the deal even sweeter.
Use the code TODAY30 to take 30% off of one Samsonite Outline Medium Pro Spinner at checkout on Samsonite's website, through May 23.
Best Duffle Bag
Award: Best splurge carry-on | Category: Carry-ons/Weekender Bags
What goes around comes around couldn't be more applicable for this weekender bar. Chances are, if you were around during the early-mid 2000s, you owned something from Vera Bradley. Just ask Garlin who says, "I've had two versions of the weekend travel bag over a decade and each one has lasted me years. I used it as a carry-on/personal item when I moved to and from Asia, and jammed it with things. The fabric is extremely durable and so is the zipper. It also fits under the seat even when it's packed to the brim." Made with 100 percent recycled cotton, this bag comes equipped with five mesh pockets, a trolly sleeve, a removal strap and two handy exterior pockets, you'll never run out of space for all your travel essentials.
Use the code TODAY30 to enjoy 30% off the Recycled Cotton Weekender, Microfiber and Performance Twill weekenders at Vera Bradley's website, through May 31.
Award: Best overall carry-on | Category: Carry-Ons/Weekender Bags
Versatile is the name of the game with this overnight bag from Etronik. Not only can use this as a travel, gym or overnight bag, you can charge your phone with the included USB port. Commerce leadership coordinator Alexa Arent found this bag especially handy saying, "The compartment for shoes at the bottom of the bag is a lifesaver when traveling. It fits everything! I use it every day to travel to my workout classes as well as for weekend trips when traveling back home. I also love that it is water-resistant. The fabric allows water to just roll off the bag so it stays dry and comfortable." Plus, it's offered at nearly 30% off right now.
Award: Best budget carry-on | Category: Carry-Ons/Weekender Bags
Looking for a carry-on that's under $30, is fashion-forward and roomy? Look no further than this water-resistant duffle. Constructed with "comfortable straps" and a "durable fabric" per our reviewers, you can pack this bag to the brim while still being able to walk from terminal to terminal without tipping over. Coming in 15 various color options, including rose red and taro purple, you have your pick of the litter. Bonus points if you match with your suitcase.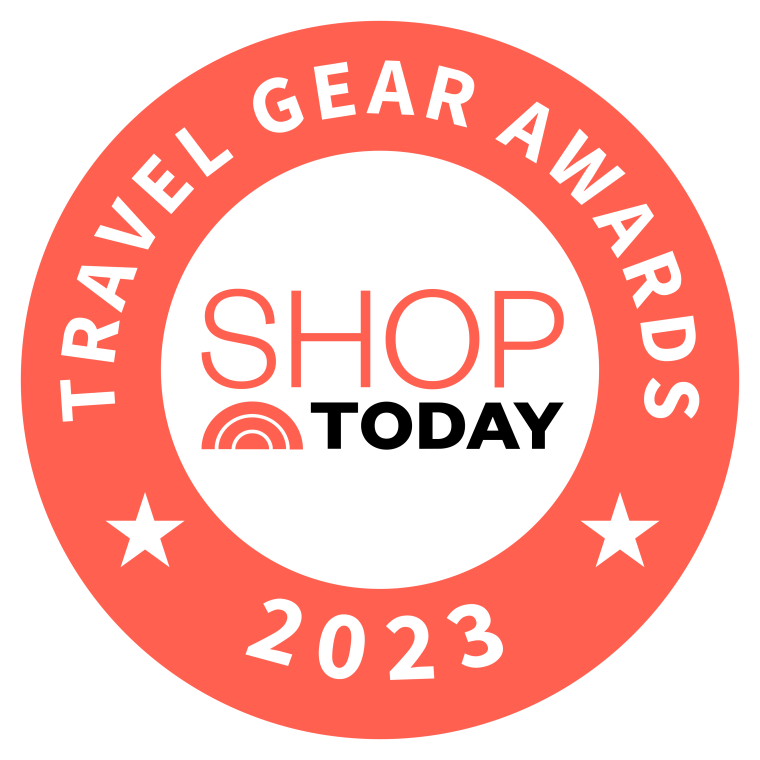 Shop TODAY is editorially independent and our team of editors and writers work hard to pick the best products to share with our readers and viewers. We may license our logo to brands or products that have been featured on Shop TODAY. Click here if you're interested in licensing your inclusion in Shop TODAY content or to learn more from our licensing partner, Wrights Media.