So you've finally marked that weekend getaway or summer trip on the calendar. If you eagerly dusted off your well-worn luggage only to find that the time has come to look for a new carry-on — this guide is for you.
We know: It's a task is easier said than done. It's not just because there's an overwhelming number of brands and styles of bags to choose from. There's also the reality that everyone's travel needs and concerns are different.
But those needs and concerns are exactly where you should start your search, according to Summer Hull, Director of Content at travel advice website The Points Guy.
"Generally speaking, the best luggage for you is going to be the bag that fits your budget, your priorities and [one] you are able to manage on your own (or with the assistance you know will be available)," she says.
Once you nail that down, it should be easier to determine whether you need to a carry-on or a check-in bag, or one that fits overhead or under a seat, Hull adds. "No bag can do it all, which is why prioritizing what's most important for you out of your bag matters."
Still, there's no one-size-fits-all carry-on solution — and that's where we come in. Here, you'll find some specific questions and characteristics you can consider to make the choice less stressful. We also spoke to Hull and other travel experts to get their tips for how to choose the best carry-on luggage for your next trip.
Travel Awards winners | Hardside carry-ons | Softside carry-ons | Carry-on sets | Carry-on bags | What to look for | FAQs | Meet our experts | Has your product been featured?
Shop TODAY Travel Gear Awards winners
Award: Best budget | Category: Suitcases
Dimensions: 10 x 14.9 x 22 inches | Interior dimensions: 9.6 x 13.3 x 18.5 inches | Weight: 7.34 lbs | Material: ABS plastic | Capacity: 39 L | Lock: None | Wheels: 4 double spinner wheels | Expandable? Yes | Warranty: 1-year limited warranty
Two of our staffers took this suitcase for a spin for our first-ever Travel Gear Awards and the consensus is that it's surprisingly hardy and spacious — if you don't mind some minor inconveniences.
"For its price, I'm impressed with how sturdy yet lightweight this suitcase is," notes Shop TODAY associate social media editor Dani Musacchio, who wheeled this suitcase down about 1.5 miles of "not-so-smooth" sidewalk on the way home from Manhattan to South Brooklyn. "[It's] the perfect size for a weekend trip, [and] the zippered compartments on the inside are perfect for organizing smaller pieces of clothing or items."
Shop TODAY senior photo editor Becca Delman was also surprised at how smooth it wheeled over bumpy sidewalks. "The body is small but can fit a lot more shoes and clothes than I thought."
That said, both Delman and more than a handful of Amazon reviewers say time will tell as to how well this bag holds up: "The material felt cheap, and I worry about how long-lasting the spinner would be after a few tosses in an airplane and down the ramps. The wheels felt flimsy," Delman reports.
Dimensions: 15.8 x 22.8 x 9.8 inches | Interior dimensions: 14.6 x 21 x 9.8 inches | Weight: 8.36 lbs | Material: Polycarbonate hard shell | Capacity: 49 - 61 L | Lock: TSA combination | Wheels: 360-degree spinners | Expandable? Yes | Warranty: Limited lifetime luggage warranty
For a fashionable pick that is durable, spacious and surprisingly midrange in price, Shop TODAY associate editor Danielle Murphy highly recommends this "stunning" roller from Béis.
"It has a ton of storage. Each side has a zippered [compression] flat to help keep items as compact as possible and also adds more room to add additional garments on top. I also love how it has additional pockets for dirty clothes or smaller essentials. The material feels durable, so if I ever have to check it, I'm not worried about wear or tear," she says.
Since Murphy shared that feedback, we've had four more editors who took this bag for a whirl in various trips, from a subway commute to a flight to a train trip out of state. The consensus: Deceptively spacious and very smooth. In fact, Shop TODAY editorial assistant Shannon Garlin reports, "[The wheels] were almost too smooth. If you're traveling by train, keep your hand on it because it will roll away from you."
In addition to the stain-resistant exterior and unique striped design, our editors highlight the nice-to-have extras, like a cushioned side handle, a weight indicator and a cushioned trolley handle.
Award: Best splurge pick | Category: Carry-ons/weekenders
Dimensions: 18.5 x 12.5 x 7.5 inches | Short handle length: 7.5 inches | Adjustable strap length: Up to 52.5 inches | Capacity: 30 L | Material: 100 percent cotton | Colorways: 19
Garlin has had two versions of this bag over the course of a decade and says each one has lasted her years. "I used it as a carry-on/personal item when I moved to and from Asia and jammed it with things," she shares.
She also praised its durability, the amount of inner pockets it has to keep you organized and its ability to fit underneath the seat on a plane even when packed to the brim.
Use the code TODAY30 to enjoy 30% off the Recycled Cotton Weekender, Microfiber and Performance Twill weekenders at Vera Bradley's website, through May 31.
Award: Best overall | Category: Carry-ons/weekenders
Dimensions: 18.5 x 14.2 x 8.7 inches | Weight: 1.92 lbs | Colorways: 13 | Sizes: Medium and large
"This has officially become my number one travel bag for EVERYTHING. I use it every day to travel to my workout classes as well as for weekend trips when traveling back home," raves commerce coordinator Alexa Arent.
It's packed with features the frequent traveler is sure to appreciate like a zippered shoe compartment on the bottom, a zippered wet bag and a USB interface to charge your devices on the go.
Award: Best budget | Carry-ons/weekenders
Dimensions: 21.65 x 10.63 x 7.09 inches | Weight: 1.32 lbs | Colorways: 15
Both staffers that tried this bag flagged that it's better suited for an overnight trip than a longer vacation. Senior SEO editor Jess Bender is a self-proclaimed "BIG fan" of the water-resistant compartment that keeps your wet or soiled items separate from everything else. Other features to note include a detachable shoulder strap and padded laptop sleeve for devices up to 15.6 inches.
Best hardside carry-ons
Dimensions: 20 x 13. 5 x 11 inches | Interior dimensions: 19 x 13.5 x 9 inches | Weight: 6.92 lbs | Material: ABS plastic | Capacity: 48.7 L | Lock: None | Wheels: 4 360-degree spinners | Expandable? Yes | Warranty: None
For a cheaper lightweight option, this 20-inch expandable hardside option from Wrangler rings up at just $64.
Scores of reviewers have praised the bags compactness and lightness, but where it really stands out from similarly affordable options is its built-in cup holder and USB port. "The cup holder is plastic and can hold drink or soda. Not the most sturdy, but it serves it's purpose. For the charging port, you provide your own battery and it is stored inside the bag. Definitely saves you from looking for an outlet in the airport," says one reviewer, while another reports that those features were the selling point for them.
Something to note: Not as durable as more expensive picks, handle is a bit flimsy
Dimensions: 22 x 14.5 x 9 | Interior dimensions: 21 x 14.5 inches | Weight: 6.7 lbs | Material: Polycarbonate hard shell | Capacity: 48 L | Lock: TSA combination | Wheels: 4 360-degree spinners | Expandable? No | Warranty: 365-day return policy
You won't have to wait for this pick from Quince to be discounted to know you're getting the most value from your dollar. After months of trying out a slew of suitcases for this piece, this one is a personal favorite.
First (and most impressive) — it's spacious: I was able to, easily, pack a capsule wardrobe for a week, two swimsuits, two pairs of shoes, a large toiletry bag, a resistance band set and a few more odds and ends.
It also has a laundry bag and a sturdy polycarbonate shell with a bit of give. I was initially nervous about that give, but that actually works out to my advantage — the bag retains its durability while still being able to be stuffed, should you need to pack a little bit more than a week's worth of things.
Something to note: Not expandable, scuffs easily (but comes with cleaning sponge)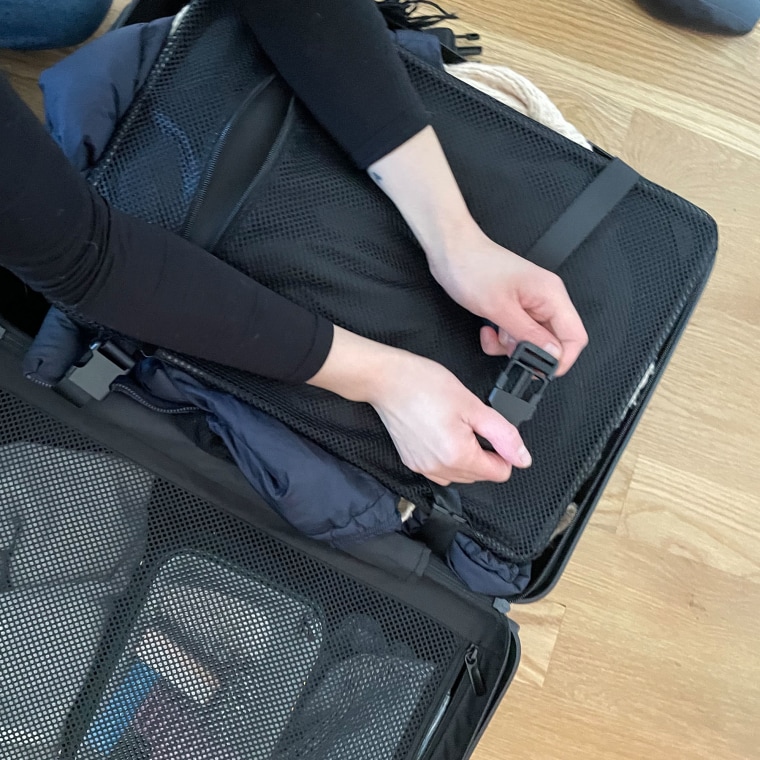 Dimensions: 23 × 14.5 × 9.5 inches | Interior dimensions: 20 × 13.5 × 9.5 inches | Weight: 6.7 lbs | Material: Polycarbonate hard shell | Capacity: About 42 L | Lock: TSA combination | Wheels: 4 multidirectional spinners | Expandable? No | Warranty: Limited 10-year global warranty
For shorter trips, try Samsonite's fashionable spinner that dozens of reviewers call out as a great alternative to hand-carried weekender bags. Its sleekness makes it stand out from the crowd, but users say they also love it for how easy it is to handle, thanks to the multidirectional spinner wheels. It comes with similar compression cross-straps, interior dividers and zippered compartments.
A good number of reviewers also rave about its compactness, which is surprising considering that the Winfield has bigger external dimensions other picks in this story. If you're traveling in a smaller plane or internationally, we recommend calling the airline to confirm whether this will fit overhead.
Something to note: Smaller capacity than other top picks, outside dimensions may not pass international carry-on restrictions
Dimensions: 16 x 14 x 8.5 inches | Interior dimensions: 14 x 13.75 x 8 inches | Weight: 6.4 lbs | Material: Polycarbonate hard shell | Capacity: 31.2 L | Lock: TSA combination | Wheels: 4 360-degree spinners | Expandable? No | Warranty: 2-year limited warranty
If you can afford to pack a little less than what can go into an overhead suitcase (or if you need just a little more extra room than another personal item can offer), we recommend the very cute mini version of Calpak's carry-on spinner, the Hue Mini Carry-On.
Designed to "fit beneath most airline seats," according to the brand, the Hue Mini boasts the same durable hard-shell, sleek design and smooth-spinning wheels that makes its larger version one of our top picks. Plus, it comes with similar zipper compartments and pockets so you can maximize packing space and keep everything organized. "This fits so much more than you'd think," one Calpak reviewer notes.
Something to note: Hard to access if sitting in the middle of a row, may not work for budget airlines
Dimensions: 22.7 x 14.7 x 9.6 inches | Interior dimensions: 21 x 14.5 inches | Weight: 8.4 lbs | Material: Polycarbonate hard shell | Capacity: 47.9 L | Lock: TSA combination | Wheels: 4 360-degree spinners | Expandable? Yes | Warranty: Limited lifetime guarantee, 100-day return guarantee
Away's Bigger Carry-On is Hull's best overall pick for domestic travelers who want to pack as many items as possible into their carry-on. "It comes in many colors, has a stylish look and is made of a hard, water-resistant shell," she says. But the crowning glory is its internal packing system — which includes a compression pad and straps, as well as a water-resistant laundry bag — that lets you pack more and still stay within carry-on size limits.
Other noteworthy features include leather detailing and a built-in USB port and battery. There is a smaller carry-on bag sold by the brand that's $20 cheaper, but you'll get 20 percent more capacity (an extra one to two outfits) with the larger model, according to the brand.
The company also has an airline compatibility list so you can check which of the two carry-ons will fit certain airlines' overhead space.
Something to note: No front pocket for laptop access, heavy, may need to be checked for international flights or smaller planes
Dimensions: 22 × 14 × 9 inches | Interior dimensions: 20 × 13.5 x 9 inches | Weight: 7.8 lbs | Material: Polycarbonate hard shell | Capacity: 36 L | Lock: TSA combination | Wheels: 360-degree spinners | Expandable? No | Warranty: 100-day trial, limited lifetime warranty
Thanks to that padded compartment, which held my 15-inch laptop as well as a few odds and ends in the small zippered pockets, I didn't have to bring my larger backpack as a personal item during recent travels.
Unlike other similar suitcases with laptop pockets, I was able to comfortably pack this one with about five days' worth of clothes, a toiletry bag, an extra pair of shoes, a book, a bag of resistance bands and a picture frame (a gift!), without the laptop in the front sacrificing much of that interior space.
The Monos Pro comes with a internal zippered compression pad with easy-to-use straps, which were extremely helpful in compressing all my clothes and most of the items I mentioned above (save the shoes and bands, which I put in the opposite zippered compartment with room to spare).
That roomy interior and easy access to my laptop, combined with the sturdy polycarbonate shell, insanely smooth spinner wheels and other neat extras like the ergonomic and telescoping handle and three (!) antimicrobial bags for laundry and shoes, cinched the deal for me.
Something to note: Laptop fits almost too snugly in front pocket, scuffs easily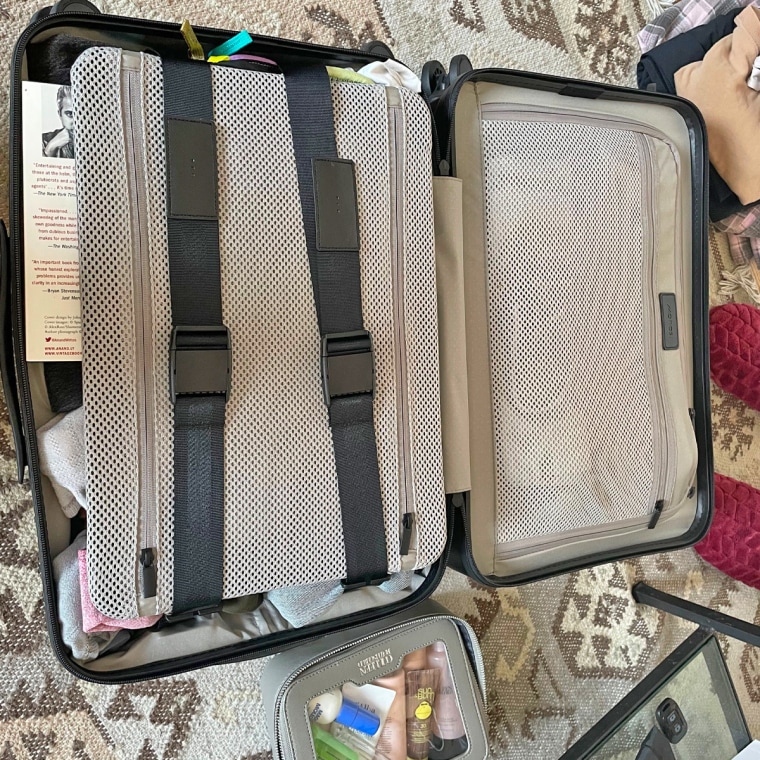 Dimensions: 22 x 14.25 x 9 inches | Interior dimensions: 20 x 13.75 x 8.5 inches | Weight: 7.3 lbs | Material: Polycarbonate hard shell | Capacity: 37 - 51 L | Lock: TSA combination | Wheels: 360-degree spinners | Expandable? Yes, for an additional $45 | Warranty: Lifetime warranty
"Roam entered the market with their previous industry know-how and have upped that ante by introducing completely customizable bags that combine travel with personal expression," says Virtuoso Travel VP Misty Belles.
Belles wasn't kidding when she describes this lightweight carry-on from Roam as customizable: You can choose the color of everything from the zipper to the binding to the interior lining. The zippers are waterproof, and it comes with a water-resistant and washable lining, two compression pads, a roomy laundry pocket and two accessory pockets.
Something to note: Expensive; while the finish is said to last, some say it shows marks easily
Best softside carry-ons
Dimensions: 22.75 x 14.25 x 10.25 inches | Interior dimensions: 21 x 12.75 x 10.25 inches | Weight: 8 lbs | Material: Polyester | Capacity: Not listed | Lock: No | Wheels: 4 360-degree spinners | Expandable? Yes | Warranty: 10-year extended warranty (when purchased directly from brand)
This 21-inch spinner from SwissGear has a lot going for it: a scuff-resistant polyester exterior with two easy-access pockets, adjustable interior packing straps, a removable wet bag, a built-in ID tag and three handles (top, side and bottom).
While the brand doesn't list its capacity in liters, it's said to have up to three days' worth of room, and several reviewers say the fabric is durable enough that it can be packed to its maximum and still comply with TSA weight restrictions.
Something to note: Handle feels a bit flimsy, many reviewers say wheels don't glide effortlessly
Dimensions: 16.5 × 13.75 × 9 inches | Interior dimensions: 15 × 13 × 8 inches | Weight: 5.6 lbs | Material: Polyester | Capacity: | Lock: No | Wheels: 4 multidirectional wheels | Expandable? No | Warranty: Limited 3-year global warranty
This is a softside version of an under-seat bag that is ideal when there's no more overhead room on the plane, or if you want a personal item to pair with your other spinner.
It has two exterior pockets (the larger one has an organizational panel) and a handy USB port to charge your phone. It's also very lightweight and the multidirectional spinners help a lot with portability, users say.
Something to note: Some say it may not fit under economy aisle seats (but middle and window seats are fine); may not fit larger laptops
Dimensions: 23 x 15.5 x 10 inches | Interior dimensions: 21 x 14.75 x 10 inches | Weight: 8 lbs | Material: Ballistic nylon with DuraGuard coating | Capacity: 53 L| Lock: No | Wheels: 4 360-degree spinners | Expandable? Yes | Warranty: Limited lifetime warranty
"TravelPro has long been the workhorse of carry-ons — just look at any flight attendant and chances are that what they're pulling behind them," Belles tells us.
One such workhorse is the Crew VersaPack Max Expandable spinner, which boasts a whopping 53 L of capacity. This is a "civilian" version of the luggage flight crews use (hence the name), and that's evident in its features and construction: The external corners have protective "armor," the multidirectional wheels are made from heavy-duty material, the cushioned handle has four stops and is designed to minimize wobble and it's equipped with skid guards. Plus, the suitcase's exterior pocket is said to fit a laptop of up to 17 inches.
Other nice features include a built-in USB port, the Zip-In Garment organizer for your nice shirts and dresses and even a TSA-compliant toiletries bag that is designed to store neatly in a dedicated external compartment.
Something to note: No TSA lock, some users say wheels are too small
Dimensions: 22 x 14 x 9 inches | Interior dimensions: 20 x 14 x 7.9 inches | Weight: 10 lbs | Material: Ballistic nylon | Capacity: 37 - 48 L | Lock: TSA cable combination | Wheels: 4 360-degree spinners | Expandable? Yes | Warranty: Lifetime guarantee
There's a reason why frequent jetsetters and business travelers have only praises to sing about Briggs & Riley's high-quality luggage. And their Essential Carry-On is no exception, according to Leah Ginsberg, a former travel editor turned managing editor at NBC Select who's covered a lot of miles with her rolling suitcase.
"Its handle, wheels and nylon material are really sturdy," she says of her older version of this model, which isn't expandable and has a slightly different handle design. Though Ginsberg says she mainly uses the suitcase for shorter trips, it's been to countless places: from international locations like Ecuador and Wales to domestic spots (where she mostly takes it now) like Maui and Saratoga Springs.
Plus, she adds, "it's really easy to maneuver (as a result of the solid handle and wheels) and it has a lifetime guarantee (but it's in such good shape I haven't had to fix anything)" — and users echo the same sentiments about the latest version of the carry-on (the brand has a handy guide on weight allowance by airline).
The current versions' upgrades include a ballistic nylon construction, an expandability to about 2 inches, an even sturdier and impact-resistant handle with several stops and shock-absorbing wheels.
Something to note: The heaviest and most expensive suitcase on our list
Best two-piece carry-on sets
Dimensions: 14.6 x 9.3 x 21.5 inches (+ 15 x 6 x 19 inches) | Interior dimensions: Not listed | Weight: 7.1 + 1.5 lbs | Material: Makrolon polycarbonate | Capacity: 41 + 26.5 L | Lock: TSA combination | Wheels: 4 360-degree spinner wheels | Expandable? Yes (luggage) | Warranty: Luggage lifetime warranty, backpack 1-year warranty
For those in search for a high-quality carry-on set that has it all, this one by Level8 checks off most of the boxes. The luggage itself is quite roomy but still lightweight, thanks to the thinner-than-most polycarbonate material, and the finish is minimalist chic (though it does tend to scratch easily, according to several reviewers). It's also got plenty of interior zipper pockets and dividers, as well as adjustable straps to secure everything.
The bag can fit a 17-inch laptop and is equipped with heavily cushioned straps, a USB charging port and pockets galore for everything from your keys and wallet to a 500 mL water bottle.
Something to note: Finish scratches easily, handle doesn't seem as durable as competitors'
Dimensions: 19 x 13 x 8 inches (+ 13.5 x 11 x 5.5 inches) | Interior dimensions: Not listed | Weight: 6 (+1) lbs | Material: Polyester and PVC backing | Capacity: TKTKT | Lock: Comes with locks and keys | Wheels: 2 inline skating wheels | Expandable? Yes (luggage) | Warranty: 5-year limited warranty
One of Amazon's bestsellers in luggage sets, this matching two-piece set has over 41,000 verified five-star ratings. It comes with a 19-inch wheeled rolling suitcase along with a 13.5-inch tote. The rolling luggage itself is expandable up to 2 inches and two comfortable handles (top and side), while the tote has a detachable and adjustable shoulder strap, as well as a roomy inner compartment.
Something to note: Only two wheels, many reviewers are unsure of longevity
Best carry-on backpacks
Dimensions: 16 x 12 x 5 inches | Weight: Not listed | Material: Certified Fair Trade Organic 100 percent cotton canvas | Capacity: 16 L | Extra features: 2 water bottle pockets, internal laptop sleeve, zippered front pocket | Warranty: N/A
For an unassuming backpack that rings up at just $70, this pick by B Corp-certified company Terra Thread is surprisingly roomy and heavy-duty. In fact, the brand describes it as "the workhorse of our line." And it's true, at least in my experience, having traveled with my Charcoal Gray Earth Backpack several times when flying domestically.
I was skeptical initially about how much this canvas pack could fit, because it looks so simple and also kind of small. But my first time packing things into it for a trip from New York to Utah for the holidays, I just kept finding more compartments: I was able to fit a 13-inch laptop in the dedicated compartment (with room to spare), two books, gigantic over-ear headphones, a reusable water bottle, tons of feminine products, two phones, and a few more accessories. But I had zero trouble zipping the bag, and it didn't feel like it was going to burst. Plus, the straps are wide, comfortable and made of the same durable cotton as the rest of the bag.
UPDATE: I now regularly use this as a work backpack as well as my go-to personal item when flying because of how much it packs and how sturdy it is. In fact, I found myself missing it on my last trip, when I opted to bring another backpack for testing instead.
Something to note: Not designated as a travel pack, so it doesn't have a trolley sleeve; not as much structure as some of our picks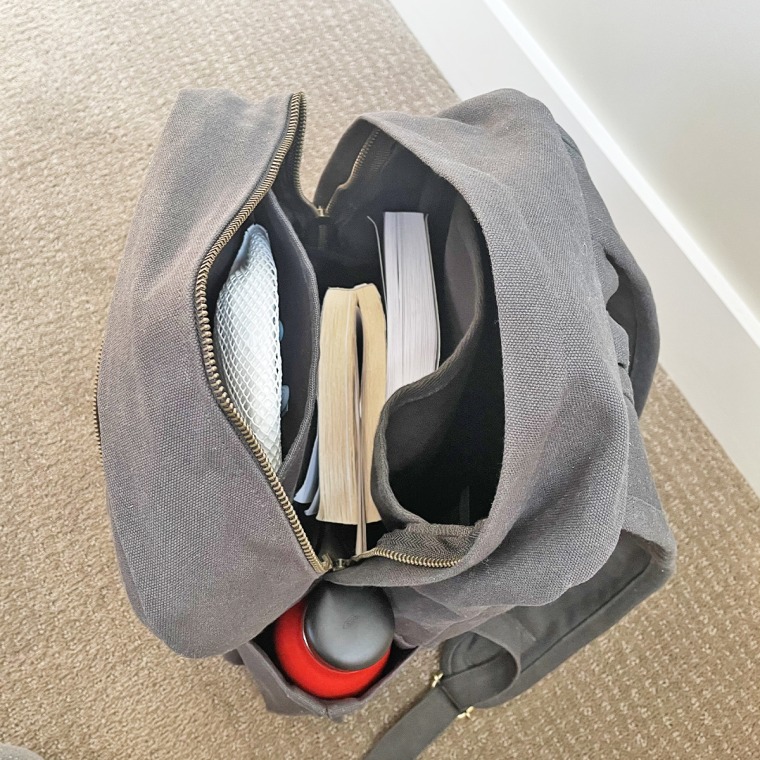 Dimensions: 17 x 12 x 5 inches | Weight: 1 lb | Material: Italian nylon, vegan leather lining | Capacity: 16.7 L | Extra features: Luggage sleeve, hidden breathing vents, inner and outer bottle pockets, padded laptop compartment | Warranty: 1-year product guarantee
If you're looking for a versatile and ultra-lightweight backpack that works equally well as a work bag, a weekender bag and a personal item to pair with your carry-on, look no further than this lightweight pick that Lauren Witonsky, Shop TODAY assistant partnerships editor, swears by.
"My friends and I are always impressed that this backpack can fit my entire life in it. I can rely on it to comfortably fit two outfits, one pair of shoes, a makeup bag, a toiletries bag, my laptop and a water bottle. [It's] so easy to pack things in, from the built-in laptop slot to the shoe pouch that clips in. The mesh pockets inside let you see everything easily too," she says. She also highlighted the internal and external bottle holders, how back-friendly the straps are, and that she doesn't have to worry about her tech due to its water-resistance.
But Witonsky's favorite feature is the shoe/wet bag: "I use it even when I'm not using the backpack!"
Something to note: Not a lot of colorways, material may not be as comfortable to wear in hot weather
Dimensions: 11.5 x 17 x 1 inches | Weight: 2.6 lbs | Material: Neoprene, mesh laptop sleeve, 100 percent recycled polyester lining | Capacity: 20 L | Extra features: Luggage handle sleeve, shoe bag, back padded laptop panel | Warranty: 1-year limited warranty
Hull likes to pair her carry-on luggage with an equally solid travel backpack, one that can slide neatly onto the handle of a carry-on. Her preference: the Dagne Dover Large Dakota Neoprene Backpack.
"It is made of a soft but water-resistant material and has so many useful nooks and crannies, such as a top phone pocket, a padded back laptop compartment, as well as a laptop sleeve," she says.
Hull also recommends the brand's equally chic Diaper Bag Backpack for those who can't get enough pockets — "even if you never thought you'd have a need for a diaper bag."
Rebecca Brown, Shop TODAY sales editor, agrees — she uses her Dagne Dover diaper bag for traveling now. "I've given new life to my Dagne diaper bag. ... I love how easily it sleeps over the handle of my suitcase."
Something to note: Water bottle pockets are a bit small, pricey, can get quite heavy when full
Dimensions: 22 x 12 x 10 inches | Weight: 3.5 lbs | Material: TPU-coated 1000D polyester, ballistic nylon paneling | Capacity: 35 L | Extra features: Suitcase-style zippered compartment, padded laptop/tablet sleeve, carabiner loops, rain cover, removable waist belt | Warranty: Lifetime warranty
Cotopaxi is another go-to luggage brand for the active traveler, and one that our writer and frequent traveler Bridget Shirvell swears by.
Its 35L Allpa Travel Pack, made of water-resistant fabric, is meant to last a lifetime and comes with loads of bells and whistles. There's a hip belt so your back doesn't bear all the weight, padded sleeves for your tablet and laptop and a rain cover in case your adventures encounter precipitation. The external zippers even feature webbing to deter pickpockets.
Something to note: No water bottle sleeves, bright colorways may not be for all tastes, no inner compression straps (unlike old version)
Dimensions: 17.5 x 12 x 5 inches | Weight: 3.8 lb | Material: Waterproof nylon with Italian leather detailing | Capacity: 17 L | Extra features: 2 lined laptop pockets (1 security-friendly), third iPad pocket, trolley sleeve, passport pocket, 2 adjustable side bottle pockets, see-through card pocket | Warranty: 1-year product guarantee
Yes, this pick is expensive, but there were just too many qualities that helped push the Caraa backpack to the top spot in this category.
For starters, there's a lot of attention to detail in its construction and design: details like a water-resistant nylon fabric, two laptop sleeves, a third tech pocket, expandable side water bottle pockets, passport pocket and more. But beyond that, it's just so darn stylish for such a functional bag. One reviewer puts it best:
"This backpack received so many compliments on how attractive it is. But what I love more is how it can hold everything I need when traveling for work. I like the leather handles, which make it easy to carry when in meetings without looking like a backpack, yet the straps are there when running through airports."
Something to note: Very pricey
Dimensions: 11 x 17 x 4.5 | Weight: 1 lb | Material: 1000D recycled nylon, 420D recycled nylon | Capacity: 20 L | Extra features: Flat top with 2 side-release buckles, drawstring closure, laptop sleeve, 2 adjustable side bottle pockets, 4 side compression straps, top carry handle, Travel Bag attachment loops | Warranty: Lifetime warranty
Note: Tester and contributor Bridget Shirvell shares her usage feedback on our runner-up pick below.
Made of recycled nylon and available in a variety of colors, the TOPO Designs Rover Pack is an ideal carry-on backpack that, once you reach your destination, also doubles as a trail or "day out in the city" pack.
The first thing you notice upon receiving your Rover Pack Classic is the design quality. Both the pack and zippers feel and look durable, and the company offers a reasonable lifetime warranty and a repairs program.
At 20L, the backpack is tall, but skinny. My 13-inch Macbook Pro easily fits in its internal sleeve, and the company's description says it holds most 15-inch laptops. I also easily fit several books, headphones, charging cables, my water bottle, a snack and essentials (including sunglasses, a hat, my wallet and more).
In addition to its main compartment, it has a front pocket, top flap pocket and expandable side pockets for a water bottle, which felt like just enough options to keep me organized without having to constantly search pockets for my passport. The brightly colored interior prevents you from feeling like you're reaching into a black hole whenever you need anything.
Something to note: No chest strap, some say bottle side pockets are too small
Best carry-on bags
Dimensions: 9 x 18.5 x 18 inches | Weight: 2.89 lbs | Material: Eco-friendly canvas (also available in water-resistant recycled polyester) | Capacity: Approx. 45 L | Extra features: Bottom zippered compartment, luggage handle sleeve, messenger strap | Warranty: 1-year warranty
"This bag is deceptively spacious!" raves Shop TODAY branded commerce editor Francesca Cocchi Zabloudil of her favorite weekender duffel bag that is still in "amazing shape" after several years of use.
Her favorite part of the bag is the bottom shoe compartment: "[It] comfortably fits my favorite ankle boots and a second pair of flats, sandals or sneakers," she says, adding that it retains its structure, so she can rest easy knowing her shoes aren't getting crushed. She also highlighted the two regular carry handles in addition to the shoulder strap.
Zabloudil says the bag can easily accommodate two pairs of shoes, three outfits, a pair of pajamas, socks, underwear, her makeup and toiletry bag and her hair tools.
Something to note: Canvas version is not water-resistant, qualifies as a carry-on (not a personal item)
Dimensions: 13.75 x 19.25 x 7.5 inches | Weight: About 1 lb | Material: Recycled heavyweight nylon | Capacity: Up to 30 L | Extra features: Luggage handle sleeve, interior detachable pouch that doubles as a case for folded bag | Warranty: None, just a 30-day return policy
Baggu's Cloud Carry-On bag is uniquely chic and made from recycled heavyweight nylon — meaning that bag is lightweight, but tougher than it looks. This fabric is also super easy to wipe clean, according to reviewers, but it's also 100 percent machine-washable.
Sure, because it's light and foldable, it doesn't have as many bells and whistles (it's not lined, for instance), but what it does have are notable: two roomy exterior pockets, a top that zippers shut, padded handles and a trolley sleeve. Considering this bag folds into its own detachable zip pouch (one that you can then snap inside the bag once it's expanded), can fit about three to four days' worth of stuff, you can't go wrong with this option.
Something to note: No interior lining, zippered pockets, extra straps or bottom shoe compartment (we think packing cubes would be especially helpful here)
Dimensions: 18.9 x 11 x 11 inches | Weight: 2.54 lbs | Material: 65% polyester, 35% cotton | Capacity: 35 L | Extra features: Padded shoulder straps with mesh lining, internal mesh dividers, padded back panel, 2 zippered outside pockets | Warranty: Limited lifetime warranty (if purchased from authorized seller)
Fjallraven's backpack-duffel hybrid, made from water-resistant and windproof material, is perfect for a weekend getaway or a short trip where function is as important as form.
Instead of one inner chamber, the bag has two that are separated by mesh dividers, making it easy to keep dirty items separate. Even if you pack this to the brim, the back panel is padded to prevent contents from pressing uncomfortably against your back. We also like knowing that this bag is good enough for royalty (Fjallraven is the purveyor to the Royal Court of Sweden).
Something to note: Often low in stock at many retailers, no handles other than the shoulder straps
Dimensions: 9 x 23 x 12 inches | Weight: 6.5 lbs | Material: 420D-600D water-resistant nylon | Capacity: 33 L | Extra features: Telescoping trolley handle, padded carry handle with wrap, cinch straps, reinforced nylon base, interior toboggan bottom | Warranty: 1-year satisfaction guarantee
For such a rugged option that's actually gone through the lab tests, with all the features to prove it, I was surprised at how affordable the Adventure Rolling Duffle is.
It's made of water-resistant, 450D-600D nylon that's been tested for dragging resistance and deep freeze; has a reinforced nylon bottom to enable the bag to stand upright while on its side without tipping; includes cinching straps and telescoping handle; and more.
One user who's been lugging this around airports for years had this to report: "This product held up to the abuse of international travel and cobblestone streets and sidewalks of Florence, Rome and Paris like a champ! My friends had some fancy Italian-made roller suitcases, and the cobblestones broke their wheels off. My roller duffle succeeded over MILES AND MILES OF WALKING."
Something to note: Has a single (not double) zipper opening, no shoulder strap include
Frequently asked questions about carry-ons, answered
What to look for in a carry-on luggage
Hardside vs. softside luggage
Hard cases: If you're in the market for a hard-shell carry-on, durability is No. 1, according to Ellwood. "Like a pair of sneakers that you're going to wear 24/7 for the next month, [they] need to be really, really tough."
You can gauge "toughness" by looking two things: "A material that is unlikely to crack, and a very durable zipper," says Australian-based travel bloggers Alesha Bradford and Jarryd Salem. "Hard cases get thrown around a lot, so you need something that can withstand the torture."
Soft cases: The focus with softside carry-ons should start with compression and compartments, Bradford and Salem tell us. "A soft-case carry on that has compression straps is extremely handy for getting rid of any excess space and shrinking the size for fitting into small overhead compartments. Lots of external and internal zipper pockets, too, for storing quick-access items."
Durability shouldn't be discounted either when it comes to soft-case options, according to Ginsberg. "One of the reasons I like my [Briggs & Riley] carry-on so much is that its handle, wheels and nylon material are really sturdy," she says.
Size requirements
The maximum size of carry-on luggage allowed on a plane varies by airline, according to Germany-based travel expert Ali Garland. "There is no one size, but the most common size is 22 x 14 x 9 inches," she says.
Still, always confirm the actual size limits with the specific airline before your flight, she urges, and don't overlook your other carry-on options: "Most airlines also allow a personal item, which is smaller, like a purse or briefcase or a small backpack."
You can even get a little creative with that personal item, as Bradford and Salem do: "We actually just use a silk carry bag that packs into itself (smaller than the palm of your hand), and we throw any small, loose items or things we need quick access to in there. Then when we're off the plane, we can stuff it into the carry-on bag without taking up any extra space," they say.
Weight
"Suitcases are so much heavier than backpacks when empty [and] eats into the weight allowance quickly," Garland says.
Beyond airlines' carry-on weight restrictions, this factor also matters because you'll be lugging and handling your bag quite a lot. "You want something that's lightweight [and] that you can lift over your head to put in the carry-on compartment," says Dr. Nadeen White, creator of The Sophisticated Life travel blog.
If you have the tendency to overpack, Garland says there are a few things you can try: packing clothing made from lightweight fabrics, being prepared to rewear or launder your clothing as you travel or leaving out items that you can buy at your destination, for example. "Notice what you pack but never use, and start reducing what you bring along for the next trip," she adds.
Liquids
It should be common knowledge, but Garland still couldn't stress enough to not pack liquids in containers that are bigger than 3.4 ounces (100 mL) in your carry-on bag.
"I can't tell you how many times I see people ahead of me in the security line getting things confiscated because they thought they could get away with it or they simply didn't know. Remember that some of your makeup is liquid, like mascara, and it needs to go in your liquids bag," she says.
Instead, try packing solid versions of bath or skin care items, such as shampoo bars or body wash powder, to reduce the amount of liquid you carry on, Garland advises.
Outside and inside pockets
"It used to be that travelers wanted easy access to their phone, laptop and favorite magazine; now, travelers [also] want quick access to their sanitizing regimen," Belles tells us. For items you want easy access to, she recommends softside luggage, which often have outside pockets.
Inside pockets are also one of the key features Hull looks for in a carry-on. "I want an internal zipper pocket for dirty clothes and loose items," she says.
Consider packing cubes
Several travel experts we spoke to highly recommend using packing cubes or cells when filling your carry-on. They're useful for organizing various items, like toiletries, tech accessories and smaller items of clothing.
"We use separate cells for underwear, shirts, pants, cold-weather gear, etc., so that we know what is in each one; plus we throw an extra one in for dirty laundry. Not only do they keep things organized, it makes packing and unpacking in hotel rooms so much easier," Salem and Bradford explain.
Garland agrees, adding that if you don't have packing cubes on hand, you can makeshift one out of toiletry bags. "You put your liquids in a standard liquids bag and non-liquid items in a toiletry bag. They even work great if you have lots of cords," she says.
Is it better to bring a check-in or carry-on when flying?
"If you are able to get your luggage comfortably through the airport and on the plane, using carry-on bags is optimal as it puts your luggage destiny more in your hands and less in the hands of the airline," Hull says.
It also gives you a little more leeway when it comes to when you need to get to the airport, as well as how long you have to wait for your luggage after your plane arrives at the gate, she adds.
How do I reduce my carry-on weight without sacrificing my travel essentials?
The No. 1 thing Garland, Salem and Bradford advise is to be firm in what you consider essential and what items you actually need "just in case."
For instance: "Don't bring too many pairs of shoes. One comfortable pair for walking, and maybe one nicer pair if you're doing nice dinners or a show or something, is really all you need," Garland says.
Salem and Bradford echo, "Do you really need 10 T-shirts for a 10-day trip, or can you get away with four shirts and just hand-wash in the hotel sink as you go?"
Another hack is to wear anything that you might use during your flight before checking in. "For example, we'll put our headphones on, throw the camera around our shoulder, make sure our water bottle is empty and even wear a heavy jacket if we have one," Bradford and Salem say.
What should I not pack in my carry-on?
"Shoes are heavy, take up a lot of space, and unless you're traveling for an important event, you most likely only need one pair of shoes and a pair of sandals," Bradford and Salem explain, adding that they always wear shoes (instead of sandals) when flying to keep their luggage weight in check.
Is it OK if my carry-on is slightly bigger than the allowed dimensions?
In a nutshell: Yes — as long as it's a soft-case, and as long as you don't overpack it, say Salem and Bradford.
Garland adds that you may get away with it if it's an airline you're familiar with and know that they don't look too closely at carry-on size. But she gives a big "but."
"Be aware that some airlines really do check closely, especially low-cost carriers, and if your bag is too big, they will make you check it, sometimes with a fee," Garland says. "If that happens, then you have to take out things like electronics, medicine and other valuables you won't want lost or damaged, which can get awkward if you don't have another bag to put them in."
When is the best time to shop for carry-on luggage?
The answer won't be surprising: "winter holiday sales and Black Friday," Hull says.
"Not only are there often sales and promotions from the sites and retailers, but you can often stack other sales, such as larger-than-normal bonus cash back from [e-commerce sites like] Rakuten."
Meet our experts
Has your product been featured?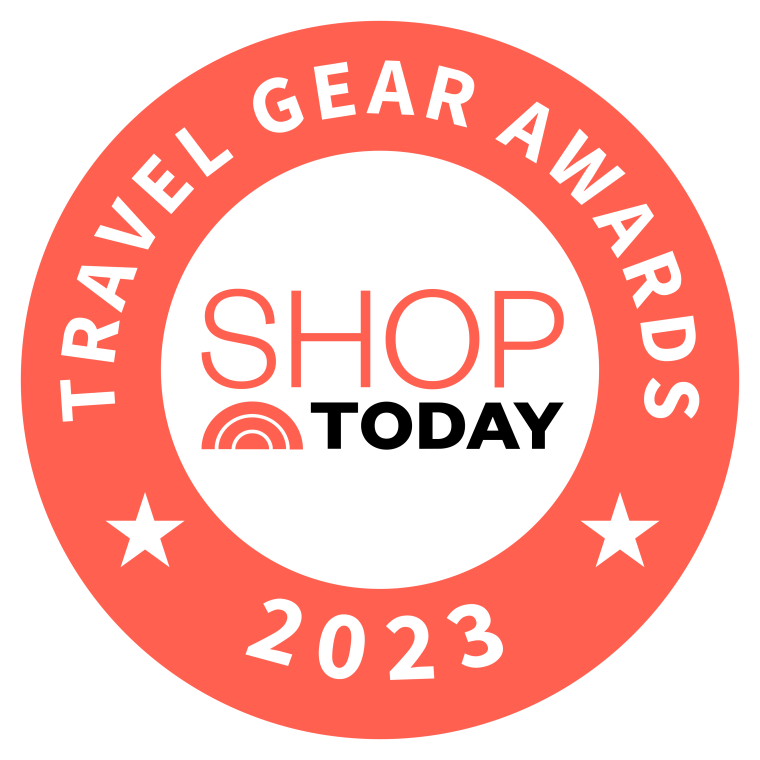 Shop TODAY is editorially independent and our team of editors and writers work hard to pick the best products to share with our readers and viewers. We may license our logo to brands or products that have been featured on Shop TODAY. Click here if you're interested in licensing your inclusion in Shop TODAY content or to learn more from our licensing partner, Wrights Media.