The end of summer always feels bittersweet. I'm looking forward to fall, but will dearly miss the warm weather, late sunsets and whatever semblance of a tanned glow I've picked up over the course of the season. While I can't control the weather or fight the shortening days, one thing I can delay is the loss of my tan — no sun exposure required.
Enter: self tanner. Prior to this summer, my last encounter with a self tanning product was seven years ago, when a high school amateur application left me covered neck-down with streaks of orange just hours before my prom. It was genuinely so traumatizing that I had steered clear of self tanner ever since. But when I heard my boss raving about a TikTok-viral self tanner with over 20,000 ratings on Amazon, I decided to put the past behind me and give it another go. This time around, I did my research, followed all of the instructions and came out with results that were a lot better than the tangerine-toned, splotchy disaster of yore.
It feels super moisturizing
This pick is a hydrating formula that allows users to develop a natural tan without exposure to harsh UV rays. I appreciate that this self tanning product is simply a lotion, because it feels less intimidating to an inexperienced user like myself than other fancy self tanner gels or elaborate mousses on the market. Plus, hydrating ingredients in the lotion ensure that my skin will stay moisturized while I wait for the tanner to work its magic. According to the brand, it contains organic aloe vera, shea butter, botanical extracts and "zero dyes or synthetic junk." That's a welcome change from the formulas I've seen that are packed with complicated ingredients I can't begin to identify, let alone feel comfortable leaving on my body for hours.
The formula comes in Fair to Medium and Medium to Dark shades to cater to a range of skin tones. It claims to deliver glowing results in 6-8 hours that will ultimately last 3-5 days after application, staying put through showers and sweat. I selected the Fair to Medium shade and began my research into tips and tricks for successful application.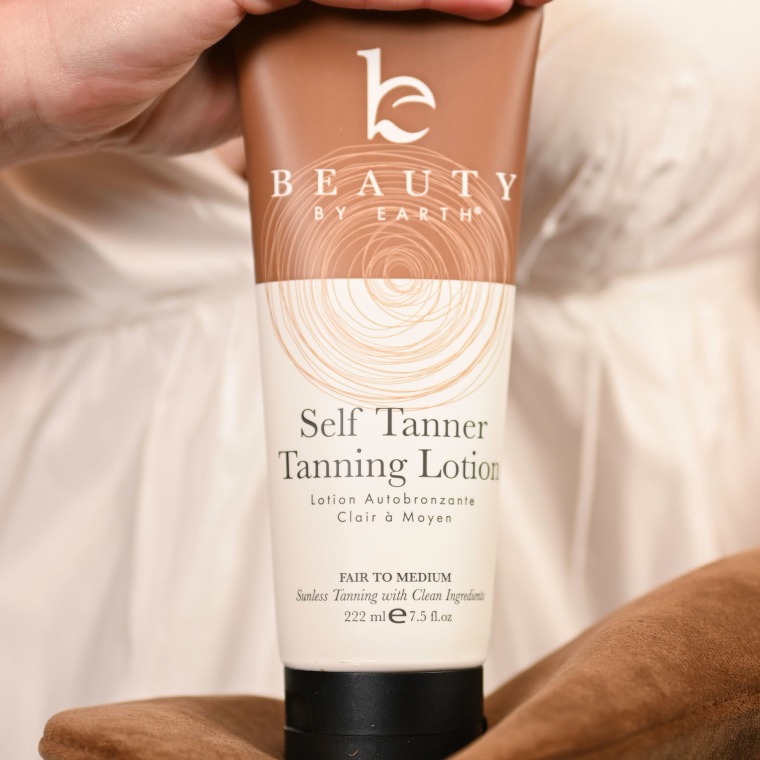 Prep your skin before applying the product
Because I didn't want to relive my personal self tanner horror story, I poured over reviews and scoured social media for advice on how best to apply the tanner and the most common mistakes to avoid.
First on my prep list, I knew I would need to order a mitt or glove to make sure the tanner would apply evenly and that my palms wouldn't get saturated with product and turn orange. I went for this one from Amazon, which has over 18,000 perfect five-star ratings. It's reusable, so I'll have it for every future application.
Next, I learned that exfoliating properly and showering prior to using the self tanner is key to making sure it applies smoothly onto soft and clean skin. I used this exfoliating scrub from First Aid Beauty, a Shop TODAY favorite for looking glowy all over. I rely on this stuff year-round to achieve baby smooth skin free from razor bumps and keratosis pilaris.
When I got out of the shower, I applied a little bit of my regular body lotion onto areas that reviewers said product tends to saturate and look dark — that's my ankles, knees, elbows and wrists. This is the lotion I used, but reviewers seem to think that any lotion or body oil will work to dilute the product. Having this moisturizing layer underneath helps ensure less product is applied to those trickier areas, so that they end up looking even with the rest of the body after the tan application.
Application is easier than expected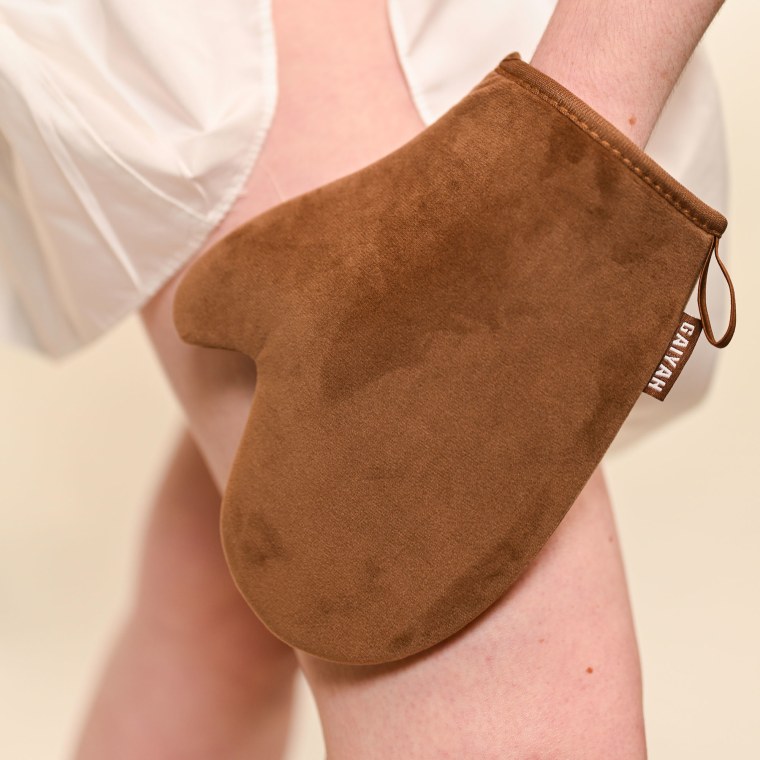 With all the prep out of the way, it was time to apply the self tanner. I took a deep breath and squeezed some product onto the mitt. It's white when it comes out of the tube, so I was able to see exactly what I was doing and make sure the product was distributing properly and streak-free as I applied. It doesn't have an overpowering odor — especially compared to the infamous self tanner smell I remembered. Instead, it has a light coconut and vanilla scent. I worked my way up from my legs to my core and out to my arms, using quarter-sized amounts at a time, massaging in the product in circular motions. I took my time to ensure that I evenly coated each area, using product sparingly on the aforementioned ankle, knee, elbow and wrist areas, and I finished by applying a dime-sized amount to my face to match the rest of my body.
After the recommended 15 minutes, the product was dry, but I waited an additional 10 just to be safe before getting dressed. Because the product doesn't contain any dyes or color right out of the tube, I thankfully didn't have to worry about it staining my clothes or sheets. I went to bed dreaming of a sun-kissed, glowy tan.
My results were impressive
The next morning, I was greeted in the mirror by a version of myself that was neither orange nor splotchy. Head to toe, my body was evenly coated in a gentle wash of bronze — just dark enough for a difference I noticed in person, while still being light enough that my natural freckles were visible. My roommate remarked that if they hadn't known, they would've never been able to guess that a product from a bottle gave me the warmth I was now sporting. I looked like something I had never been before: naturally tan.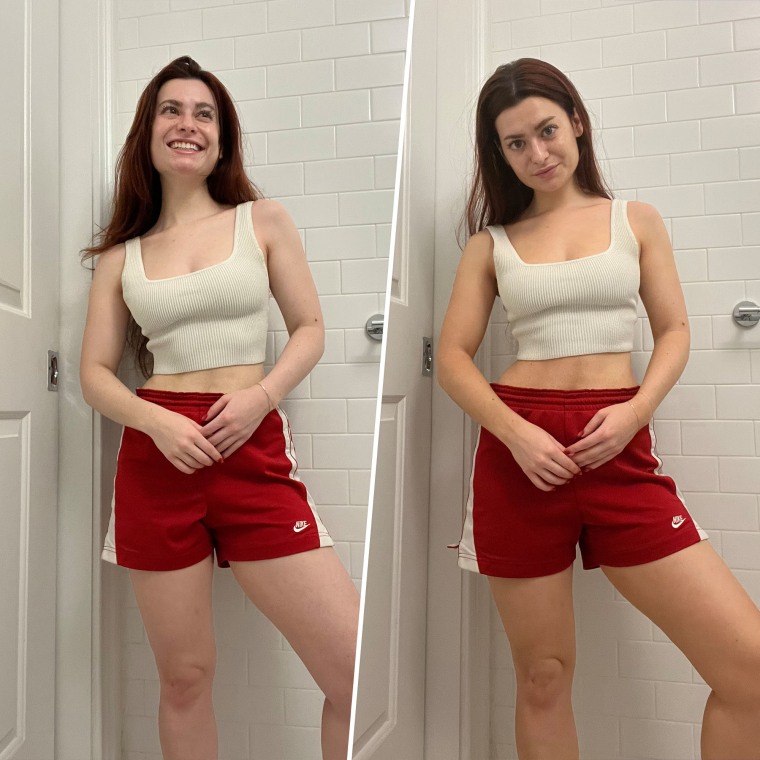 While my skin has always had cool, pink undertones, just one application of the Beauty by Earth Self Tanner Tanning Lotion neutralized my redness and visibly warmed up my complexion. A second coat gave me a deeper and more noticeable tan I felt happy with, and the brand says you can continue to layer on even more coats to achieve a deeper shade — you can check out the product's rave reviews on Amazon to see some great results from multiple applications. However, I opted to stick with the double coat, because my usual concealer still matched my skin close enough and I actually liked that nobody would have guessed I had applied a fake tan.
Maintaining the color has been a breeze. I've been reapplying every three to four days, which has lasted me through trips to the beach, multiple showers and a New York summer's worth of sweating. This self tanner has become the one product I never knew I needed in my beauty kit, allowing me to achieve a so-called "natural" glow I'll be rocking long after summer ends.