Though fall is just around the corner, the temperatures aren't quite cool enough to transition right into wearing jeans and jackets just yet. So, in addition to counting down the days to my next pumpkin-spice latte, I've been keeping an eye out for basics that I can wear for the summer days I have left — and all the way into fall.
During some routine browsing, I rediscovered a bestselling T-shirt dress that I tried two years back. I recalled it being one of the most comfortable pieces in my wardrobe but had somehow misplaced it over the years. I added it right back to my cart and, after slipping it on two days later, realized it was just as breezy, soft and stylish as I remembered.
It's so comfortable
The second I put it on, I knew I wasn't going to want to take it off — it's so comfortable that I'm tempted to add even more colors to my cart soon. The rayon and elastane blend gives it a soft feel, but also makes it lightweight enough to wear on a hot summer day. The scooped back is another stylish detail that can also help keep you cool, but I'd suggest sporting an updo if you have longer hair so that it doesn't stick to your skin.
When I first tried the dress back in 2020, I opted for a navy blue color, but this time around I wanted to switch it up since there are now a total of 15 different colors to choose from (as compared to just eight). Since the temperatures aren't dropping anytime soon and the material isn't exactly moisture-wicking, you might want to stick with the darker colors to hide potential sweat stains. However, I imagine the brick red shade I have now will be perfect for when autumn hits.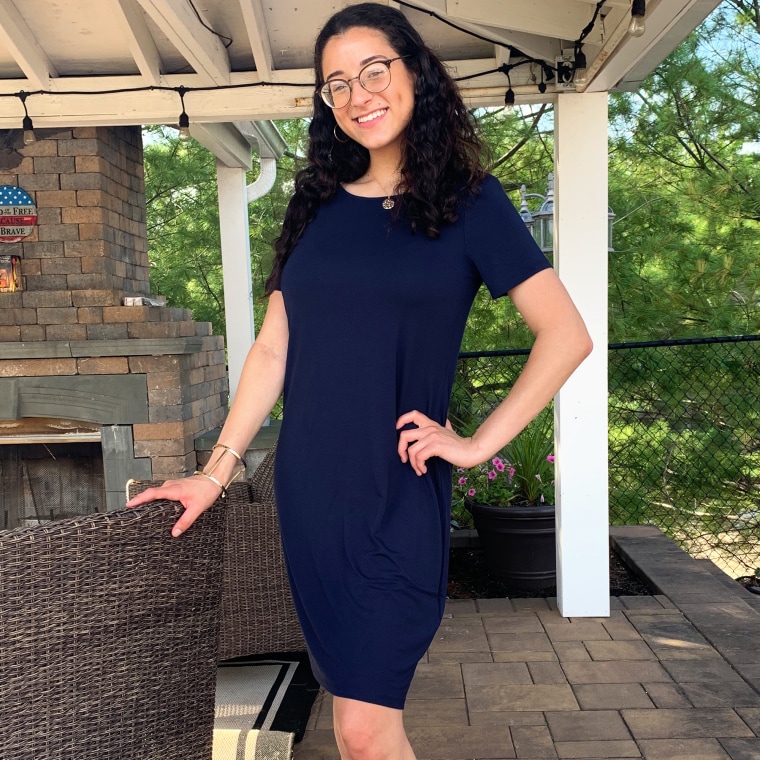 I remembered that my original dress ran a little big, so I decided to size down from my normal size S to an XS, which ended up being a good call. The stretchy material gives it a draping effect, so despite dropping a size, it still felt nice and flowy.
It can easily be dressed up or down
While a T-shirt dress might scream casual wear to some, I think you could dress it up for nicer occasions with the right accessories. When fall does officially arrive, I'll be slipping into some ankle boots and tossing on a leather jacket when I go out for dinner. But for now, I'll pair it with my favorite sneakers and a statement necklace for everyday wear.
Turns out, I'm not alone in my adoration of this wardrobe essential. The dress has racked up more than 2,000 verified five-star ratings from shoppers who are also hailing it for its comfortable fit and soft feel.
"The material is very comfortable. The dress is super cute," wrote one reviewer. "Works as a fantastic house dress or one to run to go to town."
Another reviewer found a perfect way to describe it, saying that it "felt like pajamas but looked great for work."
If you're looking to add more comfortable additions to your wardrobe or simply can't resist missing out on a good deal (it's less than $20 right now!), this versatile dress is definitely worth checking out.