Packing for a trip is always tricky. Whether you're trying to squeeze your favorite sneakers into a carry-on or stuffing snacks into your purse, space is critical whether you're traveling by car or by plane. Throw a full bag of makeup into the mix and things get even trickier.
If you're looking for an easy travel solution — or simply looking to declutter in the spirit of spring cleaning — the Chomeiu Travel Makeup Case is an affordable option one TODAY editor swears by.
This adjustable case is "Amazon's Choice" for makeup bags and maintains its ranking as the No. 1 bestseller in the cosmetic travel cases category. You can arrange the compartments inside to fit your needs, whether you travel with eight bottles of foundation or just two of your favorite mascaras. It even features elastic pockets to hold your makeup brushes.
The case is available in two sizes — medium and large — and in five different colors and patterns: black, purple, red, pink and floral.
For one owner, this case went from a travel accessory to a daily must-have. "I bought this makeup case a few months ago and I still use it every day," TODAY Audience Development Coordinator Halle Proper said. "I originally purchased it as a travel makeup case for a trip, but I loved how organized my stuff stayed, so I kept using it after that!"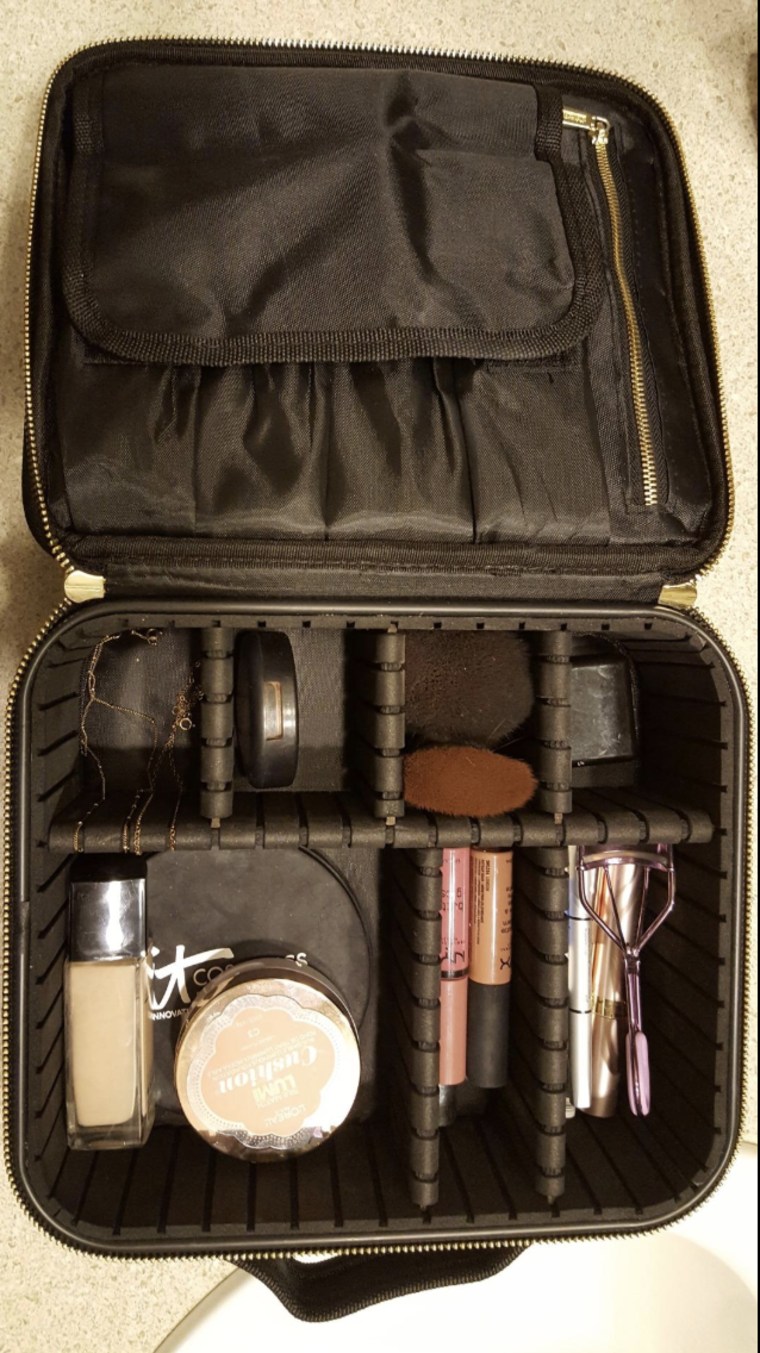 If your makeup collection is not extensive enough to solely dedicate a case to, it can also be used to store other loose travel essentials, like toiletries and phone chargers.
"Perfect for organizing toiletries, medications and my wife's makeup. Feels very durable," one verified Amazon reviewer wrote.
"It maintains its shape, which is great because we can put it in the bottom of a backpack (air travel personal item), with a bunch of other things packed around it and not worry that the contents will be smushed or broken," the reviewer said.
Another reviewer praised the case for its ability to keep all of their items in place during travel.
"The case is sturdy and since the compartments are adjustable I was able to fit everything. The zipper "bag" on the lid was pretty roomy," the reviewer wrote. "The flap over the compartments for brushes kept all my brushes in place and kept it separate from my other things.Nothing moved around, spilled, or got crushed even when traveling in my suit case. Can't wait to continue using it.
To make a good deal even better, you can apply a coupon at checkout for additional savings. Once applied, you can snag this case for just under $17!
For more stories like this one, check out:
To discover more deals, shopping tips and budget-friendly product recommendations, download the new TODAY app and subscribe to our Stuff We Love newsletter!