Chef notes
Layer enchilada sauce-dipped corn tortillas with shredded chicken, corn, Monterey Jack cheese and sour cream to create this delicious enchilada casserole.
Ingredients
2

lbs shredded chicken breast

18

corn tortillas
Cooking oil

8

guajillo chile pods

3

cups chicken broth
Salt
1

14-oz can of sweet corn

16

ounces sour cream

1

lb shredded monterey jack cheese
Cilantro
Preparation
Enchilada sauce:
Place the 8 guajillo chile pods into a pot of boiling water. Cover the pot and let chiles cook for about 25 minutes in medium-low heat. After they are cooked, place them in the blender along with 3 cups of chicken broth. Blend until liquified and set aside in a wide bowl. 
Tortillas: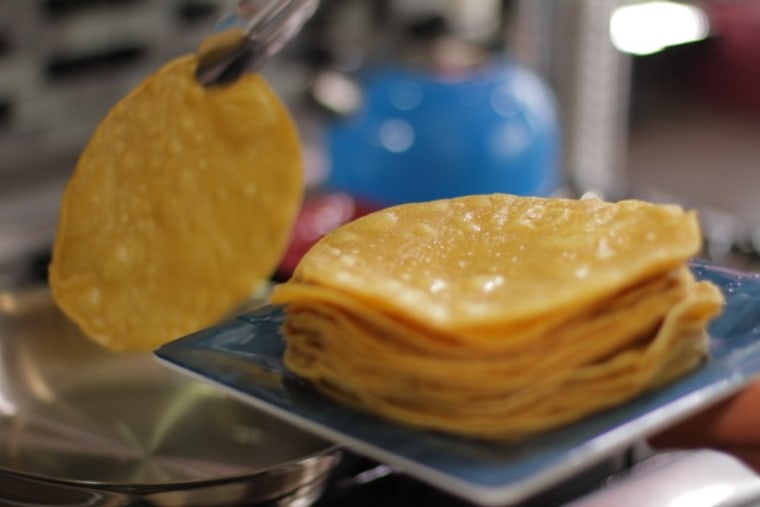 Pan fry tortillas on medium heat for 3 to 4 seconds per side. This will prevent your tortillas from becoming mushy when you bake the casserole in the oven. After you have fried all of your tortillas, it's time to assemble and bake.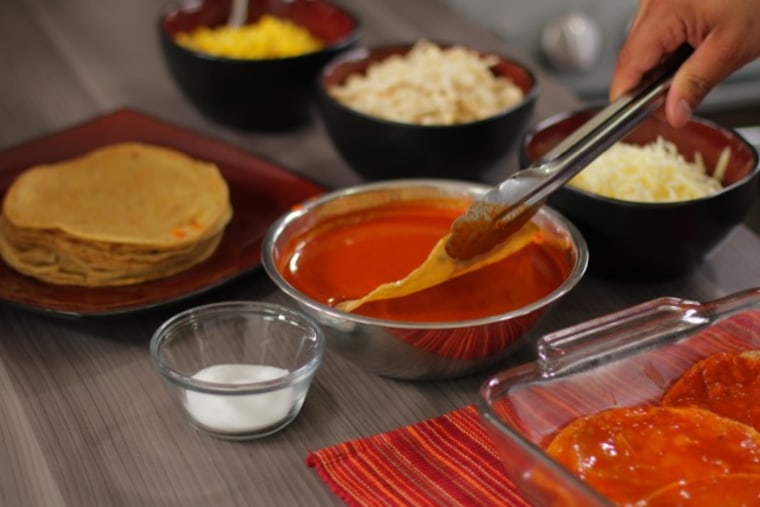 Dip one tortilla at a time into your red enchilada sauce and cover the bottom of your casserole dish. You will use 6 tortillas for the base and 6 tortillas for each layer as well. After you place the bottom layer of tortillas, sprinkle one part of the shredded chicken evenly on top. Then sprinkle about 4 to 5 tablespoons of the sweet corn and one part of your shredded cheese followed by a drizzle of about 1/2 cup of red sauce on top. Then finish with a medium drizzle of sour cream. Repeat this for a second layer.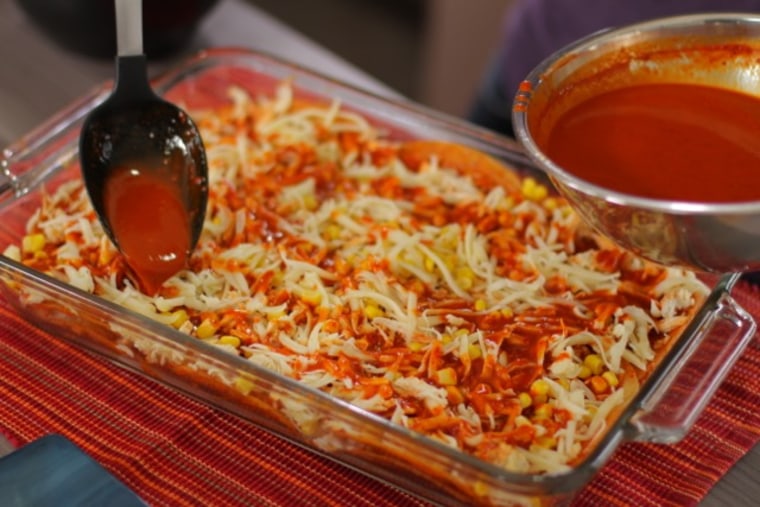 After the second layer, place a last layer of corn tortillas on top, add the remaining cheese and drizzle a 1/2 cup of red sauce as well. Place your casserole in a pre-heated oven at 375F and bake for 25 minutes or until cheese has melted on top. Cut into squares and serve with sour cream and garnish with a few cilantro leaves.