Christine Brown thinks Kody Brown has been leading Meri Brown on for years, even if he doesn't necessarily see it that way.
The topic is a focal point in the latest Season 18 installment of "Sister Wives," which aired on Sept. 17. Titled "When the Going Gets Tough," the episode follows Meri Brown as she talks about her plans to spend more time in Utah — and away from her family in Arizona — to work more on her business ventures.
"I'm not leaving the family. I'm not leaving Kody. (But) Kody has basically left me already," she says in a self-filmed video. (For reference, the couple announced the end of their marriage in January 2023.)
During a formal confessional interview, the reality star elaborates on the matter.
"(Kody) and I don't have a relationship. Christine has left. I don't know where him and Janelle stand," she says. In the episode prior, Meri Brown shared she believes Kody regrets their marriage.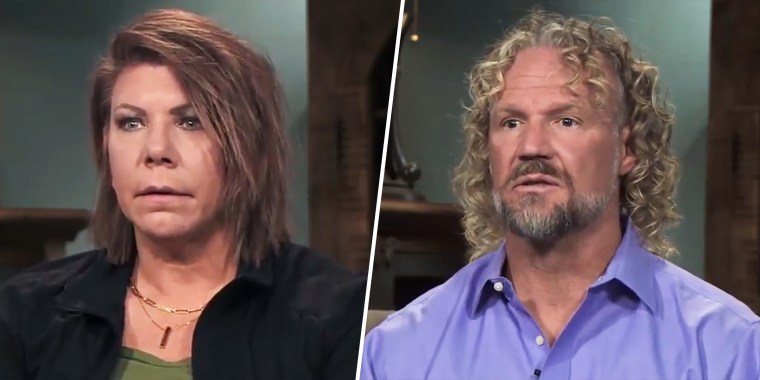 At this point, Janelle Brown weighs in on Kody and Meri Brown's relationship in her own confessional.
"Things are very obviously broken, really broken between Meri and Kody. Meri keeps holding out hope, I think, that something will happen. But Kody doesn't speak really kindly to her he doesn't really watch out for her. It's very sad," she says.
Christine Brown, who divorced her husband in 2021, suggests that Kody Brown should just decide if he wants to be with Meri Brown or not.
"I saw Kody string Meri along for years and it was mean and cruel, and I saw that he would've done the same thing to me if I would've stayed," she says.
When Kody Brown comments on the topic in his own confessional, he speaks in vague terms.
"I am always hoping, no matter what the struggle is in a marriage, I'm hoping that it's viable, that we can fix it. Christine's been complaining about plural marriage for 15 years, but we never did fix the problem. She just left. Meri and I are in a very different place where we have taken the time to vet whether this is gonna work," he explains.
The scene shifts back to Meri Brown, who makes it clear that she knows exactly how her husband is behaving.
"I'm not oblivious to the fact that Kody has had conversations about me and has been pretty direct in his non-interest of healing (our) relationship," she says. "But he's never had that conversation with me and I don't think it's fair for us to make any decisions about our relationship without the two of us having had that conversation."
Elsewhere in the episode, Kody offers the following commentary on his marriage with Meri Brown.
"Meri and I have an amicable relationship, but we're not functioning like a married couple. I visit with her once in a while. I don't know, I sometimes feel like we're just better friends than we are a married couple," he says.
In her own confessional, Christine Brown suggests that Kody Brown isn't committed to his marriage with Meri Brown.
"I don't think he cares about Meri," she says.
While chatting with Robyn Brown, Meri Brown reveals that she once started tracking how much time Kody Brown spent at her house versus with his other wives. She also recalls one Christmas where her husband showered Christine Brown with gifts but seemingly forgot about her.
In his confessional, Kody Brown says he doesn't remember that story, but Christine Brown does and she speaks about it in her own interview.
"I remember asking and I'm like, 'Why didn't you get Meri anything?' And he's like, 'Well you have that gift certificate that you were giving her.' And I'm like, 'That doesn't mean that you don't get her anything. You still need to get her something. She's your wife,'" she says.
While talking about her plans to spend more time in Utah, Meri Brown contemplates how the rest of the family will respond.
"I don't know what it's gonna do within the family. And maybe it won't do anything. Maybe everybody will be like, 'Peace out. Sayonara, b------.' I don't know. Maybe they'll be glad. I really don't know," she says.