Following an explosive fight with Kody Brown, Janelle Brown feels a sense of foreboding while contemplating her future in the latest installment of "Sister Wives" Season 18, which premiered on Sept. 3.
The episode, titled "Throwing Stones in Glass Houses," showcases the fight that led to the couple's separation. After Janelle Brown uses expletives, Kody Brown refuses to continue the discussion and storms out, slamming the door behind him.
Afterwards, Janelle Brown reflects on her state of mind in a confessional interview.
"I was really upset when he left cause it feels like there's a finality to it and now I'm worried about what happens to me," she says. "Moving forward, do I live here? Do I build (a home on the family's land, Coyote Pass)?"
The mother of six describes the fight as "shocking" and suggests that her marriage might not be salvageable at this point.
"It feels like Kody and I are no longer gonna be a couple, it really does. It was that dramatic ... Just the feeling was like, 'We're done,'" she says.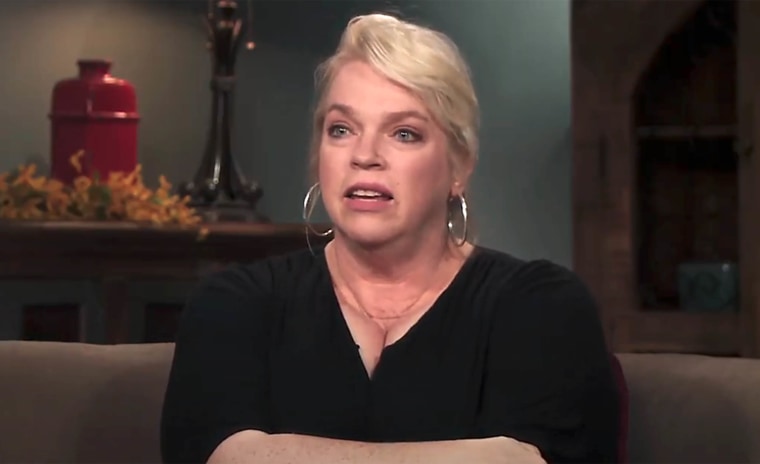 Janelle Brown says it took her close to a half hour to compose herself after the fight and "overcome the shock."
At that point, she made a major move, drawing a stark line in their relationship's past and future.
"I called him and I said, 'Come get your stuff.' So in my mind, he is out of the house," she says.
The reality star says the breakup leaves her concerned about her financial future.
"So after I kind of got over the shock after Kody left, I thought, 'Oh my heck,' I have nothing financially. I am tied up in this property. Everything as far as my estate goes, any kind of savings, money, anything is tied up in this property," she explains.
The 54-year-old then explains that the Brown family purchased their Coyote Pass land when they moved to Flagstaff, AZ and paid mostly cash for it with the intent of building homes for each of Kody Brown's four wives. Season 18 of "Sister Wives," construction has not begun on any of the houses.
"I am a smart woman and I have done this very dumb thing. I trusted in this family structure, but now I'm really stuck. And I'm like, 'Oh my hell, I'm 50 and I have nothing,'" she says.
Janelle Brown has been open about renting. In his own confessional, Kody Brown explains that he has bought a house with his fourth wife, Robyn Brown, because they need somewhere to "house (their) children."
"I tried to help Janelle buy a house. I tried to talk her into buying a house. We had the means to do that. She has ownership in Coyote Pass and she had the same opportunities everybody else did. But she's got just as many assets as the rest of us," he says.
Back in her confessional, Janelle Brown says she's not sure what comes next.
"And now I'm sort of in shock and I'm trying to figure out what the heck I'm gonna do," she says.
The reality star makes one thing pretty clear, however: she needs some space from her husband at the moment.
"I don't really wanna see him. I know that he does feel the responsibility, he feels like he can't leave a wife cause it's bad on him if he leaves a wife high and dry (and) says, 'I'm no longer married to you,'" she says.
"And so his pattern seems to be that he just sort of ignores that person. It feels like he wants you to say, 'It's over," cause he doesn't want the responsibility of being the husband who says, 'I don't want to be married to you anymore,'" she continues.
While meeting with Meri and Robyn Brown, Kody Brown shares his own perspective on his fight with Janelle Brown.
"We yelled at each other. Yeah, we threw rocks at glass houses," he says.
"I don't even know what I was yelling (about) ... It's the big blame game about who's responsible for our family splitting up over COVID," he says.
In a confessional interview, Kody Brown offers the following reaction: "Janelle and I need to sit down in a space and talk about what we want in our lives cause I'm not sure she wants me in hers."