Stan Lee, the legendary writer, editor and publisher with Marvel Comics, has died.
Lee died Monday morning in Los Angeles, his rep confirmed to NBC News. He was 95.
During his eight decades in the comic book industry, Lee created some of the world's most beloved superhero characters, including Spider-Man, the Incredible Hulk and Black Panther.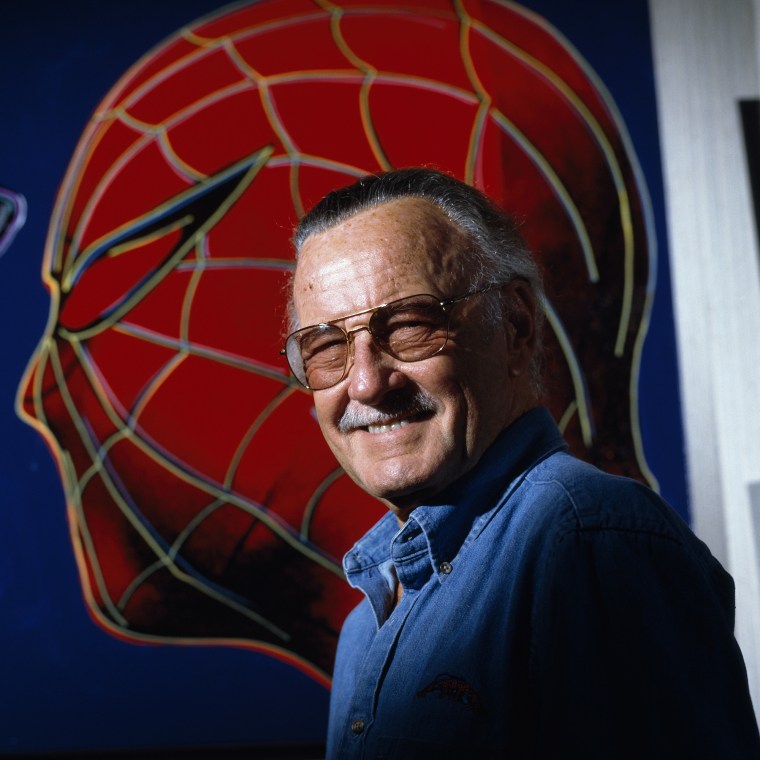 Though his characters are ubiquitous in Hollywood blockbusters and to comic fans around the globe, Lee was once embarrassed to tell people he wrote comic books for a living.
"When I got into comics, they were on the bottom of the cultural totem pole," Lee told NBC News in 2015.
The attitude toward comic books changed during the 1960s when the stories themselves changed, thanks in no small part to Lee. During that decade, the wildly prolific writer began creating a new brand of superhero crimefighters who were flawed and complex — like Spider-Man, one of his most famous characters.
Lee followed up Spider-Man's popularity by creating other iconic characters, including Thor, Iron Man, the Avengers and the X-Men.
"I never would have expected anything like this when I was young, and I still sometimes have trouble believing it," Lee wrote in a 2015 memoir. "All I was doing was trying to make a living. Then I began to enjoy writing them, so all I was doing was having fun."
As news of Lee's passing spread on Monday, several of Hollywood's biggest Marvel stars paid tribute.
"Damn ... RIP Stan. Thanks for everything," wrote Ryan Reynolds, who's played Lee's sarcastic crimefighter Deadpool in two blockbusters.
Robert Downey Jr., who played the title character in 2008's "Iron Man" and its sequels, wrote, "I owe it all to you ... Rest In Peace Stan."
Chris Evans, who's played two Marvel characters — Captain America and the Human Torch from The Fantastic Four — said Lee "provided both young and old with adventure, escape, comfort, confidence, inspiration, strength, friendship and joy. He exuded love and kindness and will leave an indelible mark on so, so, so many lives."
"Excelsior!!" added Evans, using Lee's signature sign-off line.
Mark Ruffalo, known to Marvel fans as the Incredible Hulk, tweeted that Lee "made the world a better place through the power of modern mythology and your love of this messy business of being human."
Scarlett Johansson, who has starred as Black Widow in several Marvel films, said in a statement, "The galaxy just gained another Dog Star. Thankful everyday to be a small part of Stan's universe. He was a legendary visionary and a true artist."
Angela Bassett, who played Ramonda, the Queen Mother of Wakanda in 2018's "Black Panther," wrote, "Onward and upward to greater glory! Excelsior! Good man, Excelsior!"
Halle Berry, who played Storm in several "X-Men" movies, thanked Lee "for sharing your incredible vision with us."
"We are eternally grateful to you and would not be the same without it. I am so honored to have played a part in your world, and will forever look back on the opportunity with love," Berry wrote.
Josh Brolin, who played Thanos in the most recent "Avengers" movie, wrote, "To those of us who have been so deeply affected by the humanity of his imagination, the understanding of reaching beyond our potential and the necessity of tapping into our immeasurable imaginations, we thank you and are forever indebted.
"Rest In Peace Dear Stan. You made our time here a better one," Brolin added.
Hugh Jackman, who plays Wolverine in the "X-Men" series, wrote, "We've lost a creative genius," adding, "I'm proud to have been a small part of his legacy and ... to have helped bring one of his characters to life."
Samuel L. Jackson, aka Nick Fury in the Marvel Cinematic Universe, thanked Lee for "the escape from this world & great joy inhabiting the ones you created!!"
Rebecca Romijn, who played Mystique in the first "X-Men" trilogy, wrote, "He was a friend. When we were afraid, he gave us strength. When we were alone, he gave us a family. He may be gone, but his teachings live on through us, his students. Wherever we may go, we must carry on his vision. And that is a vision of a world united."
"Star Wars" actor Mark Hamill, who teamed up with Lee in 2018 for Disney XD's animated "Marvel's Avengers: Black Panther's Quest," wrote, "His contribution to Pop Culture was revolutionary & cannot be overstated. He was everything you hoped he would be & MORE.
"I loved this man & will never stop missing him," Hamill added. "They say you should never meet a childhood idol. They are wrong."
"Big Bang Theory" stars Kaley Cuoco and Mayim Bialik also paid tribute to Lee, who guest-starred on the sitcom in 2010.
"He was an epic superhero and I will never forget him!!" Cuoco wrote.
Bialik called Lee's death "a loss to the world of geeks, nerds, superheroes and everyone who has enjoyed the marvelous Universes that Stan Lee crafted and molded and allowed us to be a part of."
The actress added, "There will never be another like him, that's for sure."