If it takes a village to raise a child, Chrissy Teigen and her surrogate, Alexandra, are happily playing their part as leaders.
In an interview with People published Aug. 30, the cookbook author and model opened up about her life as it currently stands with four children, including two that were born this year.
Giving insight into her 7-month-old daughter Esti and 3-month-old son Wren's developing personalities, Teigen shared that she's also enjoying having a friendship with Alexandra.
"It's been a fantastic atmosphere. She knew early on, going into this, that I kind of wanted something that's maybe a little different from what other parents do," Teigen said. "I understand the reason they do it, too. Everyone has their reasons for liking or doing things the way they do."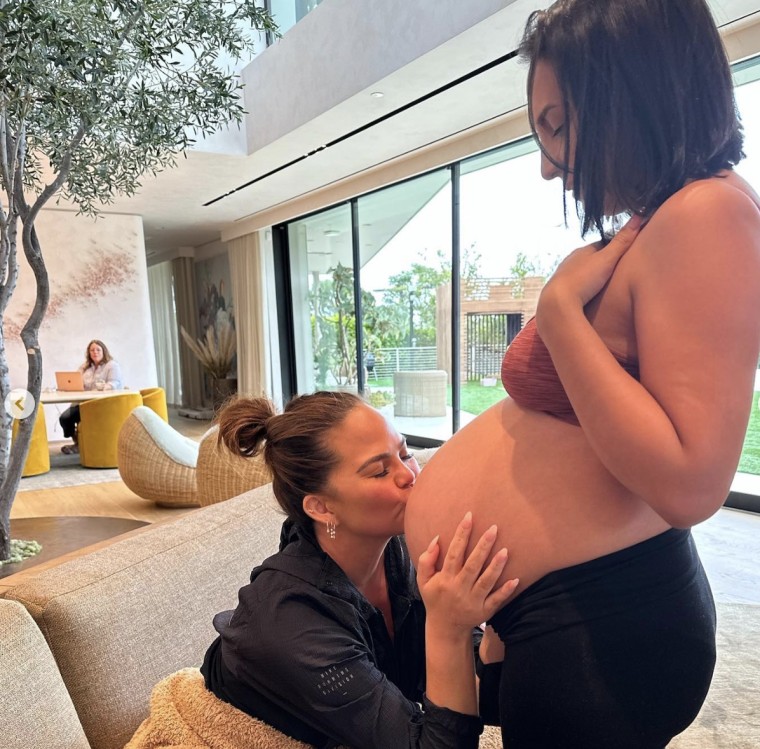 According to Teigen, it was important for her in her early days of selecting a surrogate to find someone who would be open to connecting on a familial level.
"I wanted to meet her children, and I wanted my children to be friends with her children," she explained. "And they really genuinely are, which has been a really beautiful thing to see."
She added that with Alexandra, raising her children has "felt very much like a village."
"It felt very much like the way people in my mother's family raised their children when they were literally living in the villages of Thailand. It just feels like such good camaraderie around each other and warmth and love," she said.
Though little is known about the woman who helped the "Cravings" cookbook author and Grammy-award-winning artist welcome their son Wren, we do know that the couple has said Alexandra made their family more complete.
Before Alexandra gave birth to Wren in June, Teigen and Legend were parents to Luna Simone Stephens, Miles Theodore Stephens and Esti Maxine Stephens. They also suffered a pregnancy loss when their son, Jack, passed away when he was born at 20 weeks.
In the months since Wren's birth, Teigen has thanked Alexandra for her part in helping her family grow.
Here's everything to know about the surrogate who gave birth to Teigen and Legend's youngest child, Wren.
Chrissy Teigen and John Legend met their surrogate when Teigen was pregnant with Esti
In June, Teigen announced the birth of her and Legend's youngest son, Wren, and thanked Alexandra for giving birth to him with a post on Instagram.
Teigen explained in her post that in 2021, she and Legend began their surrogacy journey with the idea of working with two surrogates in tandem to produce two children. Ultimately, Teigen decided to try the IVF process one last time and became pregnant with their daughter Esti. According to Teigen, she and John met Alexandra not long after. Teigen went on to describe Alexandra as "the most incredible, loving, compassionate surrogate we could ever imagine."
"I knew she was a perfect match for us the moment we spoke to her," Teigen wrote in her post. "All our wishes and dreams aligned."
Teigen went on to detail how the first embryo attempt with Alexandra did not survive and how the surrogate pushed forward for the couple, determined to give them another child.
"I will never forget how hard she fought to get ready for a second transfer," Teigen wrote. "How much she gave up of her own body — surgeries to get scar tissue cleared, the mental toll it takes to go through all of that for yourself, much less for other people."
What is Chrissy Teigen and John Legend surrogate's actual name?
Teigen and Legend have not shared the full name of their surrogate Alexandra which means little is known about the woman who agreed to help carry their son. However, after publicly announcing their pregnancy in June with their Instagram post, Alexandra thanked Teigen and Legend for their support in her surrogacy experience in a since-deleted comment.
"Thank you for choosing me," Alexandra commented in the post. "For making this whole experience so wonderful. For loving me and my family whole heartedly."
Chrissy Teigen and Alexandra are actually friends
In her birth announcement post for Wren, Teigen described Alexandra as a friend and detailed what it was like to be present for her when she gave birth to her son.
"Just minutes before midnight on June 19th, I got to witness the most beautiful woman, my friend, our surrogate give birth amidst a bit of chaos, but with strength and pure joy and love," she wrote in the post.
She also shared that because the two were pregnant at the same time (Teigen was carrying Esti while Alexandra carried Wren), they "ate hot pot to celebrate, watched 'Vanderpump Rules' with our growing bellies, our families blending into one for the past year."
In her August interview with People, Teigen explained that they talk "constantly" and maintain their friendship through a "nice little text exchange."
"She sees all my Instagram stories and I try to send her little pictures behind the scenes. I told her at the beginning of this journey, I wanted someone who would be there for birthday parties and throughout life," Teigen said.
Teigen explained that her bond with Alexandra is an extension of how she wants to live her life as a woman with a large household and team.
"But for me, I think the way I operate with anybody in our house, whether it's nannies or my mother living with us, or my friends that are in the house or security or whatever, I want an atmosphere where everybody feels really comfortable in our home and that extended to her," she explained. "I wanted her to feel like she could take off her shoes and kick up her feet on our couch. We could watch TV together and my daughter could play with her daughter up in her room. It felt like she could come over anytime, and I feel like we do still have that relationship. It's been really wonderful."
Chrissy Teigen and John Legend named their baby after their surrogate
The couple's birth announcement post also served as a name reveal for Wren. In addition to sharing her and Alexandra's surrogacy journey, Teigen shared that her son Wren Alexander Stephens would be connected to Alexandra in name.
"We want to say thank you for the incredible gift you have given us, Alexandra," she wrote in the post. "And we are so happy to tell the world he is here, with a name forever connected to you, Wren Alexander Stephens."