Love: It's a concept that's been extolled, discussed and debated through the ages. So many talented writers and artists have tried to define the meaning of love, writing elegant poems, thoughtful novels, witty one-liners or catchy songs.
For those times when you're struggling to put your own feelings into words, we've scoured books, movies, lyrics and more for the best love quotations, and culled them into a handy list. Whether you need something long or short, sappy or serious, use these love quotes to give your next love note, Instagram post, or wedding invitation a little extra oomph.
Check out these musings from writers, musicians, philosophers and more, who all agree on one thing: Love always wins.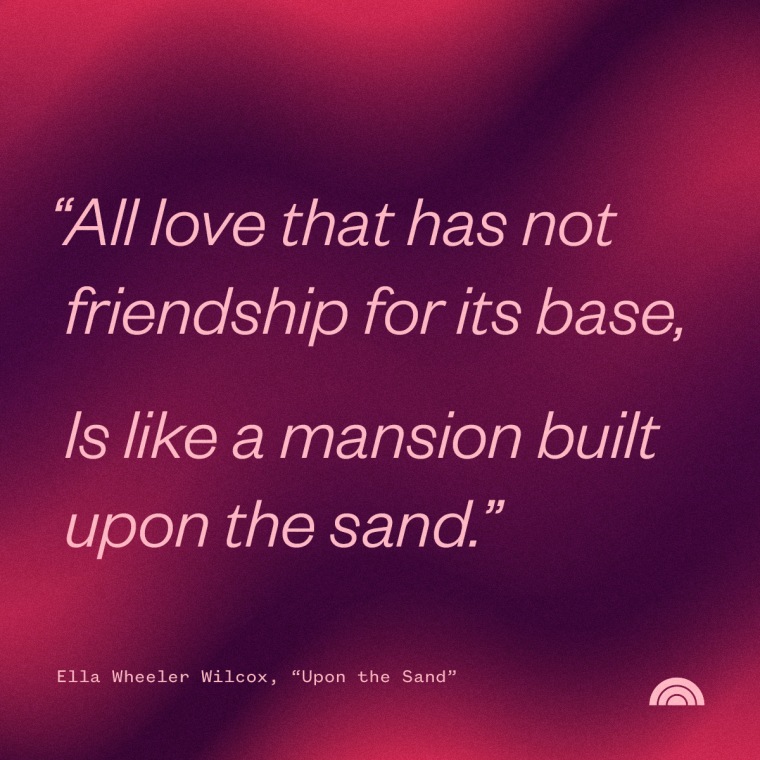 1. yes is a world /& in this world of/ yes live (skillfully curled) / all worlds. — E.E. Cummings, "love is a place"
2. Love does not delight in evil but rejoices with the truth. / It always protects, always trusts, always hopes, always perseveres. / Love never fails. — 1 Corinthians 13 6-8
3. One hour of right down love is worth an age of dully living on. — Aphra Benn, The Rover
4. Cause all of me / Loves all of you / Love your curves and all your edges / All your perfect imperfections — John Legend, "All of Me"
5. Give me your answer, fill in a form / Mine for evermore / Will you still need me, will you still feed me / When I'm sixty-four? — John Lennon/Paul McCartney, "When I'm Sixty-Four"
6. I tell you this / to break your heart, / by which I mean only / that it break open and never close again / to the rest of the world. — Mary Oliver, "Lead"
7. You make me / Feel like I'm livin' a teenage dream. — Katy Perry, "Teenage Dream"
8. I did not just fall in love. I made a parachute jump. — Zora Neale Hurston, "Dust Tracks on a Road"
9. Come along with me to my little corner of the world / Dream a little dream in my little corner of the world / You'll soon forget that there's any other place / Tonight, my love, we'll share a sweet embrace. — Bob Hilliard, "My Little Corner of the World"
10. All love that has not friendship for its base, / Is like a mansion built upon the sand. — Ella Wheeler Wilcox, "Upon the Sand"
11. Our song is the way you laugh / The first date; 'Man, I didn't kiss her and I should have' — Taylor Swift, "Our Song"
12. When you realize you want to spend the rest of your life with somebody, you want the rest of your life to start as soon as possible. — Nora Ephron (from "When Harry Met Sally")
13. Love itself is what is left over when being in love has burned away, and this is both an art and a fortunate accident. ― Louis de Bernières, Corelli's Mandolin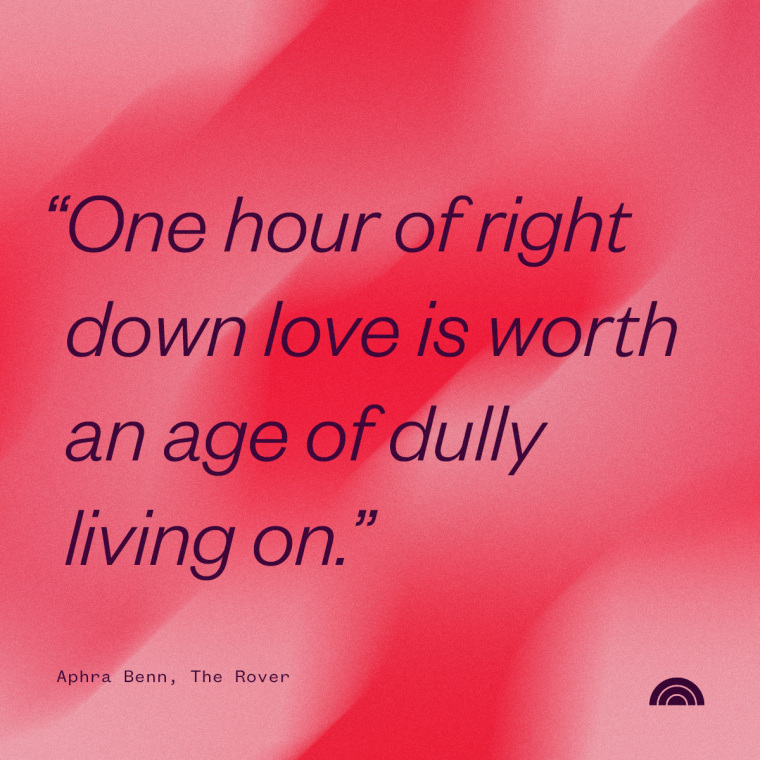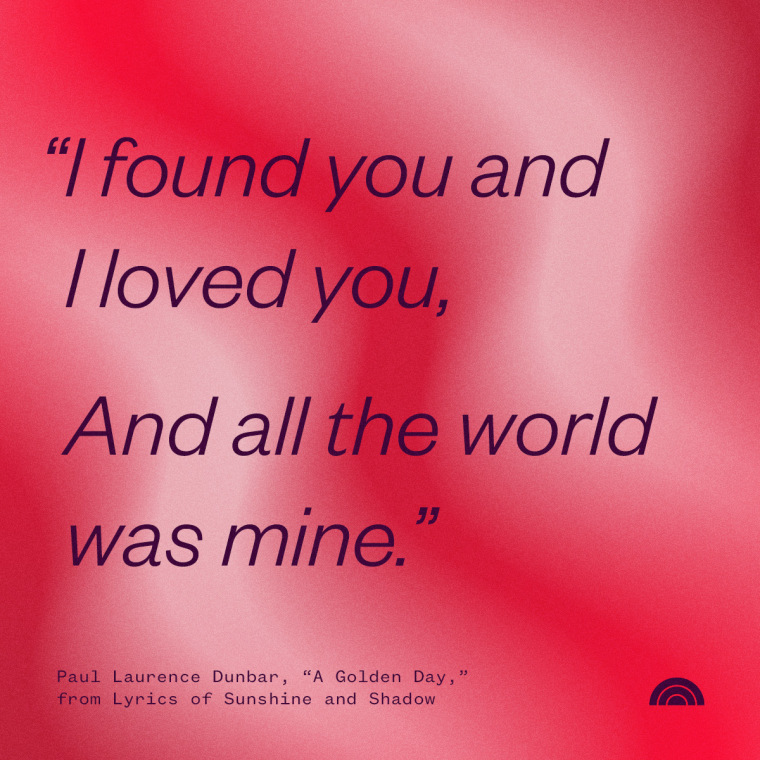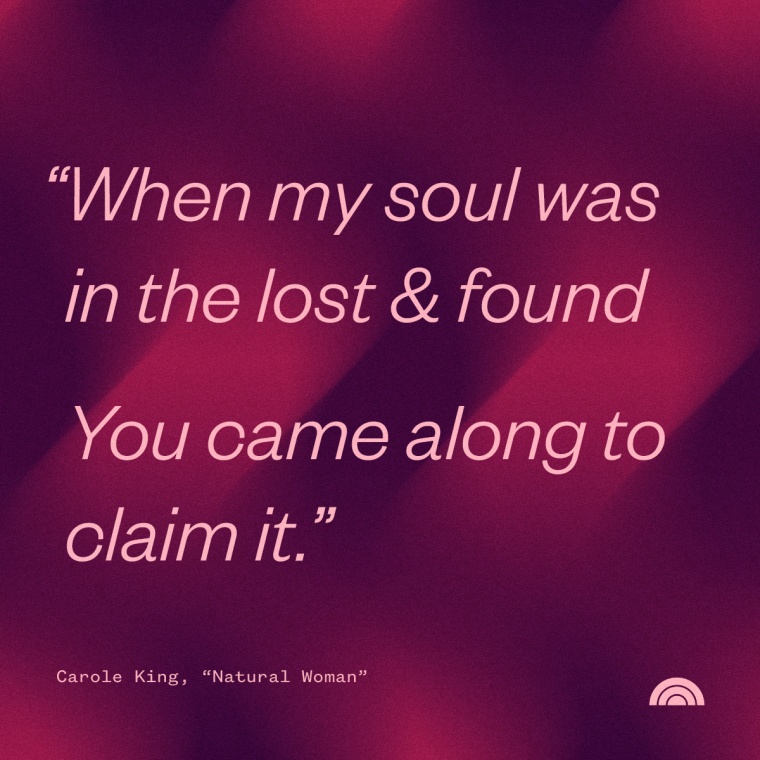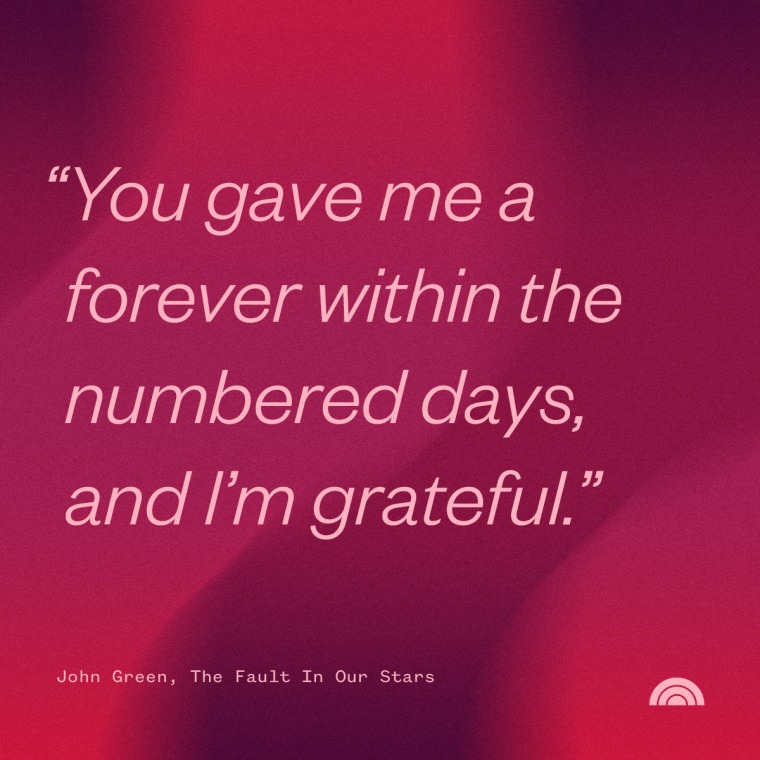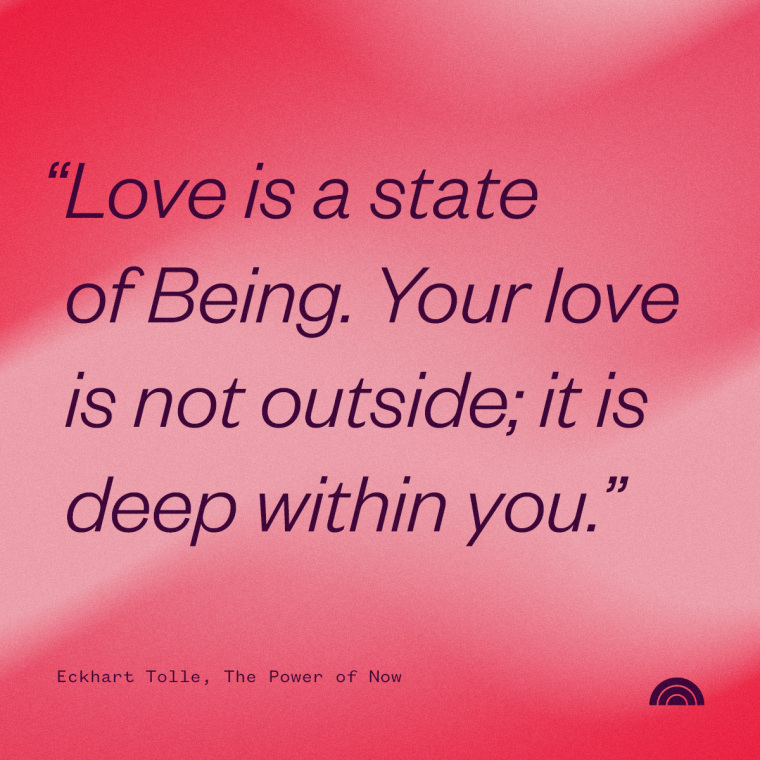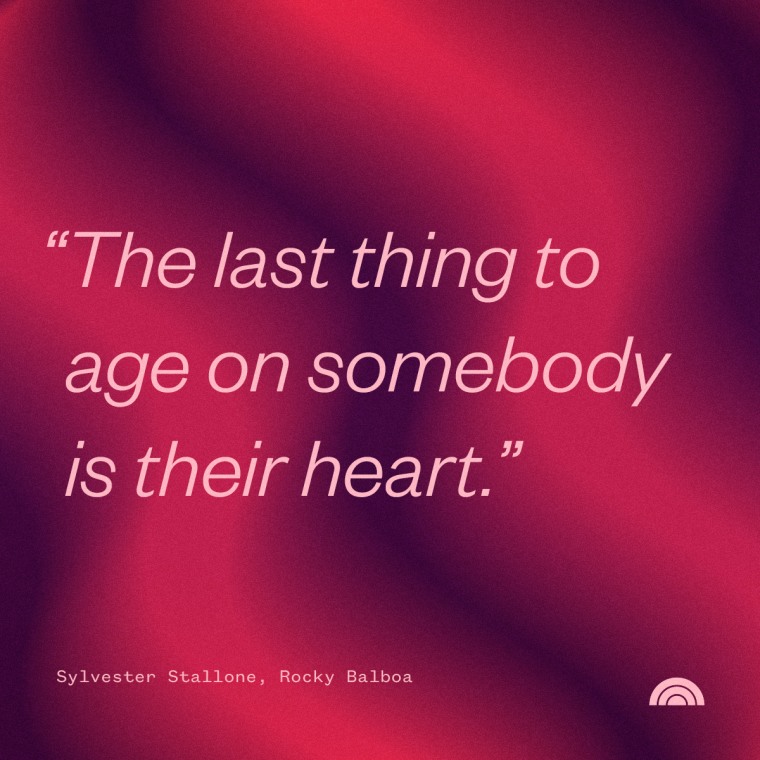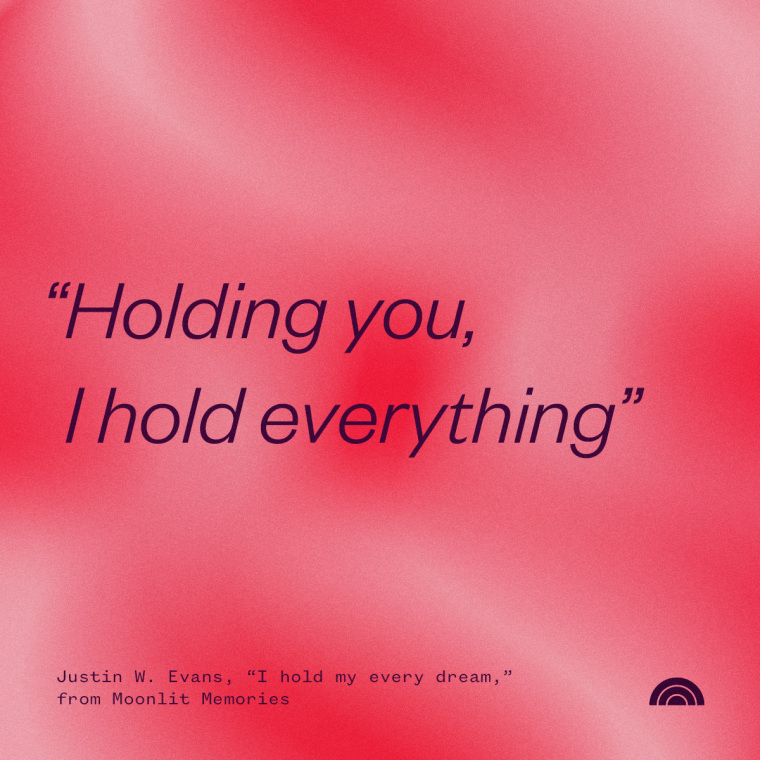 14. I love you because I know no other way than this: so close that your hand on my chest is my hand—so close that when you close your eyes, I fall asleep. — Steve Oedekerk (from "Patch Adams")
15. He was part of my dream of course—but then I was part of his dream, too. — Lewis Carroll, "Alice's Adventures in Wonderland"
16. Out of love, / No regrets— / Though the goodness / Be wasted forever.  / Out of love, / No regrets— / Though the return / Be never. — Langston Hughes, "No Regrets," from the Selected Poems of Langston Hughes
17. Love, leave me like the light, / The gently passing day; / We would not know, but for the night, / When it has slipped away. / Go quietly; a dream, / When done, should leave no trace / That it has lived, except a gleam / Across the dreamer's face." ― Countee Cullen, "If You Should Go"
18. I found you and I loved you, / And all the world was mine. — Paul Laurence Dunbar, "A Golden Day," from Lyrics of Sunshine and Shadow
19. Would thou wish to live deliciously? — Robert Eggers (from "The Witch")
20. I will kill your friends and family to remind you of my love. — Lin Manuel-Miranda, "You'll Be Back" (from Hamilton: An American Musical) 
21. Love is the one experience of the human condition that allows us to feel unequivocally, beautifully and deeply that our true condition is not isolation but union. — Daphne Rose Kingma, "A Lifetime of Love"
22. It has made me better, loving you … it has made me wiser, and easier, and brighter. — Henry James, "Portrait of a Lady Volume II"
23. When my soul was in the lost and found / You came along to claim it. — Carole King, "Natural Woman"
24. If you remember me, then I don't care if everyone else forgets. — Haruki Murakami, "Kafka on the Shore"
25. But I love your feet / only because they walked upon the earth and upon / the wind and upon the waters, / until they found me. — Pablo Neruda, "Your Feet"
26. I don't want to live. I want to love first, and live incidentally. — Zelda Fitzgerald, from "Dear Scott, Dearest Zelda: The Love Letters of F. Scott and Zelda Fitzgerald"
27. Darkness cannot drive out darkness: only light can do that. Hate cannot drive out hate: only love can do that. —Dr. Martin Luther King, Jr., "Strength to Love"
28. True love does have the power to redeem but only if we are ready for redemption. Love saves us only if we want to be saved. — bell hooks, "All About Love: New Visions"
29. But love has no uttermost, as the stars have no number and the sea no rest. — Eleanor Farjeon, "Martin Pippin in the Apple Orchard"
30. Many waters cannot quench love, neither can the floods drown it. — Song of Solomon 8:7
31. the leaves believe / such letting go is love / such love is faith / such faith is grace / such grace is God. / i agree with the leaves — Lucille Clifton, "the lesson of the falling leaves"
32. Hear my soul speak. Of the very instant that I saw you, Did my heart fly at your service. — William Shakespeare, The Tempest
33. This is true love. You think this happens every day? — William Goldman (from "The Princess Bride")
34. Parts of your body I think of as stripes which I have learned to love along. — Eileen Myles, "Peanut Butter," from "I Must Be Living Twice: New and Selected Poems 1975 — 2014"
35. I am amazed by peace / It is this possibility of you / asleep / And breathing in the quiet air. — June Jordan, "Poem for My Love"
36. Love him and let him love you. Do you think anything else under heaven really matters? — James Baldwin, "Giovanni's Room"
37. Pass this love on, he'd say. / It knows how to bend and will never break. / It's the only thing with a give and take, / The more it's used the more it makes. — Joy Harjo, from "Poet Warrior: A Memoir"
38. I love you more than one more day. — Joan Didion, "The Year of Magical Thinking"
39. The story of human intimacy is one of constantly allowing ourselves to see those we love most deeply in a new, more fractured light. Look hard. Risk that. — Cheryl Strayed, "Tiny Beautiful Things: Advice on Love and Life from Dear Sugar"
40. When I see your face / There's not a thing that I would change / 'Cause you're amazing / Just the way you are. —Bruno Mars, "Just the Way You Are (Amazing)"
41. Love is perhaps the only glimpse we are permitted of eternity. — Helen Hayes
42. Perhaps it is our imperfections that make us so perfect for one another! — Jane Austen, "Emma"
43. The pieces I am, she gather them and give them back to me in all the right order. It's good, you know, when you got a woman who is a friend of your mind. — Toni Morrison, "Beloved"
44. I see you everywhere, in the stars, in the river; to me you're everything that exists; the reality of everything. — Virginia Woolf, "Night & Day"
45. Can you love people and run things, and do so by not doing? — Ursula K. Le Guin, "Techniques," from "Lao Tzu: Tao Te Ching: A Book about the Way and the Power of the Way"
46. It is only with the heart that one can see rightly; what is essential is invisible to the eye. — Antoine de Saint Exupéry, The Little Prince
47. You've touched me without even touching me. — Rupi Kaur, Milk and Honey
48. You gave me a forever within the numbered days, and I'm grateful. — John Green, "The Fault In Our Stars"
49. The chance to love and be loved exists no matter where you are. — Oprah Winfrey
50. Love is like a virus. It can happen to anybody at any time. — Maya Angelou, The Collected Autobiographies of Maya Angelou
51. Joy comes to us from those whom we love even when they are absent. — Seneca
52. You want to know who I'm in love with? Read the first word again. — Author Unknown
53. We loved with a love that was more than love. — Edgar Allan Poe, "Annabel Lee" 
54. Loving you is not in my control. / But loving you, I have a goal / For what's left of my life... / I would live, / And I would die for you. — Stephen Sondheim, "Loving You" (from "Passion")
55. And the closer I'm bound in love to you / The closer I am to free. — Emily Ann Saliers, "Power of Two"
56. To love means to commit oneself without guarantee, to give oneself completely … Love is an act of faith, and whoever is of little faith is also of little love. — Eric Fromm, On Loving
57. Love isn't to be found as much as it is to be felt. — SARK
58. Love is a state of Being. Your love is not outside; it is deep within you. — Eckhart Tolle, "The Power of Now"
59. A true soul mate is probably the most important person you'll ever meet, because they tear down your walls and smack you awake. — Elizabeth Gilbert, "Eat, Pray, Love"
60. If you have no intention of loving or being loved, then the whole journey is pointless. — Kate DiCamillo, "The Miraculous Journey of Edward Tulane"
61. You walked in and my heart went 'boom.' — Lin Manuel-Miranda, "Helpless" (from "Hamilton: An American Musical") 
62. Romance is the glamour which turns the dust of everyday life into a golden haze. — Elinor Glyn
63. The last thing to age on somebody is their heart. —Sylvester Stallone, Rocky Balboa
64. Night falls like people into love / We generate our own light / To compensate. — Ani DiFranco, "Angry Anymore"
65. I love you … beyond poetry. — Marc Norman and Tom Stoppard, "Shakespeare in Love"
66. But most of all, love needs love, lots of it. / And in return, love loves you and never stops. — Taylor Mali, "How Falling In Love Is Like Owning a Dog"
67. How can love's spaciousness / be conveyed in the narrow confines of one syllable? —  Diane Ackerman, from "A History of Love"
68. Every bird song, wind song, and tremendous storm / song of the rocks in the heart of the mountains is our song, our very own, / and sings our love. — John Muir
69. All days are nights to see till I see thee, / And nights bright days when dreams do show thee me. — William Shakespeare, Sonnet 43
70. For even if I'm far away / I hold you in my heart / I sing a secret song to you / Each night we are apart. — Robert Lopez and Kristen Anderson-Lopez, "Remember Me," (from "Coco")
71. I like to think of your silence as the love letters you will not write me, / as two sax solos from two ages across a stage, learning the languages / of kissing with your eyes closed. — Clifton Gachagua, "A Bronze God, or a Letter on Demand" from "Madman at Kilifi" 
72. I  hope you don't mind / I hope you don't mind / That I put down in the words / How wonderful life is while you're in the world. — Elton John, "Your Song"
73. If I loved you less, I might be able to talk about it more. — Jane Austen, "Emma"
74. Hit me like a ray of sun/ Burning through my darkest night / You're the only one that I want / Think I'm addicted to your light. — Ryan Tedder, E. Kidd Bogart and Beyoncé, "Halo"
75. You've got to laugh a little, cry a little, / until the clouds roll by a little. / That's the story of, that's the glory of love. — Billy Hill, "The Glory of Love"
76. He stepped down, trying not to look long at her, as if she were the sun, yet he saw her, like the sun, even without looking. — Leo Tolstoy, Anna Karenina 
77. Move a mountain / Light the sky / Make a wish come true— / There is music in you. — Oscar Hammerstein II, "There Is Music in You," (from "Cinderella")
78. Love is like quick-silver in the hand, Sylvie. Leave the fingers open, and it stays in the palm; clutch it, and it darts away. — Dorothy Parker, "Complete Stories"
79. Holding you, I hold everything. — Justin W. Evans, "I hold my every dream," from "Moonlit Memories"
80. The book of love has music in it / In fact that's where music comes from / Some of it is just transcendental / Some of it is just really dumb. — Stephin Merritt, "The Book of Love"