Moms always know how to make everything better. Though no two are the same, they all have one thing in common — they're ours and no one could ever take their place. For that very reason, it's important to pull out all the stops on Mother's Day to show your mom, mother-in-law, stepmom, grandmother or other mother figure just how much you cherish her. 
There are so many ways to show her what's in your heart. While, yes, you can spoil her on this special Sunday with fresh flowers, personalized gifts and a homemade dinner, there's nothing quite like expressing how you really feel in words. Since it may feel impossible to sum up your special bond, browse through these heartfelt Mother's Day quotes from beloved authors, musicians, poets and other icons for inspiration.
Let these quotes serve as thought starters for your own Mother's Day message or work them directly into your handwritten card, Instagram caption or toast for Sunday brunch. Go for something short and sweet, or opt for a funny quote if she's the type to argue that humor is the way to the heart.
She'll appreciate the sentiment behind the words you pick — even if they're really someone else's.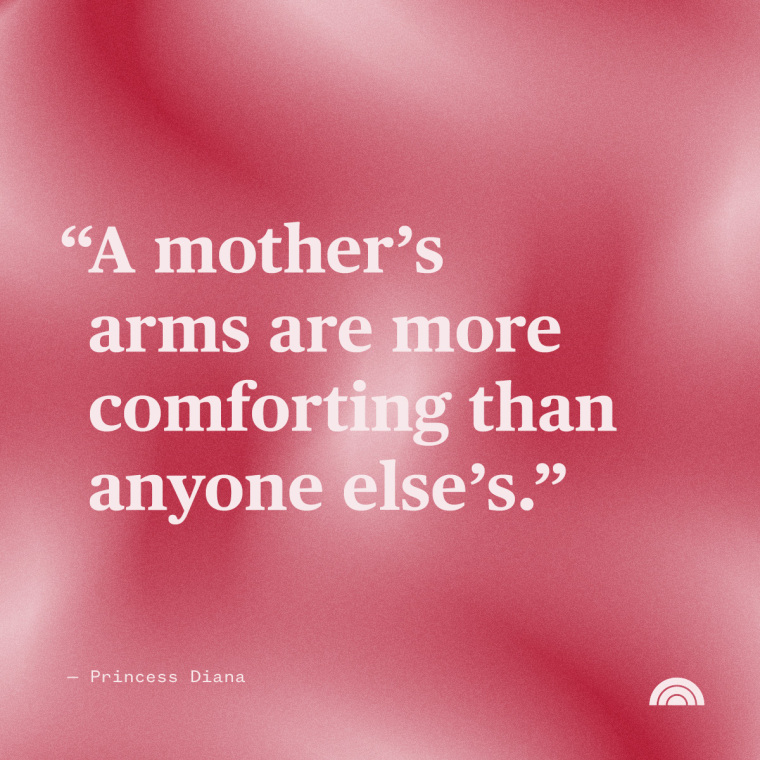 1. "It's one of those things where you think you've done it all, you think you've felt it all. But I just didn't know that this kind of love existed." — Hoda Kotb 
2. "I'm a person of faith. It feels like the greatest embrace from God that I can imagine, to get to have a baby." — Savannah Guthrie 
3. "A mother's arms are more comforting than anyone else's." — Princess Diana
4. "When your children arrive, the best you can hope for is that they break open everything about you. Your mind floods with oxygen. Your heart becomes a room with wide-open windows." —Amy Poehler 
5. "Youth fades; love droops; the leaves of friendship fall; a mother's secret hope outlives them all." — Oliver Wendell Holmes
Related: When Is Mother's Day? Everything to Know  
6. "My mother was the one constant in my life. When I think about my mom raising me alone when she was 20, and working and paying the bills, and, you know, trying to pursue your own dreams, I think is a feat that is unmatched." — Barack Obama
7. "You can feel when your mom's proud of you. You can feel the love." — Jimmy Fallon 
8. "Whatever else is unsure in this stinking dunghill of a world a mother's love is not." — James Joyce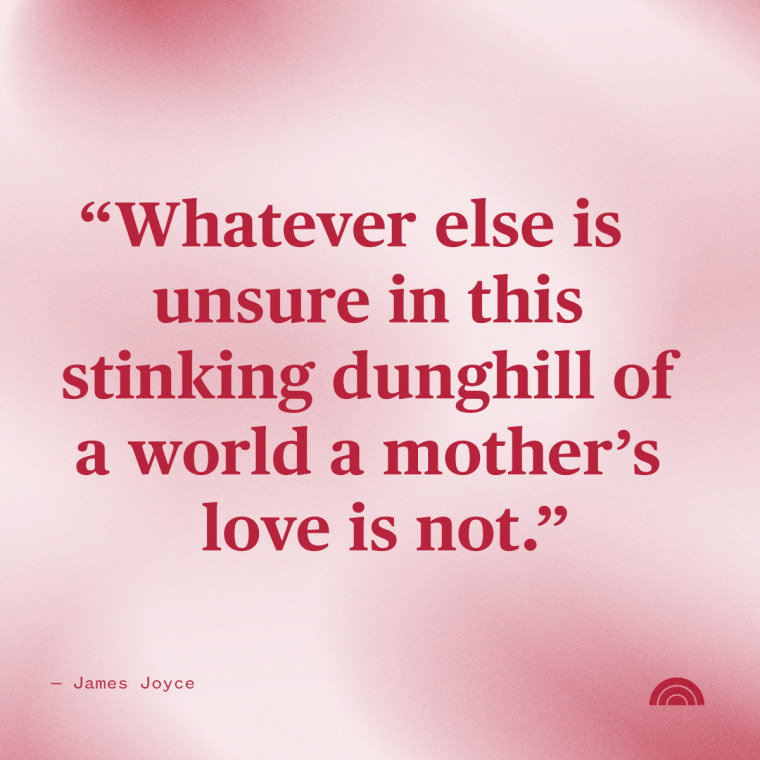 ​​9. "It's a funny thing about mothers... Even when their own child is the most disgusting little blister you could ever imagine, they still think that he or she is wonderful." — Roald Dahl
10. "All that I am, or hope to be, I owe to my angel mother." — Abraham Lincoln
11. "When you look into your mother's eyes, you know that is the purest love you can find on this earth." — Mitch Albom
12. "If you bungle raising your children, I don't think whatever else you do well matters very much." — Jacqueline Kennedy Onassis
14. "God could not be everywhere, and therefore he made mothers." — Rudyard Kipling
16. "Sometimes the strength of motherhood is greater than natural laws." — Barbara Kingsolver
17. "Our mothers always remain the strangest, craziest people we've ever met." — Marguerite Duras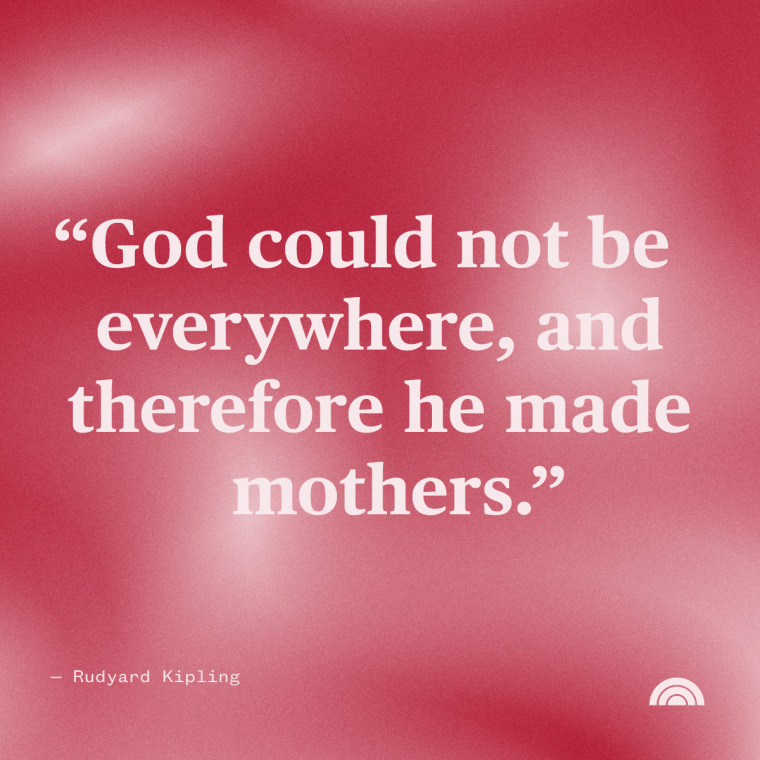 18. "Being a mom has made me so tired. And so happy." — Tina Fey
19. "If I have done anything in life worth attention, I feel sure that I inherited the disposition from my mother." — Booker T. Washington
20. "My mother was the most beautiful woman I ever saw. All I am I owe to my mother. I attribute my success in life to the moral, intellectual and physical education I received from her." — George Washington
21. "To describe my mother would be to write about a hurricane in its perfect power. Or the climbing, falling colors of a rainbow." — Maya Angelou
22. "My mother had a slender, small body, but a large heart—a heart so large that everybody's joys found welcome in it, and hospitable accommodation." — Mark Twain
23. "I tell my kids, 'I am thinking about you every other minute of my day.'" — Michelle Obama
24. "[Motherhood is] the biggest gamble in the world. It is the glorious life force. It's huge and scary—it's an act of infinite optimism." — Gilda Radner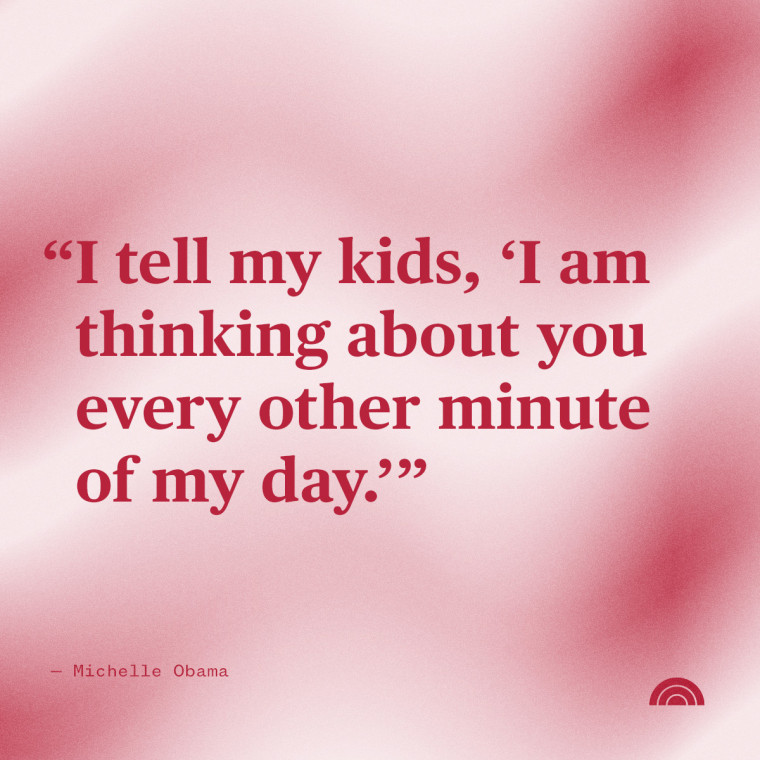 25. "My mother is my root, my foundation. She planted the seed that I base my life on, and that is the belief that the ability to achieve starts in your mind." — Michael Jordan
26. "Biology is the least of what makes someone a mother." — Oprah Winfrey
27. "Motherhood has a very humanizing effect. Everything gets reduced to essentials." — Meryl Streep
28. "Having children just puts the whole world into perspective. Everything else just disappears." — Kate Winslet
29. "Perhaps it takes courage to raise children." — John Steinbeck 
30. "All women become like their mothers. That is their tragedy. No man does. That's his." — Oscar Wilde 
31. "Your heart feels like it's outside your body and you're too old to drink the feelings away like you used to." — Amy Schumer 
32. "The truth is that no matter how old we are, as long as our mothers are alive, we want our mother." — Goldie Hawn
33. "There are really places in your heart that you don't know exist until you love a child." — Anne Lamott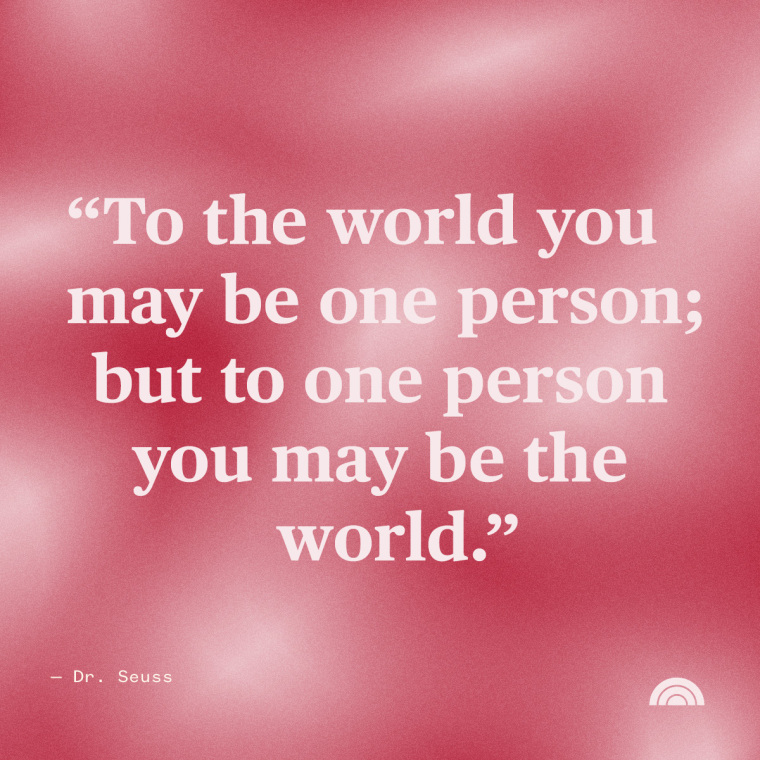 34. "To the world you may be one person; but to one person you may be the world." — Dr. Seuss
35. "There's no way to be a perfect mother, and a millions ways to be a good one." — Jill Churchill
36. "Making the decision to have a child is momentous. It is to decide forever to have your heart go walking around outside your body." — Elizabeth Stone
37. "Behind all your stories is always your mother's story, because hers is where yours begins." — Mitch Albom
38. "A mother's love for her child is like nothing else in the world. It knows no law, no pity, it dates all things and crushes down remorselessly all that stands in its path." — Agatha Christie
39. "I will look after you and I will look after anybody you say needs to be looked after, any way you say. I am here. I brought my whole self to you. I am your mother." — Maya Angelou
40. "Motherhood is a choice you make everyday, to put someone else's happiness and well-being ahead of your own, to teach the hard lessons, to do the right thing even when you're not sure what the right thing is… and to forgive yourself, over and over again, for doing everything wrong." — Donna Ball
41. "Even as a small child, I understood that women had secrets, and that some of these were only to be told to daughters. In this way we were bound together for eternity." — Alice Hoffman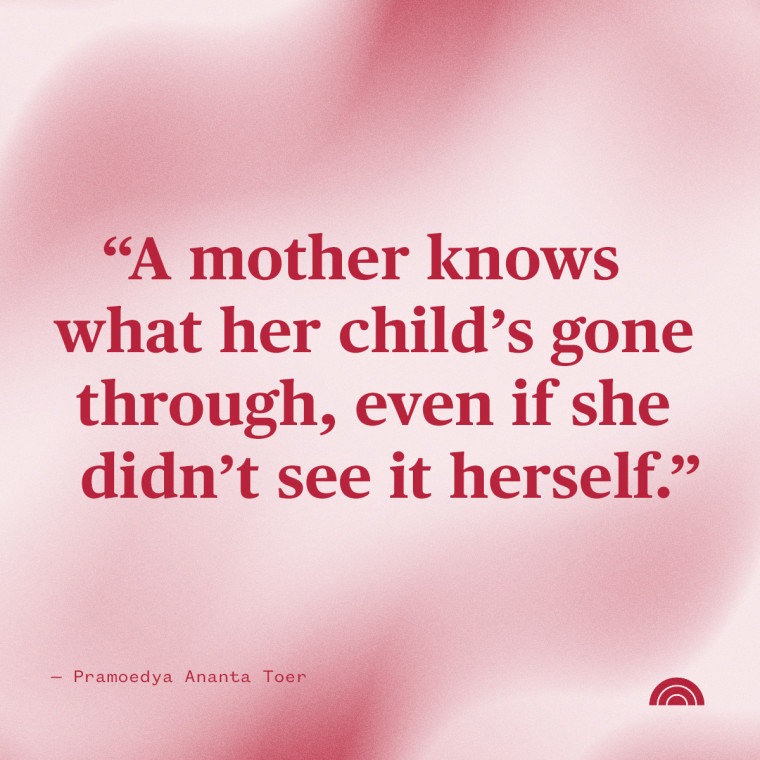 42. "The very fact that you worry about being a good mom means that you already are one." — Jodi Picoult
43. "No one worries about you like your mother, and when she is gone, the world seems unsafe, things that happen unwieldy. You cannot turn to her anymore, and it changes your life forever. There is no one on earth who knew you from the day you were born; who knew why you cried, or when you'd had enough food; who knew exactly what to say when you were hurting; and who encouraged you to grow a good heart. When that layer goes, whatever is left of your childhood goes with her." — Adriana Trigiani
44. "The natural state of motherhood is unselfishness. When you become a mother, you are no longer the center of your own universe. You relinquish that position to your children." — Jessica Lange
45. "Mothers and their children are in a category all their own. There's no bond so strong in the entire world. No love so instantaneous and forgiving." — Gail Tsukiyama
46. "A mother knows what her child's gone through, even if she didn't see it herself." — Pramoedya Ananta Toer
47. "When I was a boy and I would see scary things in the news, my mother would say to me, 'Look for the helpers. You will always find people who are helping.'" — Fred Rogers
48. "My mother... she is beautiful, softened at the edges and tempered with a spine of steel. I want to grow old and be like her." — Jodi Picoult
49. "When your mother asks, 'Do you want a piece of advice?' It's a mere formality. It doesn't matter if you answer yes or no. You're going to get it anyway." — Erma Bombeck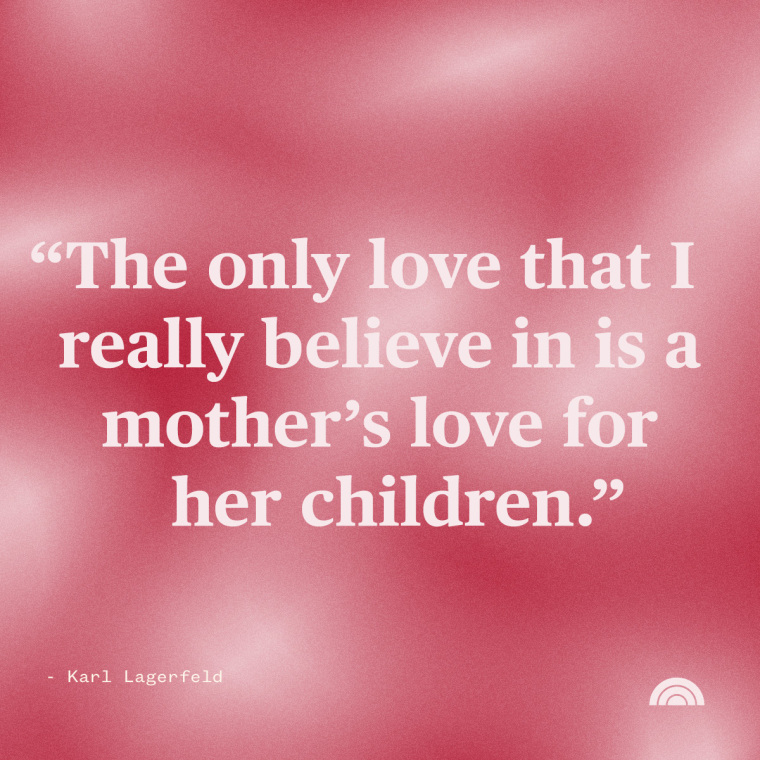 50. "As mothers and daughters, we are connected with one another. My mother is the bones of my spine, keeping me straight and true. She is my blood, making sure it runs rich and strong. She is the beating of my heart. I cannot now imagine a life without her." — Kristin Hannah, "Summer Island"
51. "The only love that I really believe in is a mother's love for her children." — Karl Lagerfeld
52. "My mother had a great deal of trouble with me, but I think she enjoyed it." — Mark Twain
53. "My mother used to say, 'The older you get, the better you get. Unless you're a banana.'" — Betty White 
54. "It may be possible to gild pure gold, but who can make his mother more beautiful?" — Mahatma Gandhi
55. "Mothers are like glue. Even when you can't see them, they're still holding the family together." — Susan Gale
56. "That strong mother doesn't tell her cub, 'Son, stay weak so the wolves can get you.' She says, 'Toughen up, this is the reality we are living in.'" — Lauryn Hill
57. "My mother taught me empathy – the basic concept of standing in somebody else's shoes and looking through their eyes. If I did something messed up, she'd just say, 'How would that make you feel if somebody did that to you?'" — Barack Obama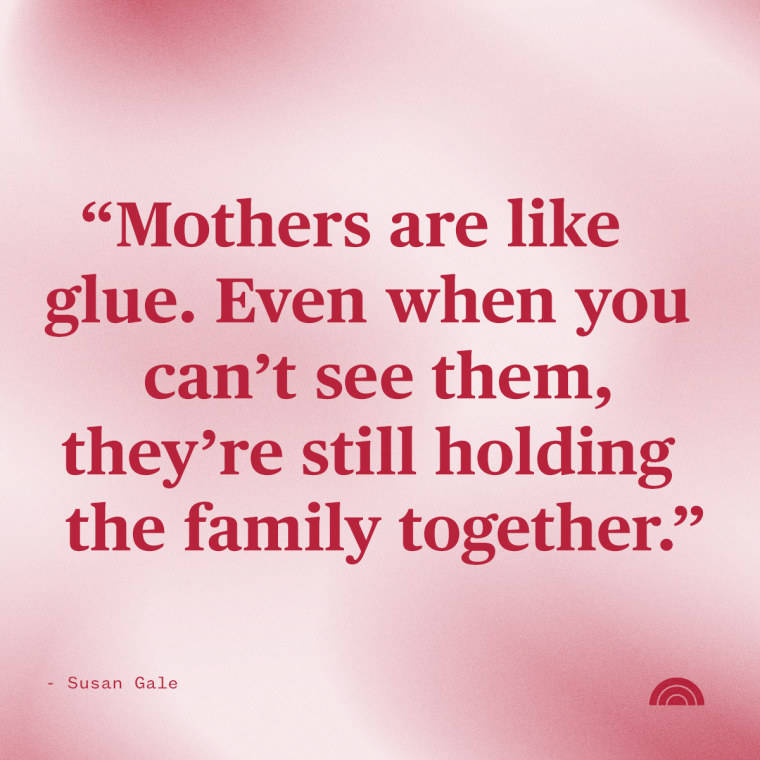 58. "I want my children to have all the things I couldn't afford. Then I want to move in with them." — Phyllis Diller
59. "Every day when you're raising kids, you feel like you could cry or crack up and just scream 'This is ridiculous!' because there's so much nonsense, whether it's what they're saying to you or the fact that there's avocado or poop on every surface." — Kristen Bell
60. "I believe the choice to become a mother is the choice to become one of the greatest spiritual teachers there is." — Oprah Winfrey
61. "When you are a mother, you are never really alone in your thoughts. A mother always has to think twice, once for herself and once for her child." — Sophia Loren
62. "Motherhood is the greatest thing and the hardest thing." —Ricki Lake
63. "Mothers have the ability to liberate by love or, by neglect, to imprison. They're our first teachers; they are our first loves." — Maya Angelou
64. "Just because you become a mother, it doesn't mean you lose who you are." — Beyoncé
65. "A mother is she who can take the place of all others but whose place no one else can take." — Gaspard Mermillod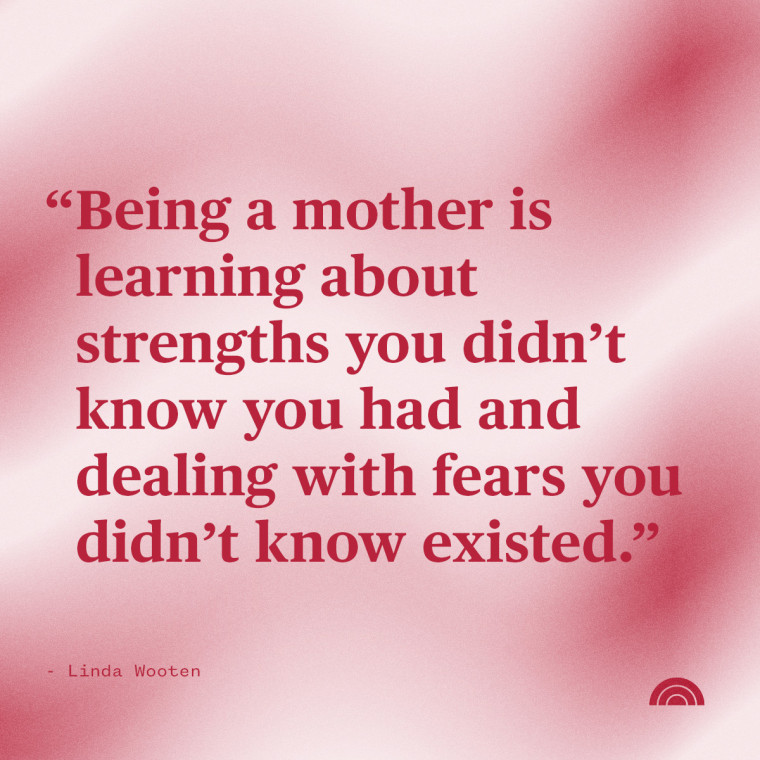 66. "A mother is the truest friend we have, when trials heavy and sudden fall upon us; when adversity takes the place of prosperity; when friends desert us; when trouble thickens around us, still will she cling to us, and endeavor by her kind precepts and counsels to dissipate the clouds of darkness, and cause peace to return to our hearts." — Washington Irving
67. "Life doesn't come with a manual; it comes with a mother." — Unknown
68. "Being a mother is learning about strengths you didn't know you had and dealing with fears you didn't know existed." — Linda Wooten
69. "The moment a child is born, the mother is also born." — Osho
70. "My mom smiled at me. Her smile kind of hugged me." — R.J. Palacio
71. "It's not our job to toughen our children up to face a cruel and heartless world. It's our job to raise children who will make the world a little less cruel and heartless." — L.R. Knost
72. "Mother is a verb. It's something you do. Not just who you are." — Cheryl Lacey Donovan
73. "The great motherhood friendships are the ones in which two women can admit [how difficult mothering is] quietly to each other, over cups of tea at a table sticky with spilled apple juice and littered with markers without tops." — Anna Quindlen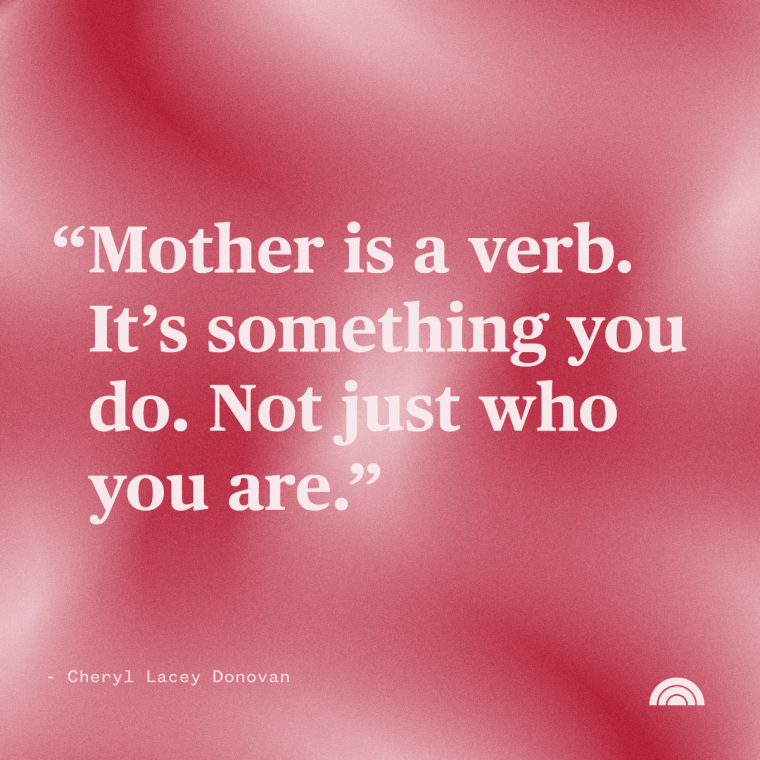 74. "I looked on child rearing not only as a work of love and duty, but as a profession that was fully as interesting and challenging as any honorable profession in the world and one that demanded the best that I could bring to it." — Rose Kennedy
75. "There is no greater good in all the world than motherhood. The influence of a mother in the lives of her children is beyond calculation." — James E. Faust
76. Having kids — the responsibility of rearing good, kind, ethical, responsible human beings — is the biggest job anyone can embark on." — Maria Shriver
77. "Once you're a mom, you're always a mom. It's like riding a bike, you never forget." - Taraji P. Henson
Related: