Welcome to Start TODAY. Sign up for our free Start TODAY newsletter to receive daily inspiration sent to your inbox. Need help learning the basics of healthy eating? Join us on September 18 for a virtual Start TODAY meal planning event sponsored by Instacart! Registered dietitian Vanessa Rissetto is joining Stephanie Mansour to show you how to prep five delicious, healthy and family-friendly meals. Click here to buy your tickets!
It's September and back-to-school season is in full swing! Which means we're all getting back to our normal routines after a few months of vacations, weekend barbecues and laid-back schedules.
To make easing back into a healthy eating plan a little easier, we're getting creative with leafy greens. Think: as a pizza topper, sprinkled on sheet-pan chicken and stuffed into peppers with gooey cheese. And since the fall season is busy enough, we've also got suggestions for streamlining meal prep — and, best of all, you can even take the weekends off if you're dining out or getting together with family and friends.
Here's a dietitian-designed meal plan that will help you learn the building blocks of healthy eating, while giving you the flexibility to ease back into a healthy fall routine.
What to Eat This Week, September 11, 2023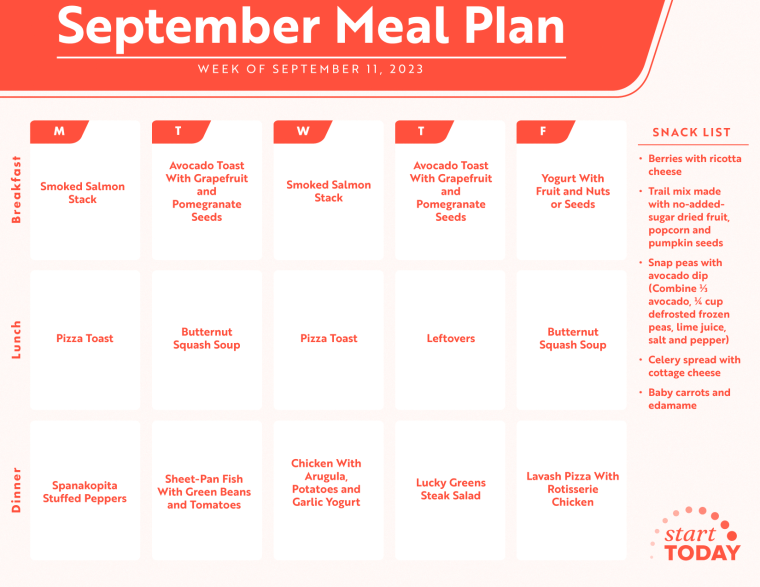 >>Download this week's meal plan
Monday
Tuesday
Wednesday
Thursday
Friday
Breakfast
This week's rotation includes two top heart-healthy ingredients: avocados and salmon. Salmon is a fantastic source of heart-protective omega-3 fatty acids, and smoked salmon is a convenient way to consume fish. Additionally, a large study found that higher avocado intake is associated with a 21% lower risk of coronary heart disease and a 16% lower risk of cardiovascular disease in general. So, go ahead and eat these meals on repeat.
Make it with whole-grain toast and serve with Greek yogurt or cottage cheese on the side.
Smoked Salmon Stack
Top a whole-grain English muffin or slice of toast with plain Greek yogurt, lettuce, tomato, red onion and smoked salmon. Sprinkle with bagel seasoning if you'd like.
Yogurt with Fruit and Nuts or Seeds
Choose plain or lower-sugar Greek yogurt with one piece or one cup of fruit and up to ¼ cup of nuts or seeds.
Lunch
This week's lunch menu shows you can put together healthy meals in minutes. While packaged soup can be a convenient way to get your veggies sometimes, it can be high in sodium and may not be appropriate for people on a sodium-restricted diet. So making a big batch homemade to re-heat throughout the week is a smart way to go.
Pizza Toast
Top each half of a toasted whole-grain English muffin with pesto, warm, lower-sugar marinara sauce, tomato slices and cottage cheese. Serve with snap peas on the side.
No time to make homemade soup? Go boxed or canned! Heat soup according to package directions and top with toasted pumpkin seeds and a dollop of plain Greek yogurt.
Dinner
Traditional spanakopita is a savory pie made with phyllo, spinach, and feta. In this twist, the filling includes collard greens and baby spinach mixed with quinoa and cheese, and bell peppers replace the usual phyllo wrapper. The result is a healthier spin on the classic that's just as flavorful. This is a nutritionally complete meal since you'll get protein from the quinoa and cheeses
This sheet-pan dish is as easy to make as it is to clean up. Most markets se l pre-washed and prepped green beans if you want to simplify it further. Serve it with roasted new potatoes, which you can cook on a separate sheet pan.
Chicken and potatoes are seasoned with cumin and harissa and drizzled with a yogurt sauce in this sheet-pan dish. A sprinkling of arugula is used to add a pop of color to this dish, so we recommend making a separate side salad.
Heart-healthy superstars in this steak salad include lentils, leafy greens, pear, pomegranate and pecans. Balancing red meat with nutritious plant foods is a good way to incorporate it into a healthy menu.
Made with store-bought, whole-grain lavash, this pizza will be on the table faster than takeout. It's heavy on the veggies and light on the cheese — a ratio that's better for your heart than a typical slice. Since this meal lacks protein, serve it with rotisserie chicken or sautéed shrimp.
Snacks
Snacks that contain whole food sources of protein and fiber offer a winning formula that keeps you full for hours. Here are a few ideas: