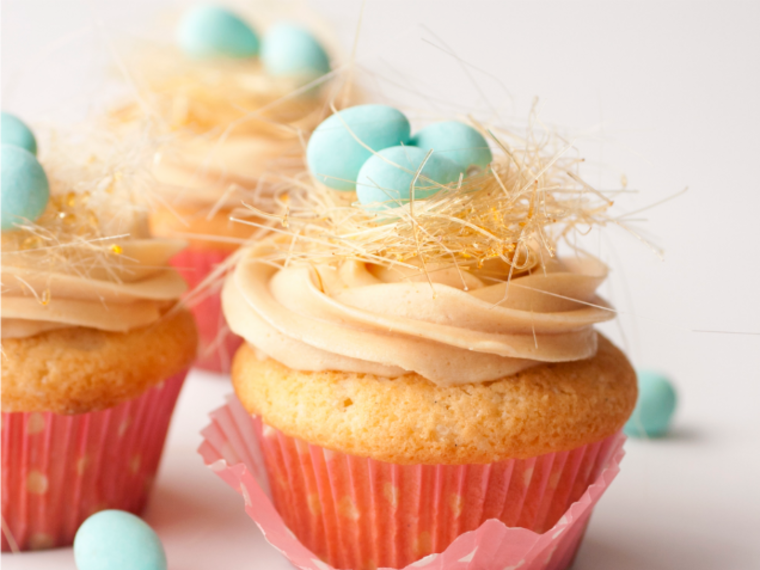 cupcakesgarden.com
Caramel buttercream, a spun sugar nest and light blue chocolate Easter eggs form the Holy Trinity for this stylish Easter cupcake. Serve the cakes in white teacups like Cupcakes Garden and this sophisticated dessert will be sure to wow all your guests.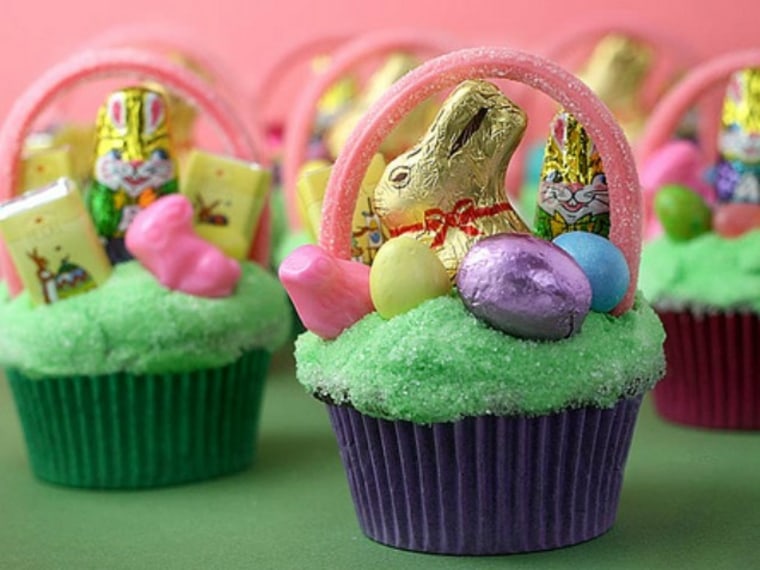 bakerella.com
Bakerella blogger Angie Dudley's fun treats have all of the perks of a traditional Easter basket with an added bonus: cake! And frosting! And the whole thing is edible! These cupcakes are customizable for everyone (bring on the chocolate!) and don't require any fancy frosting work.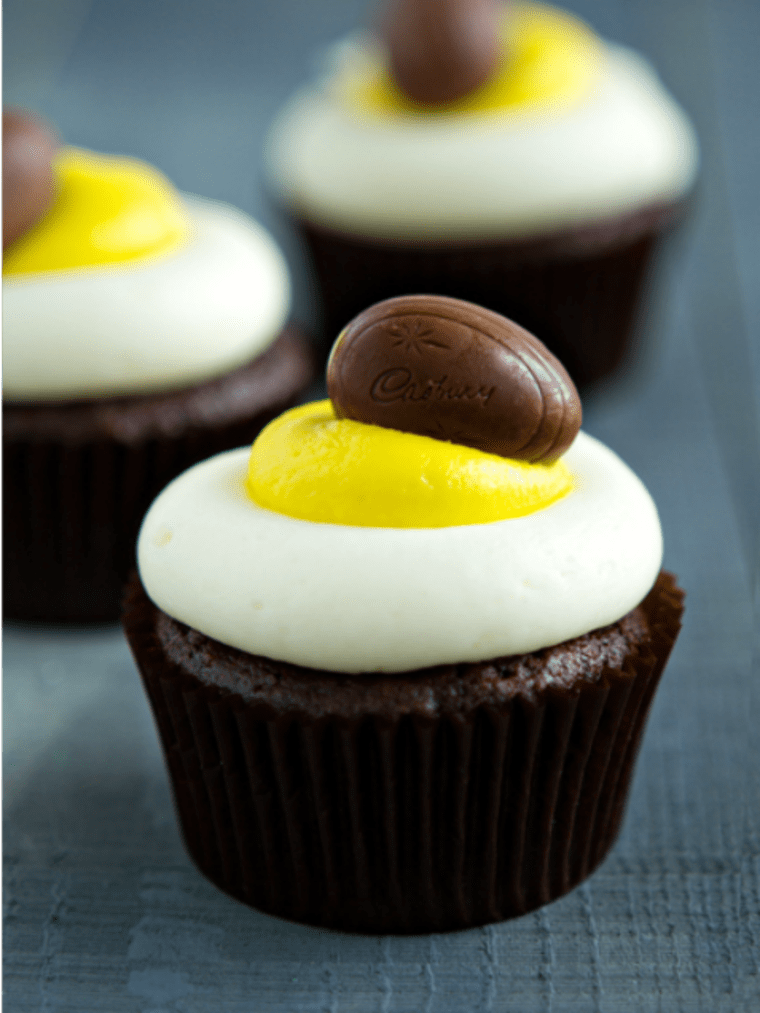 mybakingaddiction.com
The Cadbury Egg is as much an Easter icon as the big bunny himself. Jamie Lothridge from My Baking Addiction incorporated the Cadbury Egg in not one but two different ways in these creamy cupcakes. She first inserts frozen Cadbury Eggs into the raw cupcake batter, then places an extra egg on top of the white and yellow-tinted frosting. It's a two-for-one sweet treat you'd be crazy to pass up.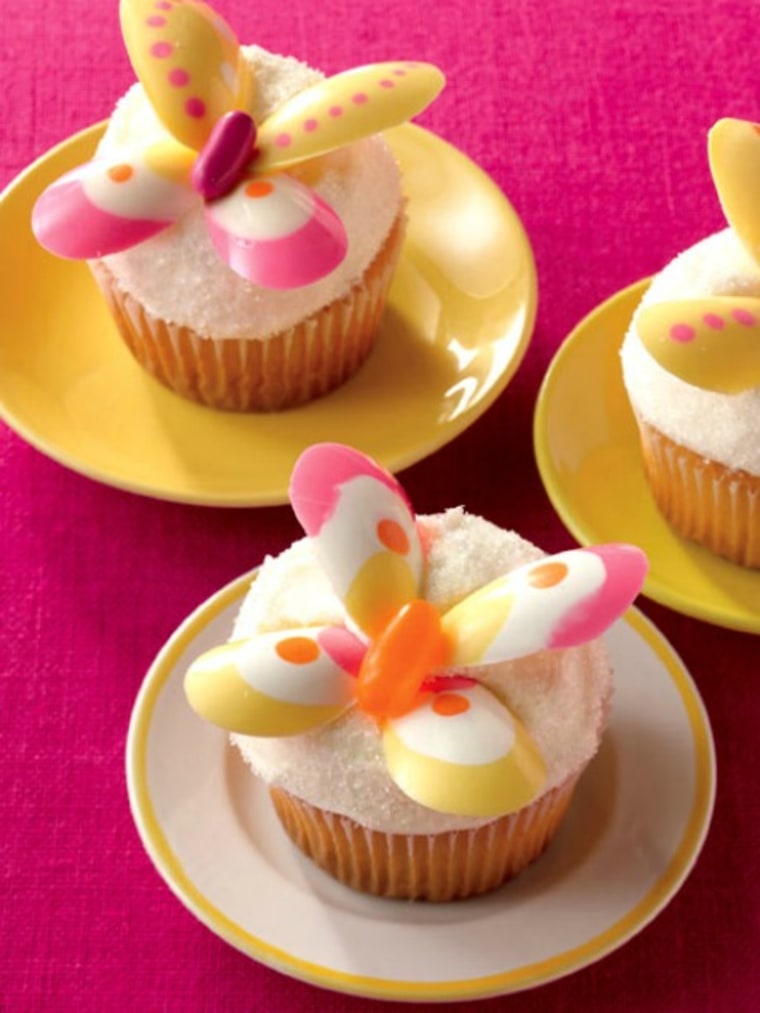 bakerella.com
We wouldn't be mad if these Butterfly Cupcakes from Bakerella flew right into our stomachs this Easter. While the jellybean and chocolate-shaped butterflies take some preparation (plastic spoons are the mold for the wings), the delicate end result is worth the effort.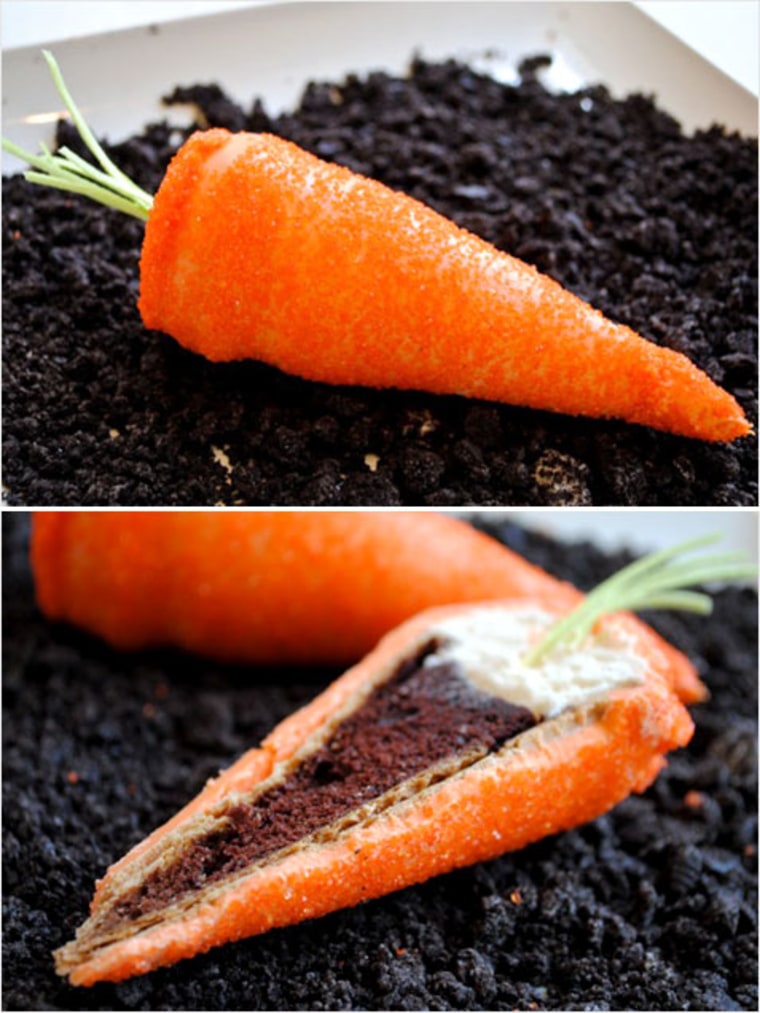 blog.hwtm.com
These Surprise Carrot Cupcakes from Carrie Sellman of Half Baked are sweet, sparkly and well, surprising. The secret is baking the cake in sugar cones and dipping the entire cone in melted orange chocolate. Before the candy coating hardens, coat the carrots with orange sprinkles for a dazzling effect. When you crack open the cone you'll reveal chocolate cake and icing. We're positive Bugs Bunny will be happy with this veggie alternative.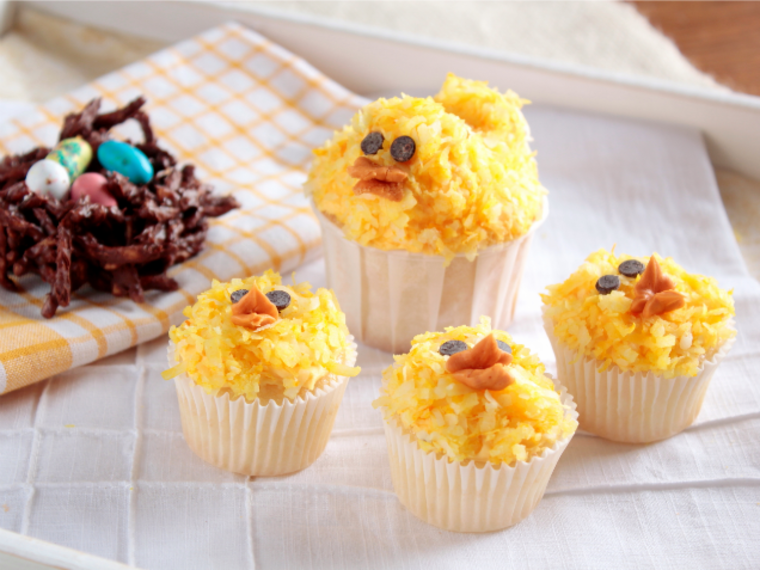 pastryaffair.com
Thankfully these babies won't wake you up at the crack of dawn this spring. One peep out of them and into your mouth they go! Coconut flakes give the appearance of feathers while mini chocolate chips form their beady eyes. If you're feeling crafty, use frosting and marshmallows to create a head and tail for the mama chick.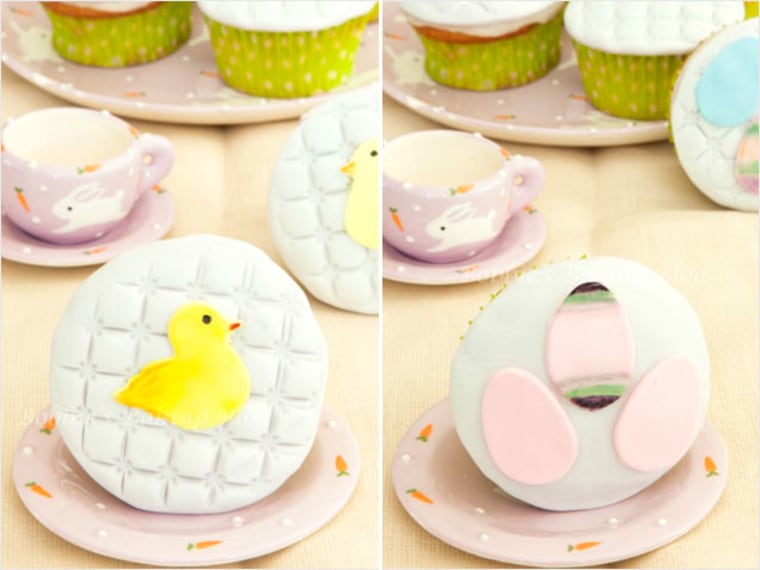 bobbiesbakingblog.com
Delicate quilted fondant and gum paste decorations make these cupcakes truly holiday-worthy. The sweet surprise comes inside with delectable raspberry crème filling expertly injected by a pastry bag and open tip. For more information on how to make these cupcakes, visit Bobbie's Baking Blog.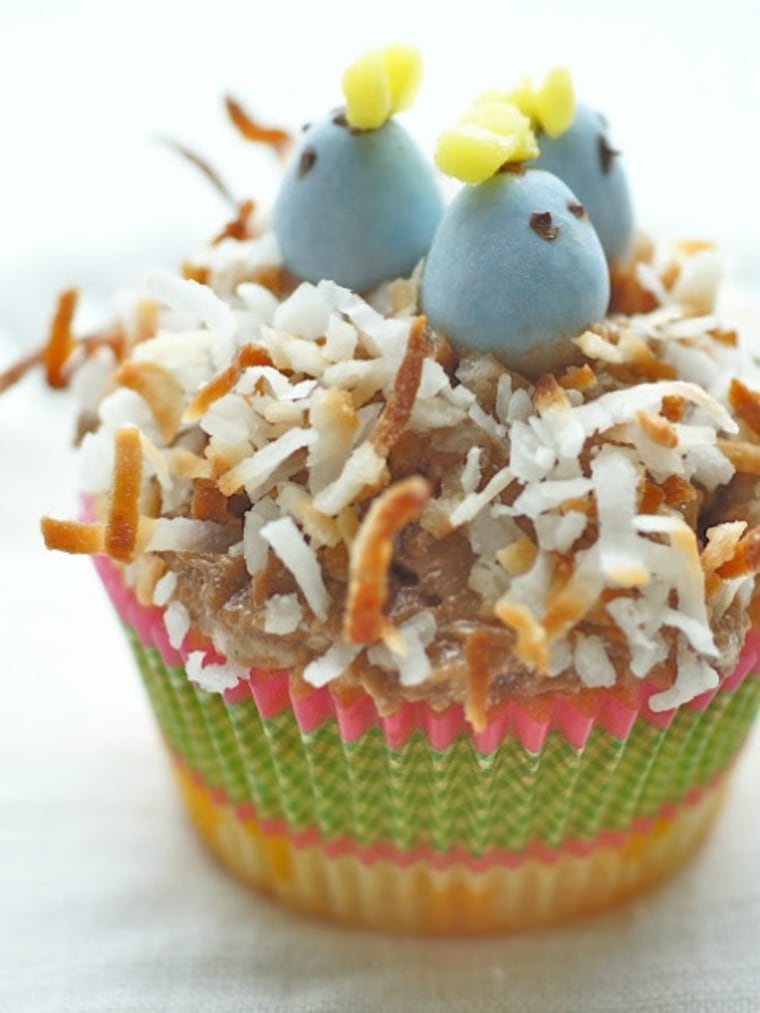 rileymadel.blogspot.com
The only way to make baby birds even more adorable is to put them on top of a cupcake. Sarah Benton-Kenney from the blog Thyme recreated these Martha Stewart baby bluebird cupcakes using yellow cake, chocolate buttercream and toasted coconut. To create the baby birds, she used Hershey's milk chocolate Easter eggs and added buttercream eyes and beaks.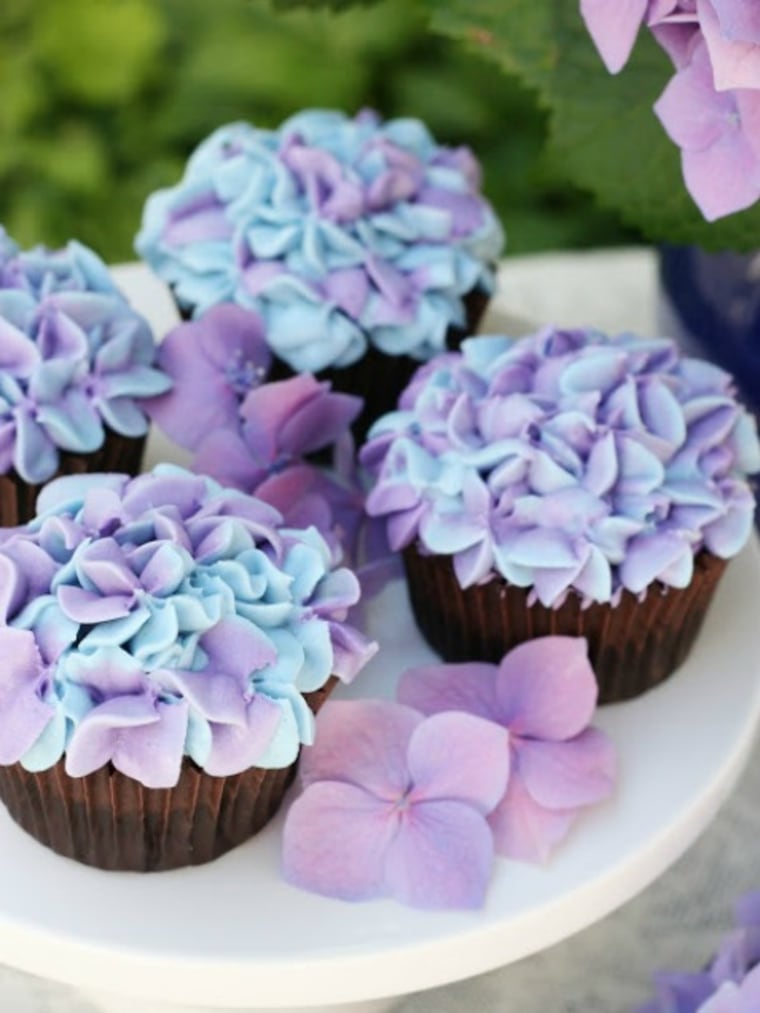 glorioustreats.com
We can't forget to stop and smell the roses, er, hydrangeas this spring. While these fancy cupcakes look difficult, the petals only require blue and purple frosting, a piping bag and a closed star tip. For more details on how to recreate them, visit Glory Albin's blog, Glorious Treats.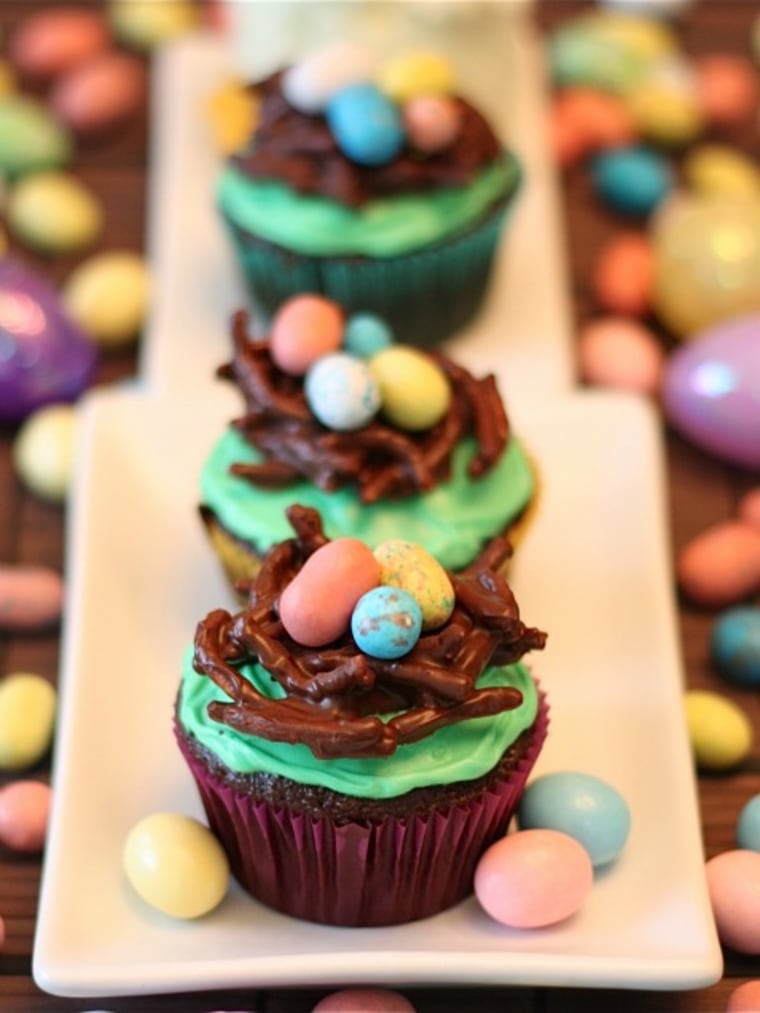 gotchocolate.com
How cute are these bird's nest cupcakes? To make the nests, Laura Rucker from Got Chocolate coated Chow Mein noodles in melted chocolate and refrigerated them for 15 minutes. A little mint green frosting helps the nest and pastel eggs really pop—easy and impressive!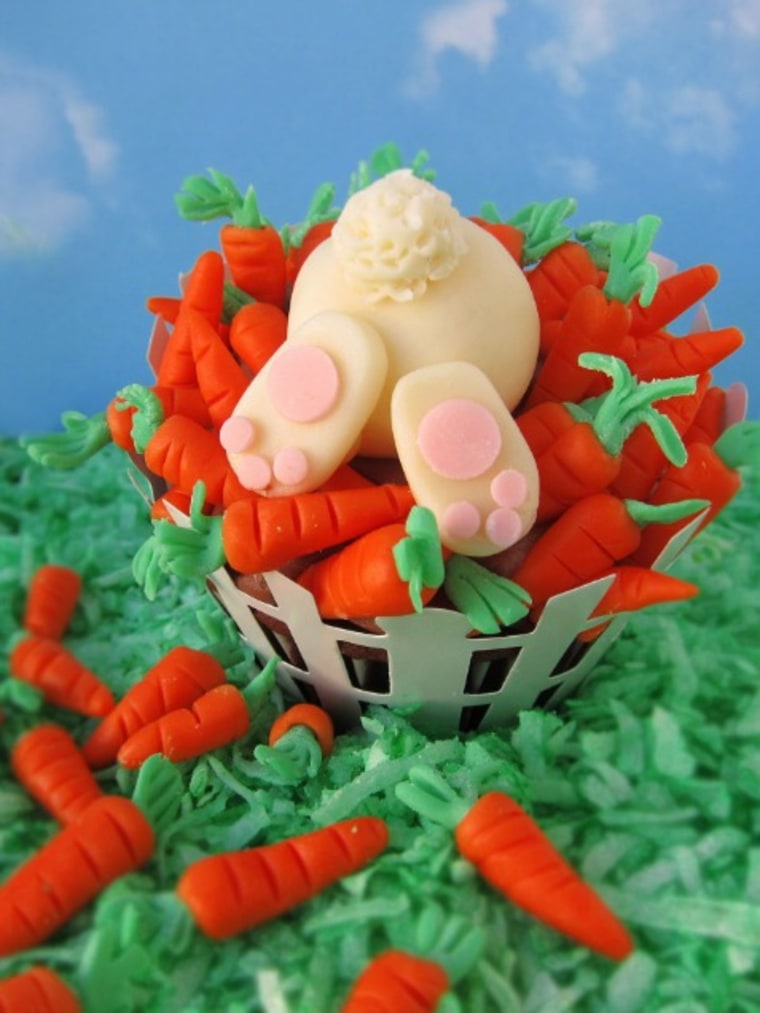 hungryhappenings.com
Ah, the Easter Rabbit. The furry creature that sneaks into your house and hides candy to the delight of children everywhere. That jerk. Where is our candy? Our treats? Get a little rabbit revenge by devouring these Ravenous Rabbit Cupcakes from Beth Jackson Klosterboer at Hungry Happenings. The cupcakes take some molding skills, so check out the blog for step-by-step instructions.
A version of this story originally appeared on iVillage.