One of Princess Diana's most memorable fashion items sold for more than $1 million after a final-hour bidding war.
The black sheep sweater, from the knitwear label Warm & Wonderful, was auctioned by Sotheby's beginning Aug. 31 and eventually sold for $1.1 million when bidding closed Sept. 14.
The sweater fetched the highest price of any of Diana's past fashion items, beating a previous record of $604,800 for a purple silk gown.
The sheep sweater is also now the most valuable sweater ever sold at auction, surpassing a green cardigan worn by Kurt Cobain, which in 2019, fetched $334,000, according to Sotheby's.
Here's everything to know about Diana's famed sheep sweater.
Diana wore the sweater just a few weeks before marrying then-Prince Charles
Diana wore the sweater several times in the 1980s, most notably when she was 19 years old and attending one of Prince Charles' (now King Charles III) polo matches, just weeks before their wedding.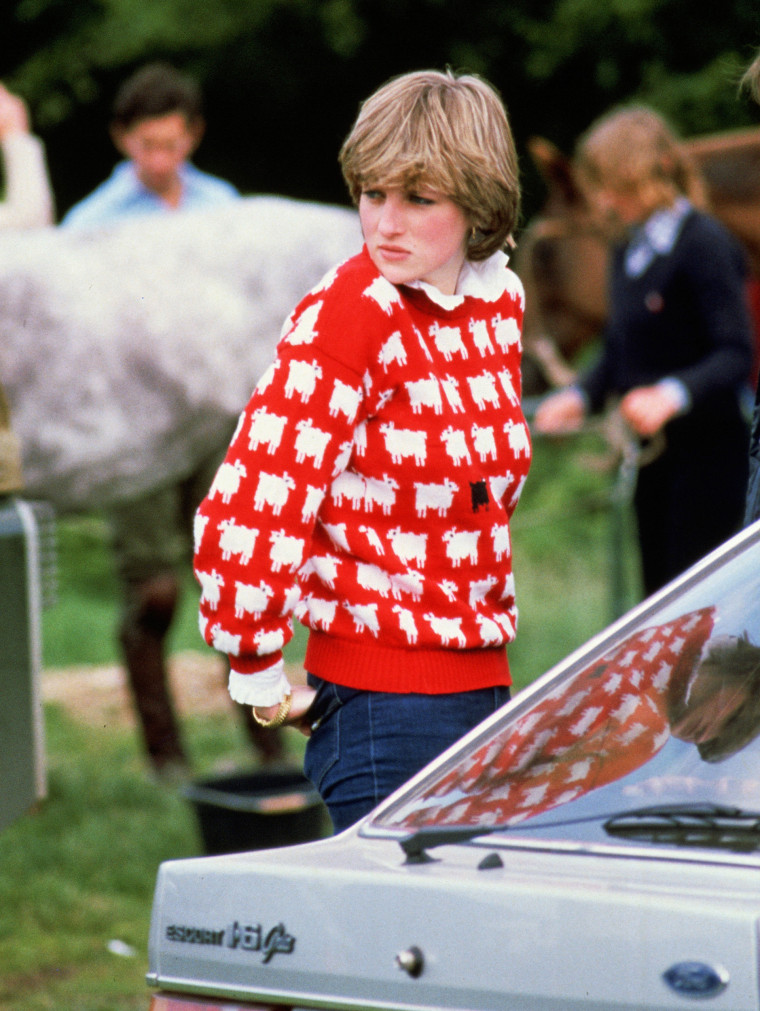 Throughout Diana's life, her fashion choices were analyzed as signs of inner complexity or subversion against the royal family. For example, her sleek off-the-shoulder black outfit, worn the night that Charles admitted to adultery, has long been dubbed the "Revenge Dress."
Similarly, the red jumper, adorned with rows of white sheep with one black, was thought to represent her feelings of being a "black sheep" herself, out of place with the rest of the royal family.
According to Sotheby's, other theories about the sweater are that it represents a nod to British agricultural history, making her appear grounded and relatable to the public.
"Sheep are often linked to concepts of innocence, gentleness, and purity," the auction house said on its website. "Unconscious associations that align with her compassionate and kind demeanor, emphasize her role as a mother and committed philanthropist. In other words, the perfect British princess."
The original sweater was damaged and thought to be lost — until 2023
According to Sotheby's, after Diana was photographed wearing the sweater, Buckingham Palace sent a letter to the company explaining that her sweater was damaged and requesting a repair.
Warm & Wonderful, co-founded by designers Sally Muir and Joanna Osborne, knitted her a brand new sweater, which she was later photographed wearing in 1983, paired with a white collar and black ribbon.
Osborne and Muir assumed the damaged sweater was repaired and sold to keep up with the item's popularity.
But in March, Osborne found the original piece worn by Diana in an attic. Sotheby's verified the sweater's authenticity by assessing the damage to the sleeve and analyzing photographs from 1981.
"Someone just threw it in a box and it went to the attic," Sotheby's vice chairman Frank Everett said on TODAY Sept. 6. "Forty years later, now, here it is at Sotheby's."
The sweater was expected to fetch between $50,000 and $80,000
The black sheep sweater headlined Sotheby's inaugural Fashion Icons sale and far outsold its five-figure estimate.
By Sept. 6, the sweater had reached an auction price of $70,000, Everett said on TODAY.
The highest bid on the sweater was $190,000 toward the end of bidding, and in the last 15 minutes, the price jumped to just over a $1 million, Sotheby's said in a press release. There were 44 bids in total, and in the end, the sweater sold for $1.1 million.
Are there other sheep sweaters available for purchase?
After Diana wore the red sweater in the 1980s, demand for Warm & Wonderful's products skyrocketed. At the time, the designers were early in their career and had no idea Diana owned one of their pieces — not to mention was photographed wearing it.
"We were astounded and amazed!" Osborne told TODAY.com via email in 2020. "And then of course because it was 1981, we were very young, we didn't know how to capitalize or what to do with it. It took two or three weeks for people to realize it was our jumper and then we were absolutely swamped."
Warm & Wonderful continued to make the sweater until 1994.
But demand continued into the 21st century, and in 2020, after the sweater was shown on an episode of "The Crown," the original designers in collaboration with Rowing Blazers released a reissue of the knitwear, while now sells for $248.
The black sheep design is also available in other fashions. LeSportsac, in collaboration with Warm & Wonderful, released a line of bags featuring the signature sheep pattern, ranging in price from $145 to $325.
Luggage brand Globe-Trotter also offers a handbag ($1,295) and carry-on case ($2,275) in the sheep design.