Jenna Bush Hager is throwing it back to 2005!
The TODAY with Hoda & Jenna co-host, 39, is photographed in People magazine's Beautiful Issue donning an old but stylish coat with special significance to her. She originally wore the cream piece with sparkling embellishments by Oscar de la Renta at the second presidential inauguration of her father, former President George W. Bush, and hasn't put it on since, until recently.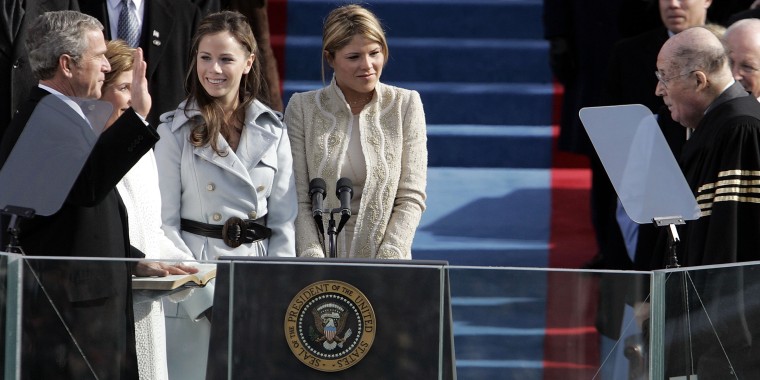 "It's nostalgic to wear something you haven't worn in 15-plus years," she told the magazine in an accompanying video, adding that de la Renta also designed her wedding dress. "He was a beloved man in my life. I loved him, and he designed this when he was alive as well."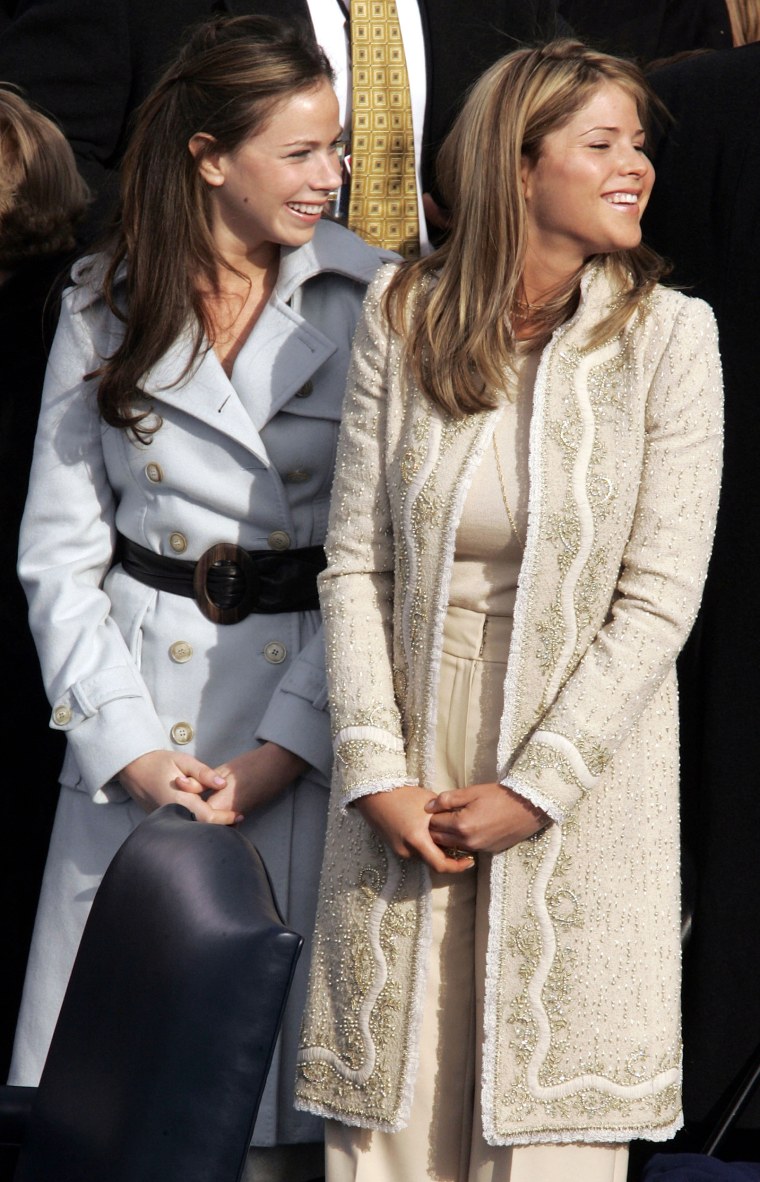 Jenna didn't hold on the to coat herself, but her mom, former first lady Laura Bush, saved it in a box in an archive in Dallas and it was sent to her for the magazine shoot. She paired it with jeans, a T-shirt and a favorite pair of shoes.
"I don't save anything. That's the problem," she explained. "This is the type of thing that I'm so glad that I have a mom that keeps things because who knows what would've happened with this?"
Jenna also reflected on how her life has changed since 2005. She married husband Henry Hager in 2008 at age 26, and they have three kids together: daughters Mila, 7, and Poppy, 5, and son Hal, who will turn 2 in August.
"When I wore (the coat), I was 22 years old, 23 years old. I was young, and I still am young, but since then I've had three babies," she said. "I've carried three precious beings in this body, so even though it's a little depressing that it doesn't fit exactly the same, it's also beautiful because of what I've done since then, the lives that I've created, these precious people that fill me up any more than a size 2, size 4 jacket ever could."
Asked which of her kids would get the hand-me-down, she told People: "I don't know, they're going to have to fight over it.
"I might want to wear it again, too! It's very rock star."
She added that because of her relationship with the coat's designer, it would be even more special to see her girls wear it.
"I love the man that made it. I think he was such a gentleman and a lovely human being. I'm so happy that they will get to wear this one day. But it's going to go back to the archive until then, because otherwise it could get thrown out or we have some moths, I don't want it to get eaten up. It's going to be protected by my mom."
Jenna went on to recall her days in the White House and how she and her twin sister, Barbara, approached their fashion choices back then.
"I'm so thankful because my parents never put pressure on Barbara nor I ... to be anything," she said. "There's no guidebook to first daughterhood by any means, so we just were ourselves. We didn't have a stylist. I still don't have a stylist. We just wore what we thought was pretty. We wore things that our friends designed, American designers that we loved."
"Also I was a teacher in D.C. and Baltimore so I wore, like, really teacher clothes," she continued. "There's this picture that I posted where Barbara and I showed Malia and Sasha (Obama) around the White House right before they were about to move in, and I'm wearing this mustard-yellow cardigan. I had like four cardigans that sat on the back of my chair in my classroom that I would switch out with whatever I was wearing because it was always cold in our classroom."
"Honestly, because there was no expectation to look perfect or any sort of way when it came to my family, we just had fun. ... So I think we thought less about the clothes we wore and more about the amazing experience of living history."
Jenna recently opened up about some of her memories from attending presidential inaugurations. She also went to her father's first one in 2001 and grandfather George H.W. Bush's when she was 7 years old.
"My sister and I were little — we were in first grade — and we didn't quite understand the significance of it," she recalled in Maria Shriver's newsletter, The Sunday Paper. "We just saw somebody that we loved being sworn into office. We loved balloons and the parade. And we're from Texas so even just to be in Washington when it was cold and beautiful and wintery — it was almost like living a dream."
Related video: