Wherever George and Amal Clooney are, they are sure to make quite the splash.
Their latest appearance was no different as they stepped out in style to attend the 2023 Venice Film Festival. The 62-year-old actor looked suave in a black suit, while the human rights lawyer looked stunning in a blush-colored gown.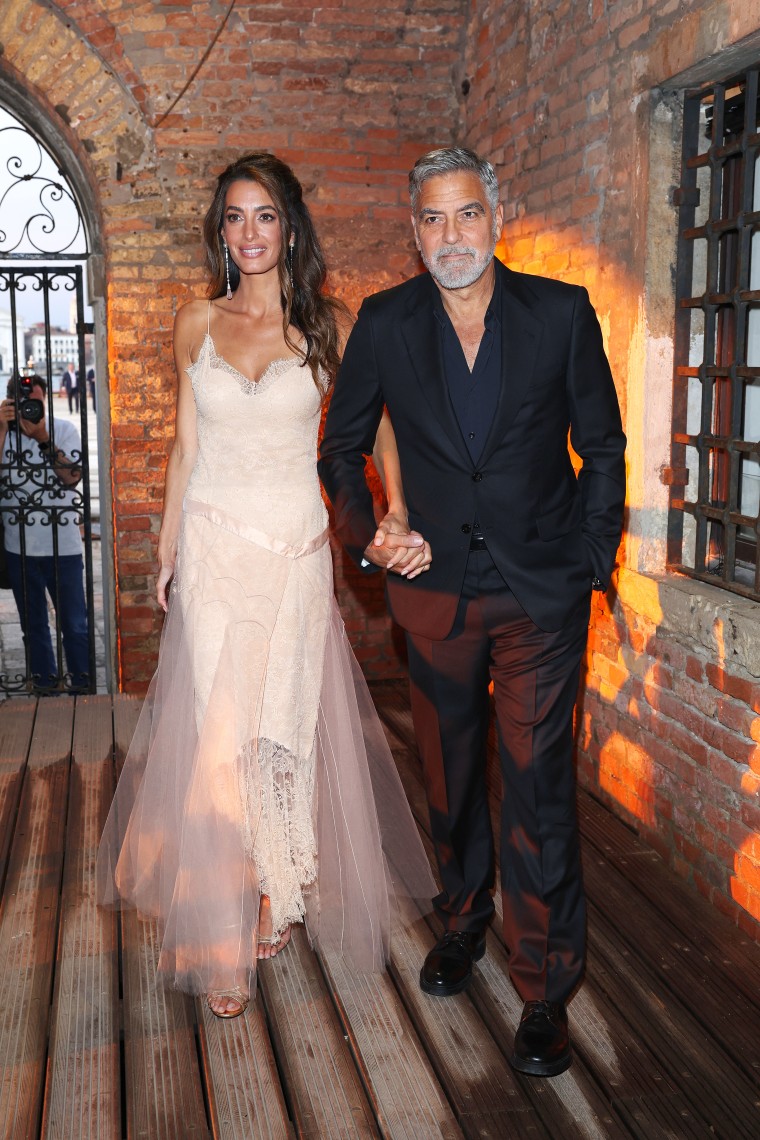 Photographs of the pair stepping out on Aug. 31 showed Amal Clooney, 45, glowing in the slip-style dress that featured an asymmetrical hem with a drop waist, sheer tulle skirt overlay.
The two held hands as they made their way to the DVF Awards, designer Diane von Furstenberg's ceremony that celebrates extraordinary women. Amal Clooney was honored with the Leadership Award.
Prior to the awards show, the pair was also spotted getting into the boat and making their way to the celebration.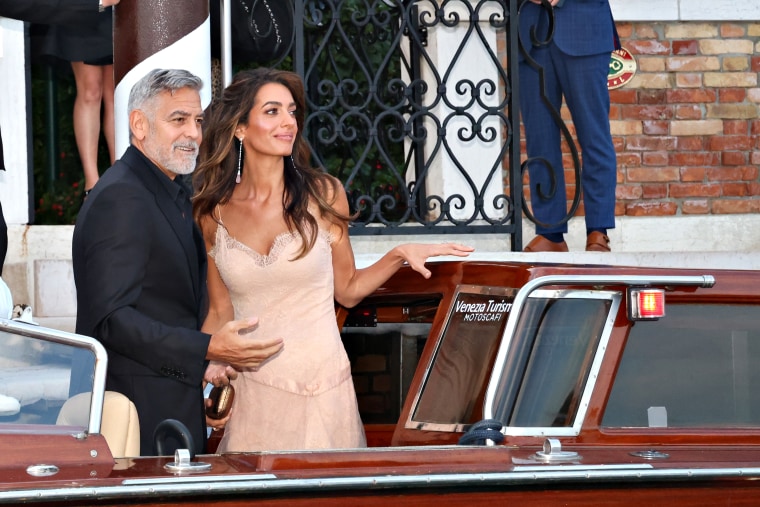 The couple's outing comes ahead of their ninth wedding anniversary on Sept. 27.
George and Amal Clooney have been married since 2014 and are parents to twins Ella and Alexander.
Over the years, the "Ocean's 11" star — who was previously known as Hollywood's most eligible bachelors — has expressed how Amal Clooney stole his heart and became the love of his life.
Here is a look at their major life moments as a couple.
2013: George Clooney meets Amal Clooney
George Clooney met a then-Amal Alamuddin at his home in Lake Como, Italy, in July 2013, per The Hollywood Reporter.
The actor also told David Letterman on his Netflix show "My Next Guest Needs No Introduction" in 2018, that they met through a mutual friend who was paying him a visit. The "Ticket to Paradise" actor joked that he didn't even "have to leave the house" to meet the woman of his dreams.
"It's the wildest thing,'' Clooney told David Letterman on his Netflix show "My Next Guest Needs No Introduction" in 2018. "A mutual friend of ours said, 'I'm stopping by and can I bring my friend?' And I was like, 'Of course.' I got a call from my agent, who called me and said, 'I met this woman who's coming to your house who you're gonna marry.'''
Coincidentally, Clooney's parents were also there and met their future daughter-in-law the same time he did.
"The funniest thing was my mom and dad were visiting, so my parents were there," he said. "And we just talked and we stayed up all night talking... I got her email address because she was going to send me some pictures of my parents and we started writing."
Adding, "I didn't really, I didn't know if she wanted to go out with me. I just thought, you know, we were buddies."
In a cover story for Vogue in 2018, Amal Clooney said of emailing back and forth with the actor: "Before that experience, I always hoped there could be love that was overwhelming and didn't require any weighing or decision-making."
She added that their romance "felt like the most natural thing in the world."
October 2013: They were spotted on a date in London
The actor was then photographed with the attorney leaving Berners Tavern in London and sitting together in the back seat of a car, per E! News.  
The actor spoke about their first date in London while talking to The Hollywood Reporter in September 2017. He invited her to visit him in the city while he was working on the film "Monuments Men."
"That was a good first date," he said. "Then we went for dinner. She said, 'Let's go to this place.' It was one of those places that was incredibly hip and chic. And when we came out, there were 50 paparazzi there. But she handled it like a champ. And pretty quickly, things escalated once I was in London."
The actor also told the outlet that they spent Christmas that year in Cabo San Lucas and went on a safari in Kenya.
April 2014: Amal and George Clooney get engaged
Clooney revealed in his THR profile that he started planning his engagement to Amal Clooney in February of 2014. Months later, they were engaged when he proposed on April 28, 2014, to be exact.
For the occasion, the Hollywood star made pasta for dinner and "over champagne" popped the question.
"After dinner, I told her there was a lighter to light the candle in the drawer, and she reached back and pulled out a ring," he recalled. "And I did all the stuff, got down on my knee and did all the things you're supposed to do... and she's like, 'Holy s---!' And she just kept staring at the ring, going, 'Oh, my God.'"
He said he was on his knee for "20 minutes" and "waiting for her to say yes because she was so shocked."
September 2014: George and Amal Clooney make their red carpet debut as a couple
By September of 2014, the pair was stepping out together in public. Their first red carpet moment and major event together was on Sept. 7 of that year — just weeks before they got married.
The couple coordinated in all-black to attend the Celebrity Fight Night gala benefitting The Andrea Bocelli Foundation and The Muhammad Ali Parkinson Center in Florence, Italy.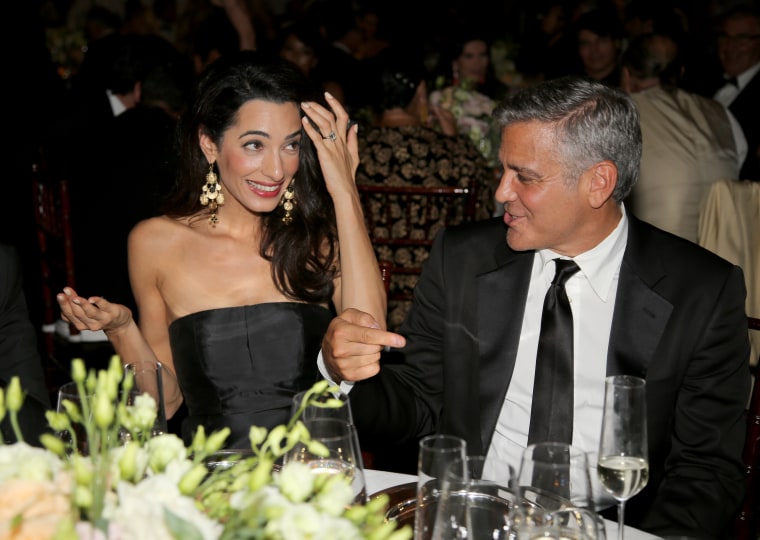 September 2014: They get married in Italy
Months after getting engaged, George and Amal Clooney became husband and wife on Sept. 27, 2014.
The couple got married in front of about 100 family and friends in a private ceremony at the Aman Canal Grande luxury resort in Venice, Italy.
The bride wore a custom Oscar de la Renta French lace wedding gown, according to People, which shared photos from their ceremony. The Oscar winner wore a bespoke Giorgio Armani black tuxedo.
"George and I wanted a wedding that was romantic and elegant, and I can't imagine anyone more able than Oscar to capture this mood in a dress," she also told Vogue.
February 2017: Amal Clooney is pregnant
News of Amal's pregnancy was first revealed in February of that year. While the couple maintained relatively quite about their pregnancy, Matt Damon confirmed it to TODAY during an interview while congratulating the pair.
"We were working together last fall. He came up to me on the set and took me aside and told me. I was so happy for him," he recalled. "I was hugging him ... and I said, 'Well so, how far along is she?' and he goes, 'Eight weeks.' And I'm like, 'Don't say anything!'"
The following month, George Clooney told Extra, "She is doing really great. She is amazing. I don't have anything to do. There is nothing I can do to help, but make tea and stuff."
2017: Amal and George Clooney welcome twins
On June 6, the couple became first-time parents to twins, son Alexander and daughter Ella.
Per George Clooney, he told THR that their twins were a month premature with Alexander weighing five-and-a-half-pound Alexander and Ella weighing four-and-a-half-pounds.
"It was wild," he recalled of becoming a father. "You know, everything is conceptual until it's real. It's like, 'Yeah, we're going to be parents, yeah.' And all of a sudden you go: 'Holy s---. I'm a parent!'"
Adding, in part, "I want them to be happy. I want them to have a sense of humor. I want them to be interested in things. I want them to be compassionate about other people's plights. Because that's the thing, you know? You have to have some sort of empathy."