It turns out that George Clooney didn't even have to leave the house to meet the woman who prompted one of the world's most famous bachelors to tie the knot.
Clooney, 56, opened up about how he first met his wife, human rights lawyer Amal Alamuddin, 39, in the latest installment of David Letterman's Netflix show "My Next Guest Needs No Introduction,'' which will be released on Feb. 9.
"It's the wildest thing,'' Clooney said. "A mutual friend of ours said, 'I'm stopping by and can I bring my friend?' And I was like, 'Of course.' I got a call from my agent, who called me and said, 'I met this woman who's coming to your house who you're gonna marry.'''
"Your talent agent had done all the paperwork ahead of time,'' Letterman joked.
The couple got married in 2014 and are now parents of twins, Ella and Alexander, who were born in June.
Amal also met Clooney's parents the same night she met him. No pressure or anything.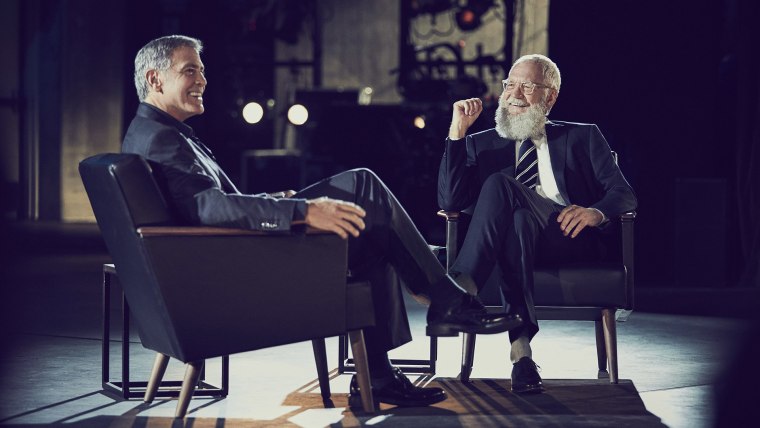 "The funniest thing was my mom and dad were visiting, so my parents were there, and we just talked and we stayed up all night talking and then, you know, I got her email address because she was going to send me some pictures of my parents,'' he said.
Despite being named People magazine's "Sexiest Man Alive" twice, Clooney initially wasn't sure if he had a shot with Amal.
"And then, we started writing and I didn't really, I didn't know if she wanted to go out with me. I just thought, you know, we were buddies,'' he said.
"Let's be frank, who really would want to go out with you?" Letterman quipped.
Clooney follows former president Barack Obama as a guest on Letterman's six-episode show, which will also feature Jay-Z, Tina Fey, Howard Stern and Malala Yousafzai in episodes that will be released monthly.
Follow TODAY.com writer Scott Stump on Twitter.