If the term "maracuja oil" itches some part of your brain, then, like me, your mind is probably trying to take you back to the early aughts, when the ingredient first made waves in the beauty community. It was 2012 and Tarte Cosmetics just released its maracuja oil. Anyone who was anyone was slapping this multipurpose product onto their hair and nails, with some even mixing it in with their makeup and skin care products. I know this because I was one of them.
At the time, I didn't regret purchasing the pricey bottle since the ingredient made my complexion look more hydrated and my hair extra shiny — and, occasionally, oily (back then, I hadn't yet learned the importance of "less is more" in my beauty routine). It was coined the "miracle of maracuja" for a reason, and I couldn't get enough of it.
Now, you can find the star ingredient in a number of Tarte's bestselling products, including eye brighteners, moisturizers and skin tints. However, the newest maracuja oil-infused makeup products that caught every beauty guru and TikTok influencer's eye is the Juicy Lip Balm and Lip Plumper for their glossy finish and hydrating features. The lippies have been all over my "For You" page, so when the brand sent me a few options to try, I couldn't wait to see if they lived up to the hype (and my past self's expectations).
Off the bat, I'll admit that I'm generally not a gloss person. I don't like how quickly they fade or how my hair tends to stick to my lips. But for this balm, I'll risk spitting out a strand or two.
When I first tried the Juicy Lip Balm — in a plum shade called Passion Fruit — I was suffering from seriously chapped lips. Normally, I'd reach for the newest lip balm I've been trying out, but since the brand claims that this product "drenches lips in moisture," I figured I'd put it to the test when my pout needed hydration the most.
Maybe it was the fatty acids and vitamins found in the maracuja oil; maybe it was the 10 different fruits infused into the formula; I'm no cosmetologist, but I do know that this made my lips feel incredibly plush. Not only that, but the color payoff was much more intense than expected. And it seems that the shine I saw on all those TikTok videos didn't come from a filter after all. I somehow got a balm, color and gloss all in one product — and now I'm eager to get my hands on the other shades.
As far as fragrance goes, I didn't notice the coconut scent that is touted on the site, but it's not a dealbreaker for me since I prefer a scent-free balm anyway.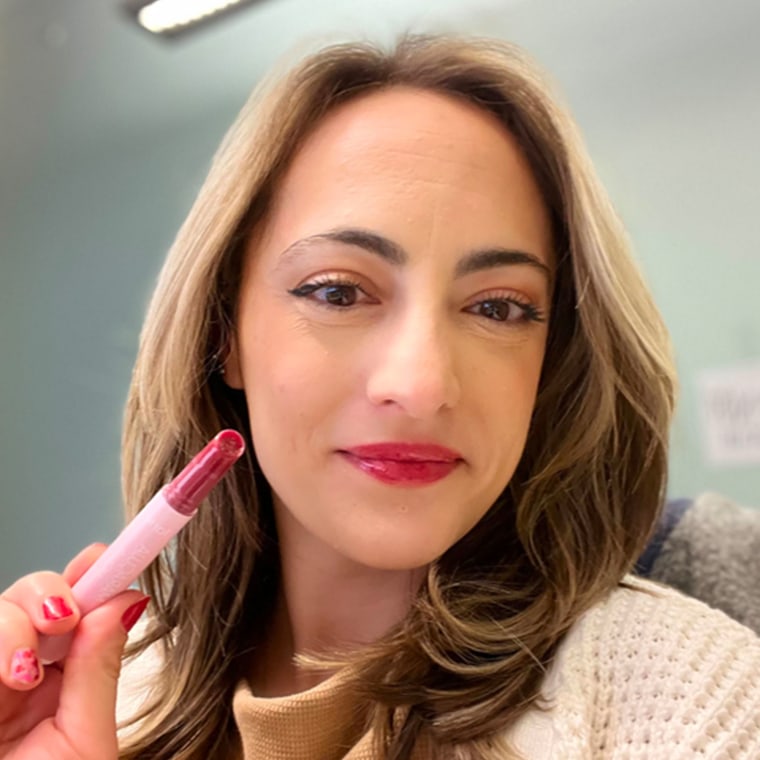 Tarte describes this lip product as offering a "no-needle plump." If that doesn't make you want to reach for one immediately, I don't know what will. But does it do what it promises? Yes and no. Let's face it, you're obviously not getting the results you would from a doctor, but this will definitely add a little oomph. I paired the shade Poppy with a mauve lip liner and lightly overlined with both. I have to say, this pairing made my lips looked juicier than normal. But you have to give the formula time to go into effect.
And if you hate that tingly feeling you get from other lip plumpers, you'll be happy to hear that this one doesn't have any uncomfortable side effects. Instead, I felt a lovely cooling sensation that lasts a while. It's not painful, just soothing. And it lets me know that it's working. I also have deep lines all over my lips, but this formula did a great job of blurring them.
Other than the maracuja oil, another standout ingredient in this lip plumper is hyaluronic acid. It's said to provide more hydration, and according to Tarte, 100 percent of users said it worked on that front — and I'd have to agree. However, the no-stick claim doesn't exactly ring true for me here, but it certainly wasn't uncomfortable. The cushiony feeling I got from the product feels how it does when I slather Vaseline on dry lips when I'm in desperate need of moisture, but there's zero petrolatum in the formula.
The packaging is as equally addicting as the formula due to its click-and-apply button. I find that two clicks offers the perfect amount of product for me (and I love the satisfying sound that it makes). It's a good thing it's so fun because I've found that I have to re-apply these lippies more than other balms I've tried. It's not transfer-proof and I've noticed that the Juicy Lip specifically doesn't boast the best longevity. (Prepare for a lot of red-stained coffee cups.) However, the lip plump does have surprisingly long-lasting wear.
All-in-all, I think these maracuja lip products are great to add to your bag to have on hand when you want a pop of color, need a boost of moisture and crave a plumping moment. If 2012 me only knew where maracuja oil would go, I know she'd be stocking up, too.